California Closets: Another Successful Habitat for Humanity Build
California Closets: Lending Expertise and Lots of Muscle to Habitat for Humanity
California Closets: Creating a dream bedroom for a special child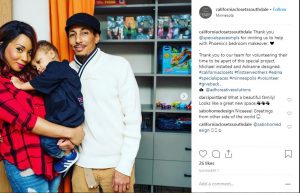 FirstService Relief Fund: Providing Critical Funds After Tragic Loss
Mario is a service coordinator with California Closets, and a recent recipient of a FirstService Relief Fund grant. Mario is sharing his story in the hopes that it will encourage others facing challenging times to consider applying for a grant and to inspire fellow FirstService-company colleagues to donate to the Fund.
Each year, Mario and his siblings spend the holidays with their father, a talented sketch artist, known for his ability to translate his drawings into intricately detailed tattoos. This past Thanksgiving, the siblings went to visit their father, only to find that he wasn't home. Free-spirited, and with a sense of wanderlust, it wasn't uncommon for him to go on a spontaneous trip somewhere – sometimes for a few months at a time. He would return and share with his children stories of his travels and the places he'd seen. Initially, the siblings weren't particularly worried about their dad, but, as time passed and they still hadn't heard from him, they grew increasingly concerned that something wasn't right.
In February of this year, the family got the call they had hoped to never receive. Their father's body had been located in Southern California, over eight hours from Mario's home. Authorities believe he had passed away in November, which is when the family first began looking for him.
Mario drove through the night to meet his siblings, and began the difficult process of meeting with the coroner, retrieving his father's possessions and planning his funeral.
For many families, the expenses associated with funeral arrangements can be overwhelming, requiring them to exhaust their savings and even take out loans to help cover costs. In Mario's case, money he had been saving for his wedding instead went toward funeral expenses.
Mario was reminded of the FirstService Relief fund by one of his co-workers who encouraged him to apply for a grant. His expectations were low. He didn't expect anything to come of his application, so he put it off. After some gentle reminders and prodding, he submitted an application for a grant.
The death of an immediate family member is considered a "Qualified Event" under the guidelines of the Fund, so Mario was awarded a grant. "Words can't express the relief the Fund brought to me and my family. It was truly amazing," said Mario. "I am very grateful to work for a company that truly cares about me and was there for me during an extremely difficult time in my life." Mario would encourage anyone who is facing a hardship to look into the grant. "Losing a family member is not easy, but the support I received from my colleagues and the FirstService Relief Fund helped make it a little easier. I really feel like the company has my back."
Every dollar contributed to the Fund allows us to help employees facing personal hardship. There are several ways to contribute, including automatic payroll deductions, text-to-give, and one-time or recurring donations. For more information on the Fund, please visit firstservicerelief.com.
California Closets: Partnering with Dress for Success Phoenix to Help Women Seeking Employment
California Closets recently donated its services to Dress for Success Phoenix, completing a stunning remodel of the organization's Career Center.
The project included a total transformation of the interior of the center including beautiful new tables and furnishings and freshly painted walls. The end result is a highly functional workspace where women can tap into the  resources provided by Dress for Success to help them secure and retain employment.
At the Career Center, clients are paired with qualified and experienced staff members who provide individualized career guidance to boost confidence and professionalism. They receive career counseling and professional skills training – including resume development and how to write effective cover letters — to help them prepare for upcoming job interviews.
California Closets believes that exceptional design transforms people's lives by creating spaces that allow people to focus on what matters most, and the Career Center at Dress for Success Phoenix is the embodiment of that philosophy.
To learn more about the Dress for Success Phoenix Career Center, please visit https://phoenix.dressforsuccess.org/programs/career-center/
California Closets: Supporting Veterans Through Operation Coming Home
Operation Coming Home
partners with area homebuilders and other vendors to provide homes for veterans who have been severely wounded in combat. Our California Closets Raleigh team members put their skills to work to create functional and beautiful closets for this very deserving family.
California Closets: Parent Life Family celebrate Christmas
Our Parent Life Family celebrated Christmas 2017 this week with great food, boutique shopping and encouragement to our friends at Wheeler Women & Children. A special thank you to our faithful volunteers, California Closets and our new friends at Hope City Church.