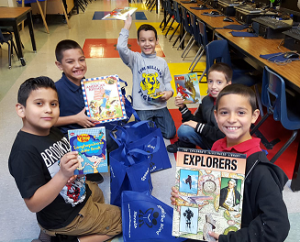 For the month of June, we will have a book drive to collect books for the Spread The Word Nevada organization – a group that provides at-risk students with books to call their own. Their mission and belief are that all children deserve to experience the magic of books! We are going to help them with that mission! Our goal is
1000 books
, so we would appreciate everyone's help in reaching that goal! The books can be new OR used.  They are for any age group from kindergarten to high school. Note:  the organization has respectfully requested that no coloring books be donated since they are a reading organization.
WRCC team
: please drop off all books to your Team Manager.  They will give you your raffle ticket at that time.
RRFS team
: please drop off your books to either Randy, Vanessa, Mario, or Ebonie.   Any of them will give you your raffle ticket at that time.
Located outside our Teco office?
: We appreciate any donations!  Bring the books to our office here any time during normal business hours. You can enter through the Red Rock Financial Services door, but if they are closed for lunch (which they lock the door), then call Randy at 626-429-6848.
Arville Office:
Please drop the books off with Maurice Talley. You can send books to Randy via Amazon or other means, or you can donate funds and we will purchase the books locally, or whatever is most convenient for you!  Just contact Randy Cunningham, and he will work with you to help with your donation. If you are not in Nevada you can purchase new books from Amazon.com get them delivered to: FirstService Residential ATTN: Randy Cunningham 4775 W Teco Ave, Ste 140 Las Vegas, NV 89118 Please ensure books are received by June 30
th
.
---