Paul Davis: Helping to Keep Local Beaches Beautiful
One of the perks of working in Jacksonville, FL is access to its beautiful beaches. This is something many on the team at the local Paul Davis Restoration office enjoy with family and friends, and with each other, participating in Social Purpose activities such as beach training runs and 5K events.
Giving Back to the Community & Enhancing Corporate Culture
Recently, the Quality Assurance department began planning a beach clean up as a team building event. When Kali Freeland, talent and change leader, heard about the event she asked Director of QA & Cat Services Leanne Etheridge if they could expand the group to include the whole team as an activity in support of two pillars of our Social Purpose, Our People and Our Environment. Leanne's response: "The more the merrier! We can even expand it to the local office and sister brands in Jacksonville." So that's just what they did.
A team of 21 turned out on a beautiful Saturday morning and got to work picking up trash and other debris.  In total, they removed over 20 gallons of trash from a space that serves as an estuary, endangered turtle breeding ground, and a place of peace and enjoyment for beachgoers. Their hard work did not go unnoticed. In addition to getting lots of thank yous from beach goers, a local newspaper even published a story about their contributions.
While the event was a big success, the team realized if they hold their next clean up event on a Sunday they could have an even bigger impact, cleaning up after Saturday's beach goers have left.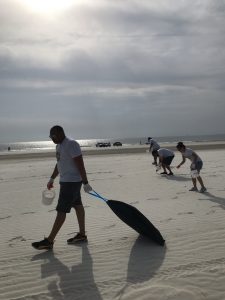 "I am so proud to be part of an organization that supports and encourages the concept of serving others," said Leanne. "I realize that change can provide the most impact when it happens close to home, so deciding to facilitate and participate in an event that directly impacted the local community was an easy choice. Those of us who are Jacksonville natives are a little spoiled – the beach is a short drive for most. Because of that, I felt it was important to preserve and protect such an amazing and important resource. And more than that, seeing patrons ask us who Paul Davis is and what are our team was doing, really inspired me to engage more in serving our local community."
The team at Paul Davis embraces Social Purpose as a way to not only give back to the local community but also to enhance its corporate culture.
"I'm proud to work for a company that supports the causes and organizations that our employees care about," said Kali. " We're seeing more engagement in social purpose than ever and I believe the grass-roots approach and variety not only allows team members to share their own "passion projects" but it also allows us to see the results of our work right here in our own communities."