CertaPro: Supporting Alzheimer's Awareness is a Family Affair
When Jason Phillips, Director of Strategic Accounts for CertaPro Painters, learned one of the company's clients, JEA Senior Living, had formed a fundraising team for the virtual Walk to End Alzheimer's he was quick to sign on to help.
He recruited family to join him, launched a fundraising page and promoted his plans through LinkedIn. Within a little over a week he exceeded his fundraising goal of $500.
The day of the walk, Jason was joined by his wife, his sister and her husband and they spent the morning hiking the beautiful Salmon Creek trail in his hometown of Vancouver, WA.
"Alzheimer's is a disease that devastates many families, and it's one that afflicts many residents of our client's senior living facilities," said Jason. "It was my pleasure to help raise awareness of Alzheimer's and support the work JEA Senior Living does to honor the experience of aging for the residents they serve."
JEA Senior Living operates more than 50 specialized care centers around the country to meet the special needs of Alzheimer's patients.
For more information, or to make a donation, click here.
CertaPro: Company Painter Provides Food and Necessities to Those in Need in El Salvador
We love sharing stories of how our team members find their own Social Purpose. Efrain Montoya, a painter with CertaPro in Thousand Oaks, CA, wanted to help those in need in El Salvador. Efrain, whose brother lives there, has been collecting monetary donations here in the United States and and sending the money to his brother in El Salvador. His brother uses the money to buy groceries and other essentials for those in need. Many of the people they help are extremely impoverished, living in shacks in rural areas with no easy access or means to obtain food or other supplies.
Kudos to Efrain and his brother for identifying a way they can help people and putting together a plan to make a difference in their lives.
Many of the supply deliveries have been recorded, and can be viewed below.
California Closets: Giving Back to a Local School & Helping the Environment
Back in the spring, West Palm Beach GM Anette Jordan was invited to a fundraiser for a new school in their county of Port Saint Lucie that would be dedicated to children with Autism and related disabilities. Now, the Exceptional Academy for Differently-Abled Learners Inc is a private, non-profit learning center offering a full-time academic educational program for grades 1-6, as well as part-time homeschool enrichment classes for grades K-6.
The school is different than others because of its focus on children's abilities, instead disabilities. With input from each student's family, the school's team of experts tailor a curriculum based on what a child is interested in and the things that he/she is currently successful at. With confidence, grows skills; the teachers work with the children, and their families, to help build their current skills and attain new ones.
This summer, the West Palm Beach team closed one of their older showrooms and opened a brand new one with all new displays. Knowing the school's needs, Anette rallied her team. They reconfigured several of the displays from their old showroom and installed them at the school – a wonderful and equally "green" effort that also spared the team from discarding all the displays in landfills!
Declutter Your Home and Help Those in Need
Take a good look around your home. Chances are, you'll find things you're not using that are just taking up space. We all accumulate extra stuff over the years that we don't need. And often these very items could be put to good use by someone who does need them.
Now is a great time to reduce clutter in your home, simplify your life, save money and give back to those in need.
What's the best way to start your decluttering project?
Start small, beginning with one area or room at a time. It can be as simple as your junk drawer or your guest bathroom vanity.
We suggest for each room or area you plan to declutter, you begin with five boxes (or bags). Label them as follows: Keep, Donate, Trash, Recycle, Re-locate.
An important part of your decluttering process will be collecting and relocating items you are keeping so they are kept together and in a logical place, i.e. setting up a central location for all batteries or lightbulbs. This is where your life will be simplified, and time and money will be saved. Knowing what you have on hand — and where to find it! — will eliminate unnecessary purchases in the future.
As you go through items in your home, ask yourself the following questions:
Is this a duplicate item? If the answer is yes, then ask if you really need duplicates of it or if you can make do with one (or two)

Is this something I use on a frequent basis? If yes, consider whether its current storage location is convenient when you need it

Is this something I've never used or worn? If yes, you probably won't miss it so this would be a good candidate to donate

Have I worn this in the last year? If no, let it go!

Do I like this item or am I keeping it for sentimental reasons? If you are holding onto old wedding gifts you will never use because you feel bad letting them go, remember the person who gave them to you will never know you re-homed them
Decluttering provides many benefits, among them giving you more time in your day because when you've effectively decluttered your home, finding the items you are looking for becomes easier. Also, who wants to take the time to clean around knickknacks and other dust collectors? Knowing what you have on hand makes you less inclined to buy more of what you already own, helping you save money. You may also consider selling your more valuable items such as artwork or furniture pieces through a second hand site.
What to do with items you wish to donate (or sell)
There are many non-profit organizations accepting donations for those in need. Some are even doing pickups from donors' homes. A simple Google search should help you locate non-profits in your area.
Another option is to post them online on sites like Freecycle, Craigslist, OfferUp, Nextdoor and Facebook Marketplace. This can be a good idea for furniture and larger items that non-profit groups may not be able to easily transport. If you have valuable furnishings or antiques, you may consider bringing them to a local consignment store to be sold.
There are so many benefits to decluttering your home, and it feels wonderful to know that your discards are going to someone who will value them.
Tidying expert Marie Kondo said it best, " The best way to find out what we really need is to get rid of what we don't."
Planned Companies: Donating protective masks to community facilities
Planned Companies continues to demonstrate its commitment to protecting its own team members during the COVID-19 coronavirus pandemic, but it's also giving back to support communities in need. Many who are in greatest need of PPE are challenged to obtain it. This potentially life-saving equipment is in short supply in many parts of the country.
On Friday, April 24, Planned Companies President and CEO Rob Francis presented donations of valuable protective masks to Atrium Post-Acute Care of Park Ridge and the New Jersey Veterans Home at Paramus.
Each facility received 2,000 masks.
Planned Companies has also launched an educational series designed to provide up-to-date and relevant information to help everyone through the current crisis. Click here for links to valuable resources or recorded webinars.
CertaPro: Kids Comfort For Cancer Event Honors the Legacy of a Friend to Many
Traci DiStefano was a force of nature. A friend to many, her smile would light up a room. Wherever Traci went, fun and laughter followed. Traci was known for her contagiously positive spirit, love of life and was described by many as a true "wonder woman." She had an expansive group of friends, many of whom she had known most of her life, who ranged from peers her own age to the children of her friends.
When Traci was diagnosed with ovarian cancer, her network of friends and family — "Traci's Tribe" as she called them – rallied around her to help. She approached her treatments with optimism and her characteristic ability to see the beauty in life, even during the toughest times.
When Traci tragically lost her battle in 2019, she left a huge void in the lives of those who knew and loved her. Traci's Tribe wanted honor her memory in a way that would be meaningful to her. Because of the excellent care Traci received at the Fox Chase Cancer Center in Philadelphia, the Tribe decided to host a fundraiser to benefit the cancer center. The Kids Comfort for Cancer event would be a way to thank them for caring for Traci, and also to help others facing treatment.
A special fundraising committee
A committee of eight was formed to begin making plans for their inaugural event. What made this committee unique is that it was comprised of four adults and four young teens, who shared equally in the responsibility for making sure all details were covered. The event co-chair was 14 year-old Casey Stone, daughter of CertaPro CEO Mike Stone.
Traci was one of Casey's mother Kim's dearest friends, and Traci was like an aunt to Casey. Although Casey has always demonstrated a caring for others, having held fundraisers for various causes for more than half her life, this event was even more special. Casey wanted to honor her friend's legacy in the best possible way, creating an event that brought families together to celebrate Traci's life and inspiring other kids to get involved in meaningful causes.
A family friendly event with activities for all ages
The event was held on the anniversary of Traci's passing, at CertaPro's new corporate headquarters in Audubon, PA. To keep with the family-friendly theme, event organizers planned a wide range of interactive activities such as corn hole, balloon art, a kids' arts and crafts area, photo booth, ping pong, face painting and much more.
Leading up to the event, committee members hand made bracelets and colorful cancer awareness ribbons and assembled baskets to sell at the event. Attendees got to choose which cancer they wanted to represent at the event, making it even more meaningful to those whose lives have been touched by cancer. The committee also worked with local retailers, restaurants and service providers to donate items to be used for the raffle and silent auction. Cav's Philly Tailgates generously donated all food and service staff for the event.
Special event speakers included an oncologist from Fox Chase and two cancer survivors whose shared their personal experiences. The committee set a fundraising goal of $15K, and when all was said and done, the event raised more than $50K. In addition to promoting the event on the Social Purpose event calendar, Casey was invited by local media to appear on news shows to raise awareness of the event, which she did with poise and grace.
When we spoke to Casey, she shared details of the important life skills she acquired through this process – time management, prioritization, agenda creation, goal setting, communication, public speaking and teamwork. She even deployed a post-survey to event attendees to determine what they liked best about the event and if there were any suggestions for the future.
When asked about her favorite memory of Traci, Casey shared a special moment. The Christmas Eve before Traci's passing, Casey and her friends organized a group of 25 carolers for a surprise visit to Traci's house where they sang some of her favorite carols. She was shocked and happy to see them, and overwhelmed by their kindness. It was another cherished memory of Traci that will live in their hearts forever.
Finding your Social Purpose can happen at any age, and getting kids involved is a great way to set them on a path of charitable service to others.
FirstService Brands: Sharing Some Swag with a Special Logo Collector
Mary McMonagle, General Counsel for FirstService Brands, recently opened a nice letter from Dennis, a young man on the autism spectrum that he sent to CertaPro Painters® and FirstService Brands. One of Dennis's favorite hobbies is to study and collect logos. He especially liked CertaPro's logo because it included stars, which reminded him of the American flag.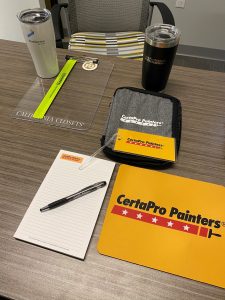 The team was so touched by Dennis's thoughtful note that they decided to do something special to thank him. They collected a variety of "swag" items from various sister companies and put together a package to send to Dennis.
"Dennis's kind note really brightened our day, and we felt it only fitting to do something special for him in return," said CertaPro Painters' President & CEO, Mike Stone, who included a personal thank you note to Dennis in the package. "These are challenging times for all of us, and we hope our package puts a smile on Dennis' face."
Dennis's letter affected everyone in the office, but perhaps no one more than Mary, whose own nephew is also on the autism spectrum. "Those with autism are truly special individuals, and helping cultivate their interests brings joy to their lives. I'm glad we could do our part for Dennis," said Mary.
This is just another example of how our teams truly care about those in our communities, and why we are so committed to #FirstServeOthers.
The Amenity Collective: Easy Ways to Practice Self Care – Go Ahead, You Deserve It
For many, it feels like the world has been turned upside down. In what feels like the blink of an eye, all of our lives have changed dramatically. We're all doing our part to adapt to our new normal. These are incredibly stressful times, and we know the impact stress can have on one's health and well-being. If ever there was a good time to focus on self-care, this is it.
We wanted to share some ideas of ways you can maintain your emotional and physical wellbeing, reduce stress, stay fit and make the most of the time while you are sheltering in place.
Through its subsidiaries including Heartline Fitness and LIVunLtd, The Amenity Collective delivers health and wellness programs to some of the most iconic properties and spas in the U.S. To help promote wellness to a broader audience, the company is now offering a variety of free resources for you and your family.
Three Sages Wellness App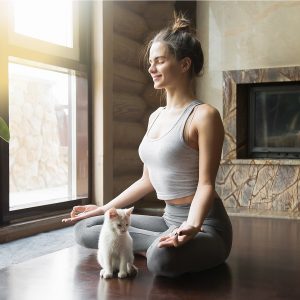 Heartline Fitness has partnered with Three Sages to provide complimentary access to this new mobile app which offers natured inspired sips of wellness, in the form of short, engaging audio and video content. Its intent is to help you move, nourish and restore. Through a series of questions, the app customizes programming based on your preferences and offers everything from "quick fixes" – yoga sequences and meditations you can do anywhere – to longer, more intensive sessions. Explore a wide range of recipes for healthy snacks, smoothies and spritzers, and, when your day is done, the app's Evening Sleep music helps you relax, unwind and drift off to a restorative sleep.
Get Started: Simply search for Three Sages in the Apple Store and use access code "heartline" (case sensitive) to get the app for free for 60 days!
Instructor-Led Fitness Programs
LIVunLtd is the premier concierge, fitness, wellness, event programming and lifestyle management collective. Residents of properties utilizing LIV's services have had access to the latest fitness and wellness programming, delivered by top trainers. Today, anyone can participate in a wide range of classes from the comfort of your home. All that's needed is a smartphone and an Instagram account!
Classes are taught live every day at 10 am and on Tuesday through Friday also at 1 pm ET – so it's worth setting a calendar reminder and hopping onto Instagram for a healthy break. The company offers Zumba, meditation, HIIT, Barre, and exclusive LIV Definition, LIV Power Flow, LIV Vinyasa Flow and, for the fitness-ambitious, LIV Extreme Definition.
The impetus behind LIV's offering driven by a desire to keep as many team members employed as possible. In addition, "We wanted to stay engaged and try to help our residents feel a sense of connection, wellbeing and community with the familiar faces of LIVunLtd they have come to know in their buildings," said Michael Fazio, Chief Creative Officer. He added, "We decided to open up our classes to the public to give them access to our quality wellness programming."
Get Started: Follow LIVunLtd on Instagram and look for their new stories every day at 10 am and 1 pm ET.
Soon, LIV classes will be available on IGTV so you can participate when it's convenient for you. Stay tuned for more details.
California Closets: Oregon Team Donates 1,278 Pairs of Shoes for Soles4Soles
"Something as simple as a pair of shoes can make a big difference."
People living in poverty want better lives but many lack opportunity. Soles4Souls turns unwanted shoes and clothing into hope, by keeping them from going to waste and putting them to good use – providing relief, creating jobs, and empowering people to break the cycle of poverty.
Oregon General Manager, Nicole Kypreos, and her team recently collected and donated 1,278 shoes during their annual Soles4Souls shoe drive, that wrapped up in January.
Shoes translate to basic essentials for families in need in the developing world. The shoes donated benefit Soles4Souls' international micro-enterprise program, which offers a powerful and sustainable path for people to create small businesses, selling shoes to lift themselves and their families out of poverty.

The shoes donated by the Oregon team will create enough income to provide a full year of food, shelter, and education for a family in need. What a powerful way to collaborate to help design better lives.
Thank you to Nicole Kypreos and her entire team for helping to make such a positive difference in the lives of these families in need.
American Pool: Takes the Polar Bear Plunge to Support Special Olympics
Two dozen members of American Pool recently braved the icy waters of Chesapeake Bay with a shared goal in mind, to raise money to support Special Olympics Maryland. Collectively, the team raised more than $12,000 for this worthy cause. Dressed in everything from monkey suits to patriotic swim trunks, they brought fun and enthusiasm to the plunge. In addition to increasing awareness and funding for Special Olympics, the event was also a wonderful way to build camaraderie and promote the American Pool brand because, after all, they are the experts in all things water-related!
Read More