Volunteers needed to join us at our upcoming volunteer day at MANNA. MANNA is a wonderful organization that provides meals for those with cancer, HIV/AIDS and other serious illnesses.
Location:  420 N 20th St, Philadelphia, PA 19130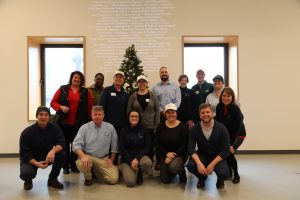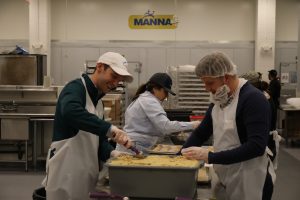 1. Applications: Please ensure each person completes the online application using this personalized link for your group: http://fsr.manna.volunteerhub.com/ prior to your arrival for your shift. Shift sign up will become available 2 months prior to your scheduled shift.
2. Minor Consent Form (under 18 ONLY): All volunteers must be at least 14 old. If anyone is a minor (under 18 years of age) a parental consent form must be filled out prior to being allowed to volunteer in the MANNA kitchen. The consent form is attached and can be printed out, signed and brought to MANNA on day of scheduled volunteer event. All minor volunteers MUST have a signed consent form or they will not be allowed to volunteer.
3. Dress Code: Volunteer safety is a priority at MANNA and The Department of Health requires a dress code for MANNA's kitchen. Please review the MANNA Kitchen Safety & Dress Code with all members of your group. Volunteers are required to adhere to the following guidelines: · No sleeveless shirts or tank tops (t-shirts are OK) · Must wear long pants (no shorts or skirts) · Must wear closed shoes (no open-toed shoes or sandals) · No Jewelry is allowed in the kitchen (rings, bracelets, watches, dangling earrings) · Hats and/or head covering is required (although hairnets are provided) – you may bring your own baseball cap or hat to wear · Disposable aprons and gloves will also be provided onsite (you may bring your own apron)
4. Cancellation Policy: MANNA relies on volunteers like you to ensure that our clients have the meals they need every week. Our kitchen counts on you when you sign up to work a volunteer shift, and group cancellations have a serious impact on the kitchen production. We suggest giving 8 days' notice when you cannot keep your shift.
5. Sick Policy: If you are sick, please stay at home and get well. Do not come to MANNA to volunteer. We will look forward to seeing you when you are better! These regulations are for your safety and that of our clients—at MANNA, safety comes first!
6. Parking: There are several options for parking, but please note MANNA does not have any special parking rates or validations. a. Rodin Place Garage: This garage is attached to our building and charges $16 after 2 hours. b. Metered Street Parking: There is metered street parking available all around our building. Rates may vary. c. PPA surface lot: Located on Callowhill St. between 19th and 20th. Visit http://www.philapark.org/19th-callowhill/ for more info. d. Free street parking: There is LIMITED free 2hr street parking available on the surrounding streets. e. Bike racks: There is a bike rack located in the Rodin Place garage.