FirstService Relief Fund Application FAQs
What is The FirstService Relief Fund?
The FirstService Relief Fund was created to help employees and employees of franchisees who are facing financial hardship immediately after a personal hardship or disaster ("Qualified Events"). The FirstService Relief Fund relies primarily on individual donations from employees, franchisees and employees of franchisees and support from FirstService companies and franchisors to fund this program. Every contribution helps, and when combined with the donations of others, can provide a tax-free grant (USA) to help fellow employees, franchisees and employees of franchisees in need when they are facing the unexpected.
What Qualified Events are covered?
Natural disaster such as flood, wildfire, tornado, earthquake, tsunami, volcanic eruption, blizzard, drought, cyclone, hurricane, typhoon or severe storm
Terrorist actions
Disaster resulting from an accident involving a common carrier such as buses, trains, ferry, planes or trucks
Military deployment (employees, franchisees and employees of franchisees, spouse or domestic partner called to active duty)
Impacts to primary residence such as fire, flood or other unusual life-altering expense not covered by insurance
Serious illness or injury which is not covered by insurance
Non-routine/exceptional medical expense – not covered by insurance
Victim of a violent crime
Domestic abuse
Death of an employee, immediate family member of an employee, franchisee and employee of franchisee
* If you don't see your event on this list, please contact EAF at 888-497-4114 or
firstservicerelief@emergencyassistancefdn.org
to discuss your specific situation
Who can apply for assistance from the Fund?
Applicants must be:
An employee, franchisee and employee of a franchisee who is employed, on average, at least 30 hours of service per week, or at least 130 hours of service in a calendar month; or
On approved medical leave or an approved leave of absence for no more than (1) one year
Is COVID-19 (Coronavirus) considered a Qualified Event?*
COVID-19 falls under Serious Illness/Injury – Serious illness or injury – not paid by insurance for employee or eligible dependent
This event would assist applicants who themselves or their domestic partner, child or IRS dependent have been impacted by one of the following events:
Diagnosed with a serious illness such as the COVID 19 virus
Quarantined due to exposure to COVID 19
Ordered by a physician, governing agency, the company, or other healthcare provider to be isolated or quarantined for an extended period.
*Required Supporting Documentation during the application phase with the standard grant would need to include one of the following supporting documents:
Notification of quarantine by Company, Emergency Responder Report, governing agency, doctor's note, or other healthcare professional or,
Statement from doctor / physician / health care provider regarding the employee's or dependent's illness and under care
Submitted Documentation would need to include all below:
The name of the organization, address, and contact information of the notifying party.
Name of Applicant or Dependent impacted
Dates of Service or Expected number of days of impact
Description of Illness
What Expenses can I apply for assistance?
Food (usually applicable up to 2-4 weeks after event)
Clothing (usually applicable up to 2-4 weeks after event)
RX Medications
Significant Medical Expenses
Travel Expenses Related to Medical Care
Essential utilities (gas, water, and electricity)
Mortgage or rent assistance for primary residence
Psychological counseling deemed necessary by a physician following an event
Unable to work due to an event
o For a COVID-19 event, we will need a note from your healthcare provider or government health official, or directly from company stating that you are unable to work for 5 or more consecutive days due to a COVID-19 diagnosis or exposure.
Have you been financially impacted by the COVID-19 virus?
Regulations require that there be a determination of need and proof shown that the grants are made for applicants who have difficulty paying the expenses that they face due to an unforeseen event. To assist with the evaluation of this grant, you will be asked to provide household financial information and to show proof of financial hardship.
What type of supporting documentation is needed to show financial impact due to the event?
Applicants will be required to show the proof of financial impact which could include proof of medical expenses due to the event or documentation from the organization verifying loss of income due to inability to work. This can come from the applicant's supervisor, HR, or an authorized company representative. If the financial impact is due to medical expenses, documentation of those expenses will be required. Any documentation of expenses will need to have occurred after the qualifying event date.
Some hypothetical scenarios include:
As an example: You are ill and are ordered to be quarantined by your healthcare provider for three weeks. The company allows you to use PTO time during your absence for this time.
A: You have enough hours of PTO to cover the hours missed, so there is no loss of income and thus there is no financial hardship. In this example, you would not be eligible for grant assistance. B: You only have enough PTO hours to cover one week of hours missed, therefore causing a substantial financial hardship and you need assistance. In this example, you would need to provide supporting documentation from the organization confirming your lack of hours in which caused a reduction in your income to satisfy the supporting documentation requirement of the financial hardship.
What is the criteria to qualify for a grant?
While there are many factors which determine if a grant can be made, the review process is designed to try to make each grant when possible. To meet regulations, the objective review process is complex so the simplest first step is to determine if your situation meets the most basic criteria by answering the following questions:
Did one of the fund's events in the chart below happen to you?
Would your application meet the following general criteria?

Are you applying within 90 days after the Event?
Application submissions are limited to 1 application every 12 months.
If an application is not approved, you must wait 6 months before reapplying and cannot reapply under the same event.
Did the Event occur after you were employed?

Did you have one or more of the Expenses related to the Event that is part of the fund criteria in the chart below?
Do you have the documentation for the Event and Expenses which provide the necessary details such as date of the expense, person responsible for bill and other details listed in the application?

Is the expense documentation provided dated after the qualifying event occurred?

For expenses requested for bills or invoices, is the expense documentation provided dated within the past 60 days?

While there are some additional criteria, applications that do not meet these basic criteria cannot be approved.
Is there a time limit within which I need to submit my application?
Yes, you need to submit your application within 90 days of your Qualified Event.
What documentation will I be asked to provide?
Photos
Insurance claim
Repair estimates
FMLA documentation
Doctor's note
Police report
Obituary
Receipts
Car rental receipt (no more than 30 days)
Mortgage statement or signature page of lease agreement
Receipts for household goods, clothes, etc. (If unable to purchase needed goods, a wish-list from an online retailer)
For which basic living expenses will The FirstService Relief Fund provide financial assistance?
If an employee, franchisee and/or an employee of a franchisee experiences a qualifying event, The FirstService Relief Fund may provide assistance for expenses and the "" in the table below indicates which expenses are included.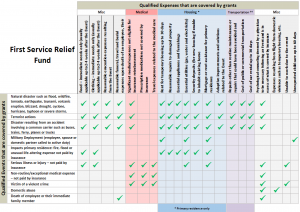 What expenses are not covered?
Examples of existing non-qualified expenses include:
Legal fees
Lost compensation due to missed time from work
Electronics and non-essential appliances/furnishings
Non-essential utilities (internet service, cable television, etc.)
Personal security items
Prepaid expenses
Expenses incurred before the employee, franchisee and employee of a franchisee became eligible for assistance
Payment for maternity/paternity leave unless medical complications to the mother or child occur
Routine car maintenance
Credit card debt
Pay day loans
Medical expenses not related to a Qualified Event including: Long-term medical expenses, expenses for elective medical procedures, routine or maintenance medical procedures
Non-medical insurance co-pays, premiums or deductibles, or items covered by or to be reimbursed by insurance
School tuition
Expenses associated with divorce or child custody matters
Funeral, travel and burial expenses upon the death of the employee/franchisee/independent affiliate's relative other than an immediate family member or eligible dependent
How large of a grant can I apply for?
The maximum amount available for each incident is $3,000 and the minimum amount that can be requested is $500. All monies are represented in local currency.
Who does The FirstService Relief Fund include as eligible dependents?
The FirstService Relief Fund considers the spouse/domestic partner, minor children and other dependents for whom the party is financially responsible as eligible dependents of the following individuals:
Employees
Franchisees
Employees of franchisees
Parents, grandparents or other relatives are not considered dependents, unless the employee, franchisee or employee of a franchisee can show that they are claimed as a dependent on their tax returns. A domestic partner is defined as "an on-going and committed spouse-like relationship between adults of the same or opposite gender."
How can I apply for a grant?
We offer multiple ways to apply for your grant:
Online by visiting FirstServiceRelief.com

Via your mobile device by visiting FirstServiceRelief.com. You may take photos of your documentation and upload them from your mobile phone

By calling EAF at 888-497-4114 and having an agent help you complete your application.
Can you help me understand the application process?
Step 1: Go to FirstServiceRelief.com and click on the "Apply for a Grant" button.
Step 2: REGISTRATION: Register and receive application link.
Step 3: APPLICATION: Complete application (you may save the application at any point to continue adding other information later). If you have questions or need assistance please call 888-497-4114.
Step 4: SUBMISSION: After gathering all required documentation, submit your application. You will receive an email confirmation from EAF immediately. If you do not receive this confirmation please check your spam or junk folders. If you do not see it there, please call EAF at 888-497-4114 to follow up.
You will receive a confirmation email from Emergency Assistance Foundation, Inc. (Note: if you are anticipating additional expenses related to your event do not hit submit until you have all required documentation. The reason for this is once an application is approved you cannot reapply for support under the same event and we want you to receive all the funds for which you are eligible. You may apply for a grant every 12 months.)
Step 5: INITIAL REVIEW: EAF will verify your application by contacting your employer. Your employer will not be told the nature of your application, only asked to confirm that you meet the eligibility requirements. If there are follow-up questions, you will be contacted within 48 hours during business days. Your application will remain in Initial Review status until all supporting documentation is received and the application is complete. Depending on the response/information from the applicant, it may take anywhere from hours to several weeks. If EAF does not hear back from you regarding missing information within 45 days, your application will be closed out.
Once the initial review is complete, it next undergoes a Quality Check with a recommended grant/award amount.
Step 6: QUALITY CHECK & AWARD NOTIFICATION: A second reviewer completes a final quality check within 2-3 business days and sends an award notification email to the applicant.
Step 7: GRANT PROCESSING:
1. If you've been approved for full or partial amount, the grant award is submitted to grants payable/accounting. 2. Approximately 2-3 business days after your award notification email, applicants will receive another email from Emergency Assistance Foundation, Inc. confirming the grant award and who will receive the grant payment. 3. In the U.S. you will also receive a quick eCheck via email which you print out and cash. 4. Outside of the U.S. grants are paid in the quickest and least expensive mode including ACH, PayPal or other services.
We put together a handy checklist to help guide you through the application process. You may find it here.
Which family members does The FirstService Relief Fund consider as eligible immediate family?
An applicant may be eligible for assistance in the event that he or she is financially responsible for funeral, burial or travel expenses due to the death of an immediate family member. The FirstService Relief Fund defines an eligible immediate family member as any of the following:
Spouse or partner in a civil union or domestic partnership
Parent
Child
Sibling
Grandparent
Grandchild
Spousal grandparent
Aunt, uncle, niece or nephew
Father–in-law or mother-in-law
Brother-in-law or sister-in-law
Son–in-law or daughter-in-law
Do you need help but do not know how to apply? Are you having trouble with the application or the documentation required?
The best thing to do is to get someone that you trust to help you through the process. Maybe your supervisor could help, or someone from the human resources department, or someone else that you trust. The important thing to remember is that you have a better chance of getting your application approved if you complete the application accurately, and supply all of the backup documentation necessary.
What is the turnaround time to process a grant application?
Normally, within 10 business days or less. The FirstService Relief Fund is administered by Emergency Assistance Foundation, Inc. (EAF) which is a 501c(3) tax-exempt, public, nonprofit organization with IRS approval specifically for employee Hardship and Disaster Relief Funds. EAF strives to maintain a quick response time from the time they receive a complete application. However, processing time will be extended in cases where documentation or signatures are missing, or if other information is needed. Please take care to double check your application before sending it for review. You will be notified if there is missing information from your application.
How will I be notified of the decision?
The Emergency Assistance Foundation will notify you by email when your application is approved or rejected.
Are funds received as a grant taxable?
United States
No. Grants received in the U.S. are not considered part of your taxable income
Canada
Yes. Grants are fully taxable, and individuals receiving a grant must report the income on their personal tax returns
Do I have to repay the grant?
No. Amounts granted under the Fund are not loans and do not have to be repaid.
What information does the Fund need when reviewing an application?
In each case, The FirstService Relief Fund requires a completed application along with required documentation regarding the qualifying incident. The application must establish a financial need and document the expenses for which the grant is being requested. Payments cannot be made without copies of current bills or invoices.
Will my information remain confidential?
Yes. Your personal information is only used to determine your eligibility for a grant and to determine the grant amount to be made. Applications to the Fund are reviewed by Emergency Assistance Foundation, Inc. and will be treated in a confidential manner; however non-identifying statistical information will be reported to FirstService on a periodic basis to help it improve the Fund. During the application process, you will be asked if you are willing to share your story. If you elect "yes," then a member of the FirstService team or a representative from your company may contact you to schedule a call to learn more about your experience in the hopes that your experience will help inspire others to apply for grants or donate to the Fund. No information will be shared publicly without your consent, and you will have the option to remain anonymous if you prefer.
I borrowed money from my friends and family to help me get caught up on my bills, will The FirstService Relief Fund reimburse me so that I can pay them back?
No. The FirstService Relief Fund is available for those employees, franchisees and employees of franchisees who do not have the means themselves or other resources available to pay their living expenses.
Can I apply on behalf of a co-worker?
No. If you think a co-worker would benefit from the FirstService Relief Fund, please pass along information about the Fund so that he or she can follow up. In the case of an employee who is incapacitated, a family member or manager can apply on the employee's behalf.