LIVunLtd: Sweat For Change – Virtual Group Fitness Classes to Support Justice Initiatives
Join the fitness pros from LIVunLtd for FREE daily wellness and fitness classes. Now through June 15, participants may join Sweat For Change classes, where donations in any amount are encouraged
to support these worthy causes:
Donations can be made through linked embedded in LIVunLtd stories.
Classes are offered daily at 10 am, and on Monday through Friday, also at 1 pm. To join, follow LIVunLtd on Instagram. All times below ET. To keep things fresh, the mix of classes and instructors changes every week.
Depending on the week, participants can choose from a variety of classes including:
HIIT
Cardio Dance
Meditation
Core Strength and Stretch
LIV Slow Flow
Pilates Mat
Core Conditioning
LIV Vinyasa Flow
This is a great opportunity to take classes with some of the nation's top wellness and fitness experts!
LIVunLtd: Live Group Fitness Classes
Join the fitness pros from LIVunLtd for FREE daily wellness and fitness classes. Classes are offered daily at 10 am, and on Monday through Friday, also at 1 pm. To join, follow LIVunLtd on Instagram. All times below ET.
Monday, 4/20
LIV Power Flow with Marie Hickey, 10 am
HIIT with Stu Lopoten, 1 pm
Tuesday, 4/21
LIV Definition with Todd Allen, 10 am
LIV Vinyasa Flow with Karfee Lye, 1 pm
Wednesday, 4/22
Meditation with Michael Clement, 10 am
LIV Power Flow with Ashley Balfour, 1 pm
Thursday, 4/23
Zumba with Hatsumi Oya-Woodson, 10 am
Barre with Todd Allen, 1 pm
Friday, 4/24
Pilates Barre Fusion with Portia Boston, 10 am
LIV Vinyasa Flow with Ashley Balfour, 1 pm
Saturday, 4/25
HIIT with Stu Lipoton at 10 am
Sunday, 4/26
LIV Alignment Flow with Marie Hickey
The Amenity Collective: Easy Ways to Practice Self Care – Go Ahead, You Deserve It
For many, it feels like the world has been turned upside down. In what feels like the blink of an eye, all of our lives have changed dramatically. We're all doing our part to adapt to our new normal. These are incredibly stressful times, and we know the impact stress can have on one's health and well-being. If ever there was a good time to focus on self-care, this is it.
We wanted to share some ideas of ways you can maintain your emotional and physical wellbeing, reduce stress, stay fit and make the most of the time while you are sheltering in place.
Through its subsidiaries including Heartline Fitness and LIVunLtd, The Amenity Collective delivers health and wellness programs to some of the most iconic properties and spas in the U.S. To help promote wellness to a broader audience, the company is now offering a variety of free resources for you and your family.
Three Sages Wellness App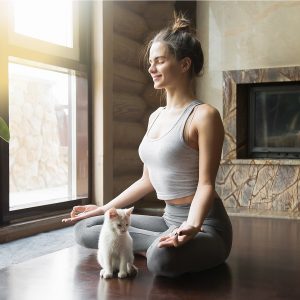 Heartline Fitness has partnered with Three Sages to provide complimentary access to this new mobile app which offers natured inspired sips of wellness, in the form of short, engaging audio and video content. Its intent is to help you move, nourish and restore. Through a series of questions, the app customizes programming based on your preferences and offers everything from "quick fixes" – yoga sequences and meditations you can do anywhere – to longer, more intensive sessions. Explore a wide range of recipes for healthy snacks, smoothies and spritzers, and, when your day is done, the app's Evening Sleep music helps you relax, unwind and drift off to a restorative sleep.
Get Started: Simply search for Three Sages in the Apple Store and use access code "heartline" (case sensitive) to get the app for free for 60 days!
Instructor-Led Fitness Programs
LIVunLtd is the premier concierge, fitness, wellness, event programming and lifestyle management collective. Residents of properties utilizing LIV's services have had access to the latest fitness and wellness programming, delivered by top trainers. Today, anyone can participate in a wide range of classes from the comfort of your home. All that's needed is a smartphone and an Instagram account!
Classes are taught live every day at 10 am and on Tuesday through Friday also at 1 pm ET – so it's worth setting a calendar reminder and hopping onto Instagram for a healthy break. The company offers Zumba, meditation, HIIT, Barre, and exclusive LIV Definition, LIV Power Flow, LIV Vinyasa Flow and, for the fitness-ambitious, LIV Extreme Definition.
The impetus behind LIV's offering driven by a desire to keep as many team members employed as possible. In addition, "We wanted to stay engaged and try to help our residents feel a sense of connection, wellbeing and community with the familiar faces of LIVunLtd they have come to know in their buildings," said Michael Fazio, Chief Creative Officer. He added, "We decided to open up our classes to the public to give them access to our quality wellness programming."
Get Started: Follow LIVunLtd on Instagram and look for their new stories every day at 10 am and 1 pm ET.
Soon, LIV classes will be available on IGTV so you can participate when it's convenient for you. Stay tuned for more details.