California Closets: Oregon Team Donates 1,278 Pairs of Shoes for Soles4Soles
"Something as simple as a pair of shoes can make a big difference."
People living in poverty want better lives but many lack opportunity. Soles4Souls turns unwanted shoes and clothing into hope, by keeping them from going to waste and putting them to good use – providing relief, creating jobs, and empowering people to break the cycle of poverty.
Oregon General Manager, Nicole Kypreos, and her team recently collected and donated 1,278 shoes during their annual Soles4Souls shoe drive, that wrapped up in January.
Shoes translate to basic essentials for families in need in the developing world. The shoes donated benefit Soles4Souls' international micro-enterprise program, which offers a powerful and sustainable path for people to create small businesses, selling shoes to lift themselves and their families out of poverty.

The shoes donated by the Oregon team will create enough income to provide a full year of food, shelter, and education for a family in need. What a powerful way to collaborate to help design better lives.
Thank you to Nicole Kypreos and her entire team for helping to make such a positive difference in the lives of these families in need.
California Closets: Commitments to Excellence and Sustainability Go Hand-in-Hand
When people think of California Closets, impeccable craftsmanship, exceptional design and high-quality materials often come to mind. Maintaining its reputation for excellence is a priority shared by everyone throughout the organization. One of the ways the company does that is by ensuring the materials used in its installations are free of flaws and defects.
When Kelly Gray, an Arizona-based purchasing manager for California Closets, received a material shipment this past December, she immediately identified an issue. Although the structure and base of the material core was good, a large area on the surface had displeasing spotting which made it unusable for California Closets.
The supplier refunded the cost of the material but Kelly's team was faced with the dilemma of what to do with it. Disposing of it would not only be costly, it would also be in conflict with the company's commitment to support sustainability. After some brainstorming, Kelly's team identified two charitable organizations that would be able to use the material: Habitat for Humanity and Stardust.
"We have been collaborating as a team to find ways to support sustainability and the community, and this accomplished both targets. The product we contributed will essentially help to 'design better lives' and aligns our brand with other organizations who share our values," said Kelly.
Habitat for Humanity brings people together to build homes, communities, and hope. They envision a world where everyone has a decent place to live, and are dedicated to building, renovating, and repairing simple, decent, and affordable homes for families of modest means. Gifts from individuals, companies, and faith groups provide the necessary funding needed to support the mission of Habitat for Humanity.
Stardust is a non-profit organization in Arizona that believes that deconstruction and reuse policies and practices can drive economic prosperity, while avoiding unnecessary waste. Stardust operates two reuse centers for home improvement, which sell gently-used, salvaged, and surplus building materials at affordable prices. Additionally, Stardust provides deconstruction services that salvage building materials, diverts waste from landfills, and supports sustainability in the community.
Kelly's team donated more than 300 boards to both organizations, an inventory valued at $10,000-$12,000!
California Closets: Supporting the Critical Work of the National Brain Tumor Society while Honoring One of Their Own
On a brilliant, sunny morning in Phoenix, thousands turned out to join the fight against brain tumors at the Phoenix Brain Tumor Walk. Nearly 70,000 Americans are living with a brain tumor today, and the National Brain Tumor Society is working tirelessly to influence and fund research and groundbreaking discoveries and programs.
The Phoenix event was special to the team at California Closets, as one of their beloved design consultants has been receiving treatment for a brain tumor since August. David Slivinski was diagnosed just days after his 40th birthday. David, who joined his colleagues at the Walk, was met with a special message at the finish line where he saw a sign created by the National Brain Tumor Society that read, "In Honor of David Slivinski."
David continues to inspire all of us who have read his story or followed his blog with his positive attitude and appreciation of all the good things in life.
FirstService Relief Fund: Providing Critical Financial Support During Brain Cancer Treatment
After spending 15 years working as an interior designer in New York City, David Slivinski needed a change. Having recently lost his mother, he was ready for a fresh start in a new city. He chose Phoenix for its warm weather and active lifestyle and was thrilled to join California Closets as a design consultant, the perfect role for him given his interior design background and genuine desire to help others.
In July he purchased a home, deepening his ties to his new community. When he chose his home, its proximity to the world-renowned Barrow Neurological Institute wasn't a consideration. And he had no way of knowing how significant this location would soon become for him.
Milestone birthday celebration takes shocking turn
David turned 40 at the end of July and celebrated the milestone birthday during a trip to see friends in Seattle. He had just enjoyed a birthday dinner when suddenly he became violently ill and began having seizures.
Forty eight hours later he awoke in a hospital to stunning news – doctors suspected he had a brain tumor. A biopsy soon confirmed the diagnosis and his medical team began to discuss treatment options with him.
David's tumor is called an Oligodendroglioma, and it occupies three sections of his brain. Due to its large size, surgery is not an option. Instead, doctors prescribed an aggressive course of radiation and chemotherapy in an effort to keep the tumor from growing.
David began his treatment at Barrow — less than a mile from his home. Because of his recent history of seizures, he is no longer able to drive so he often walks to the hospital for treatment – to the amazement of medical staff. David believes keeping fit and strong – physically and mentally – will be key to his ability to fight this disease. In addition to the radiation and chemotherapy treatments he's receiving, David incorporates yoga, acupuncture and follows a nutrient-rich diet comprised of foods widely believed to fight cancer.
He recently received some incredible news, the tumor had shrunk! This is a development even his doctors deemed highly unlikely. In fact, in their eyes, simply stopping the growth of the tumor would be a victory, so this discovery was something to celebrate.
No day but today
Throughout his journey, David has maintained a positive and spiritual outlook, "If we are going through something in life, it's because we are strong enough to get through it. We become better people through the events that shape our lives." His mantra is "No Day But Today," which fans of the musical Rent will recognize, and which is a reminder that every day is a precious gift.
Doctors will continue to closely monitor his tumor, and David hopes to be cleared to begin driving again, so he can return to the job he loves so much.
FirstService Relief Fund helps our people when they need it most
David has shared his story with us in the hopes it will inspire colleagues to learn more about the FirstService Relief Fund. No one ever expects to face a catastrophic health issue, and certainly not at such a young age, but David's story is a sobering reminder that unforeseen events can happen to any of us at any time. That's why FirstService established the Relief Fund, to help our people when they need it most.
The grant David received from the Relief Fund was badly needed to help pay medical bills, and in his words, was necessary for survival.
"My cancer has been a blessing that has defined my life in a positive way. It has allowed me to see the depth of the human heart and the love people have even for complete strangers," says David. "I am very, very grateful for the support of my colleagues at California Closets, and to all who have donated to the FirstService Relief Fund. Your support has made a huge difference for me, and I cannot thank you enough."
To learn more about the FirstService Relief Fund, please visit firstservicerelief.com. 100% of money donated goes directly to help our people in need. We hope you consider setting up a recurring payroll donation. Even just $1 per pay period can make a difference.
David's colleagues in Phoenix are joining together for the Phoenix Brain Tumor Walk on December 7, 2019. If you are in the Phoenix area and are interested in joining the California Closets Phoenix team in this wonderful event, or if you would like to support this worthy cause, please click here.
Read about David's inspirational journey on his blog, www.davidslivinski.com.
California Closets & FirstService Brands: Running to support worthy local causes in Grand Rapids
On September 15th, Eastern Manufacturing Team members participated in the Lake Michigan Credit Union Bridge Run. Whether participants opted for the 10-mile run, the 5K run, or the 5K walk, the Run provided participants the chance to see some of the most beautiful sights in Grand Rapids. And even better, the Run benefits great local causes.
The EMC's Jerry Missel, Jordan Thelen, and Mindee Bosworth ran, with Cesar Carassa cheering them on. Wendy Baumann from FirstService Brands also flew out to participate. The team really wanted to create a bonding and community-building experience, and this run/walk served as a healthy way to do it. Even their families joined in the fun!
California Closets: Another Successful Habitat for Humanity Build
California Closets: Lending Expertise and Lots of Muscle to Habitat for Humanity
California Closets: Creating a Dream Bedroom for a Special Child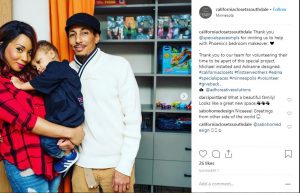 FirstService Relief Fund: Providing Critical Funds After Tragic Loss
Mario is a service coordinator with California Closets, and a recent recipient of a FirstService Relief Fund grant. Mario is sharing his story in the hopes that it will encourage others facing challenging times to consider applying for a grant and to inspire fellow FirstService-company colleagues to donate to the Fund.
Each year, Mario and his siblings spend the holidays with their father, a talented sketch artist, known for his ability to translate his drawings into intricately detailed tattoos. This past Thanksgiving, the siblings went to visit their father, only to find that he wasn't home. Free-spirited, and with a sense of wanderlust, it wasn't uncommon for him to go on a spontaneous trip somewhere – sometimes for a few months at a time. He would return and share with his children stories of his travels and the places he'd seen. Initially, the siblings weren't particularly worried about their dad, but, as time passed and they still hadn't heard from him, they grew increasingly concerned that something wasn't right.
In February of this year, the family got the call they had hoped to never receive. Their father's body had been located in Southern California, over eight hours from Mario's home. Authorities believe he had passed away in November, which is when the family first began looking for him.
Mario drove through the night to meet his siblings, and began the difficult process of meeting with the coroner, retrieving his father's possessions and planning his funeral.
For many families, the expenses associated with funeral arrangements can be overwhelming, requiring them to exhaust their savings and even take out loans to help cover costs. In Mario's case, money he had been saving for his wedding instead went toward funeral expenses.
Mario was reminded of the FirstService Relief fund by one of his co-workers who encouraged him to apply for a grant. His expectations were low. He didn't expect anything to come of his application, so he put it off. After some gentle reminders and prodding, he submitted an application for a grant.
The death of an immediate family member is considered a "Qualified Event" under the guidelines of the Fund, so Mario was awarded a grant. "Words can't express the relief the Fund brought to me and my family. It was truly amazing," said Mario. "I am very grateful to work for a company that truly cares about me and was there for me during an extremely difficult time in my life." Mario would encourage anyone who is facing a hardship to look into the grant. "Losing a family member is not easy, but the support I received from my colleagues and the FirstService Relief Fund helped make it a little easier. I really feel like the company has my back."
Every dollar contributed to the Fund allows us to help employees facing personal hardship. There are several ways to contribute, including automatic payroll deductions, text-to-give, and one-time or recurring donations. For more information on the Fund, please visit firstservicerelief.com.
California Closets: Partnering with Dress for Success Phoenix to Help Women Seeking Employment
California Closets recently donated its services to Dress for Success Phoenix, completing a stunning remodel of the organization's Career Center.
The project included a total transformation of the interior of the center including beautiful new tables and furnishings and freshly painted walls. The end result is a highly functional workspace where women can tap into the  resources provided by Dress for Success to help them secure and retain employment.
At the Career Center, clients are paired with qualified and experienced staff members who provide individualized career guidance to boost confidence and professionalism. They receive career counseling and professional skills training – including resume development and how to write effective cover letters — to help them prepare for upcoming job interviews.
California Closets believes that exceptional design transforms people's lives by creating spaces that allow people to focus on what matters most, and the Career Center at Dress for Success Phoenix is the embodiment of that philosophy.
To learn more about the Dress for Success Phoenix Career Center, please visit https://phoenix.dressforsuccess.org/programs/career-center/