Paul Davis: A Successful Bake Sale and Silent Auction to Benefit a Special Infant
Through Social Purpose, Paul Davis not only supports the community and environment, but the company also supports its people.
Many of the 2019 initiatives have been passion projects presented by individual team members. This one was no different. A team member shared that her infant cousin had undergone multiple heart surgeries in his first year of life and asked if we could do something to help their family. So the team held a bake sale and silent auction. In one day, the team raised $700!
This inspired an outside donor to contribute another $300, reaching a total of $1,000. The team member shared that she had no idea if we could even help, but she saw no harm in asking. She was blown away at how everyone leaned in and contributed. Needless to say, Robbie's family is incredibly grateful for this group of strangers helping their little boy. This was another wonderful example of Paul Davis coming together in the spirit of giving to #FirstServeOthers!
Paul Davis: Helps Raise $230,000+ for Child Cancer Fund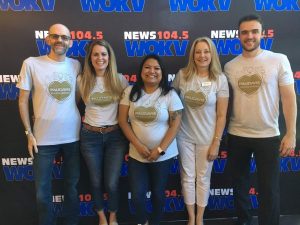 For the past several years, Paul Davis has supported the Child Cancer Fund, a local non-profit by recruiting volunteers to work the phone lines at the WOKV Care-A-Thon.
This year, 17 volunteers from Paul Davis manned the phones to take donations from the community. More than $230,000 was raised for this worthy cause.
Thomas Sirk, Paul Davis Compliance Specialist said, "At Paul Davis, we believe in serving people in their time of need. This extends beyond the restoration space and into the communities we love. I am proud to work for a company that engages in serving others like we did at the Child Cancer Care-A-Thon. It was a true blessing and joy to attend this event and support a cause that offers encouragement to people going through hard times. As we encourage and support others, and we are also encouraged. I look forward to the event next year!"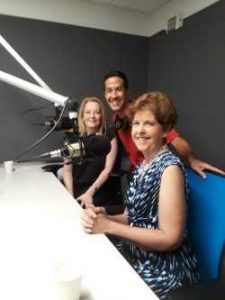 The Child Cancer Fund is a cause that's near and dear to the hearts of many at Paul Davis, especially Child Cancer Fund Founding Member and Paul Davis Legal Counsel, Laura Ferrante.
"It is amazing to be able to share this experience with my Paul Davis family." said Laura. " The Child Cancer Fund is very personal to me and an honor to support the professionals who lovingly provide support to children and their families who go through this difficult time. I am honored that Paul Davis has chosen this great cause in our community!"
Paul Davis: Supporting Local Food Pantries through a Creative CAN Challenge Food Drive
Donation drives are a popular and effective way to collect much-needed food for area food banks, but if you really want to engage your team members and make your food drive something everyone will be talking about, give them an added challenge to see what can be built with the donated items. That's exactly what the creative Social Purpose Champions at Paul Davis did, and the results were incredible!
Building for Prizes & Bragging Rights
As you'll see from the pictures in this post, team members took the challenge seriously and unleashed their creativity building fabulous structures out of donated canned goods. Photos of the structures were shared with the Paul Davis network and prizes were awarded for the locations with the Most Votes and the Most Cans.
All food collected was donated to local and human food pantries, many of which are in great need during summer months. Lots of companies organize food drives during the holiday season, which is  helpful, but by the time summer rolls around, many food banks are faced with empty shelves.
A Fun Challenge with a Big Impact
In addition to highly coveted bragging rights, the LLCO Animal House structure won in the Most Cans category with 1,188 cans, and Hunger Bites won Most Votes. Some offices took the challenge even further by incorporating other fun team building events including company BBQs and bowling outings. Collectively the challenge netted more than 3,100 cans of food!
"Words cannot express my gratitude, respect, and appreciation to everyone involved in this event," said Quality Assurance Analyst Waleska Gonzalez. "Helping others when they need it the most is a cause I keep close to my heart and I am always looking for an opportunity to create awareness. I was happy to see the passion and commitment from my PD family."
Paul Davis Talent and Change Leader and JASMYN Volunteer Kali Freeland added, "At PDRI in Jacksonville, we donated the cans from our structure to a local LGBT Youth Crisis Center, JASMYN. JASMYN normally receives donations during the winter months, so they were especially grateful for Summer donations. I'm personally very proud to support this organization and I'm grateful that Paul Davis is embracing Social Purpose as well as Inclusion and Diversity!"
Add Some Creativity to Your Next Food Drive
So if you are looking to give your next food drive an added element of team building and fun, consider issuing a "CAN challenge" to your team members.
Paul Davis: Helping to Keep Local Beaches Beautiful
One of the perks of working in Jacksonville, FL is access to its beautiful beaches. This is something many on the team at the local Paul Davis Restoration office enjoy with family and friends, and with each other, participating in Social Purpose activities such as beach training runs and 5K events.
Giving Back to the Community & Enhancing Corporate Culture
Recently, the Quality Assurance department began planning a beach clean up as a team building event. When Kali Freeland, talent and change leader, heard about the event she asked Director of QA & Cat Services Leanne Etheridge if they could expand the group to include the whole team as an activity in support of two pillars of our Social Purpose, Our People and Our Environment. Leanne's response: "The more the merrier! We can even expand it to the local office and sister brands in Jacksonville." So that's just what they did.
A team of 21 turned out on a beautiful Saturday morning and got to work picking up trash and other debris.  In total, they removed over 20 gallons of trash from a space that serves as an estuary, endangered turtle breeding ground, and a place of peace and enjoyment for beachgoers. Their hard work did not go unnoticed. In addition to getting lots of thank yous from beach goers, a local newspaper even published a story about their contributions.
While the event was a big success, the team realized if they hold their next clean up event on a Sunday they could have an even bigger impact, cleaning up after Saturday's beach goers have left.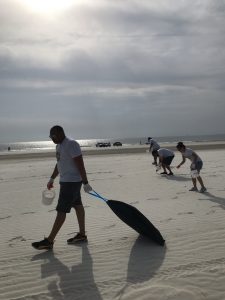 "I am so proud to be part of an organization that supports and encourages the concept of serving others," said Leanne. "I realize that change can provide the most impact when it happens close to home, so deciding to facilitate and participate in an event that directly impacted the local community was an easy choice. Those of us who are Jacksonville natives are a little spoiled – the beach is a short drive for most. Because of that, I felt it was important to preserve and protect such an amazing and important resource. And more than that, seeing patrons ask us who Paul Davis is and what are our team was doing, really inspired me to engage more in serving our local community."
The team at Paul Davis embraces Social Purpose as a way to not only give back to the local community but also to enhance its corporate culture.
"I'm proud to work for a company that supports the causes and organizations that our employees care about," said Kali. " We're seeing more engagement in social purpose than ever and I believe the grass-roots approach and variety not only allows team members to share their own "passion projects" but it also allows us to see the results of our work right here in our own communities."
Paul Davis: Running to Honor Those Who Never Quit
For the Northeast Florida team at Paul Davis Restoration, Social Purpose is about giving back to the community by supporting causes and events that are near and dear to them and also about pursuing health and wellness activities together.
Earlier this year, the team participated in the Moo-ve It 5K to benefit the Justice Coalition of Northeast Florida. Leading up to the event, Eric Taylor, director of franchise launch, and a fitness enthusiast, offered to help train the team so they'd be race-ready on the big day.
This became the genesis of the Paul Davis Running Club, which meets regularly to encourage colleagues to engage in healthy activities and to train for charitable running events.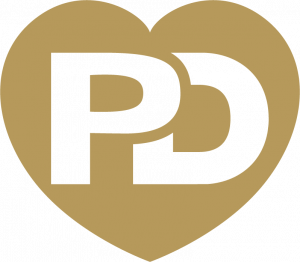 Most recently, team members participated in the Never Quit 1M/5K/10K on beautiful Jacksonville Beach. Never Quit promotes awareness and support for military and armed forces personnel and serves to encourage all to "Never Quit." On race day runners write for whom they will "Never Quit" on their bibs and run in their honor. Often this includes friends and loved ones who have fought serious illnesses or faced personal hardships.
For Eric, this race was especially poignant having lost his mother following a long battle with Lyme disease last year. Eric was joined by Marketing Coordinator Ginella Diaz who committed to "Never Quit" for her mother who is undergoing treatment for cancer.
"It was very moving when the presenter asked the public if they had someone in their lives who has had a stroke or cancer. Lots of people raised their hands. Then he encouraged us to think of them and go run for them! I still get moved by these words when I think about it," said Ginella.
A highlight for many was when they got to hear from a 99 1/2 year old veteran who addressed the crowd and shared some of his life experiences. He gave an inspirational speech on how and why he never quits.
One team member took a photo with a powerful Theodore Roosevelt quote displayed at the event: "Never throughout history has a man who lived a life of ease left a name worth remembering."
Paul Davis: A Stomach Ache Requires Major Surgery and Lengthy Recovery
For Pam, a Paul Davis Restoration contents technician, a stomach ache turned out to be much more serious, requiring her to undergo surgery and a endure a lengthy recovery. Read more about her story and how she was helped thanks to her colleagues' donations to the FirstService Relief Fund.
FirstService Relief Fund Provides a Lifeline to a Chronic Migraine Sufferer
For the purpose of this story, the grant recipient wished to remain anonymous so we are using Jane, a pseudonym
Jane, an accountant with Paul Davis Restoration, has suffered from chronic migraines for 12 years. The debilitating pain associated with a migraine makes day-to-day tasks unbearable. In Jane's case, her migraines were so bad she was unable to stand for more than a minute at a time. Preparing meals and even fixing a cup of coffee were impossible tasks. Her condition also caused her to suffer from severe vertigo, ringing in ears and vision deterioration.
Jane could barely function, let alone work. As a result she was out of work for two months, exhausting her paid time off allocation. Due to the lag time before short term disability kicked in, she faced a period of time with no income causing her to fall behind on her mortgage payments and leaving her without money to pay for day-to-day living expenses.
"I never imagined I would face such financial difficulties. My anxiety about how I would afford to put food on the table and keep my home made a stressful time even worse," said Jane.
As her condition improved she was able to return to work part time. On her second day back she received a company communication about the FirstService Relief Fund and applied for a grant. Because her condition is considered a Qualified Event under the guidelines of the program, she was awarded a grant.
"The Relief Fund was a lifeline for me. If not for the grant, I would have been unable to pay my mortgage and would have lost my home," she said. I am so grateful to my colleagues who donated to the Fund and made it possible for me to receive the help I needed."
The FirstService Relief Fund was designed to help our people in need, with 100% of money donated going directly to them. We encourage you to consider making a donation to the fund.  For many, setting up recurring donations in small amounts, either through payroll deductions or debit or credit cards, can be easier to manage with their personal finances than a one-time donation. Even just a dollar per pay period can have a huge impact when you consider we are an organization of 33,000 people and growing.
If you are facing a personal financial hardship, we encourage you to visit www.firstservicerelief.com to learn more.
Paul Davis Restoration: Care-a-thon Raises $257K for Child Cancer Fund
On July 20, 2018, for the second consecutive year, 17 employees from the Paul Davis Restoration Jacksonville, FL area joined with other concerned citizens for a very special cause: to raise much needed money for the Child Cancer Fund during the 2018 WOKV News 104.5 Care-a-thon. The Care-a-thon was live radio broadcast run by radio and TV personalities with special guest speakers throughout day.
Working in shifts, employees manned the phones during the 12 hour event and recorded donations from caring citizens throughout northern Florida and southern Georgia. The event was a big success – raising $257,540, and exceeding its stated goal of $250,000.
The Child Cancer Fund is a non-profit established by a group of Jacksonville parents – including a member of Paul Davis Corporate Legal Counsel — whose children were receiving treatment for cancer. The group helps families manage the challenges of childhood cancer focusing on the emotional, practical, educational and financial support they need every day.
Those in attendance hailed the event as one of the most personally rewarding experiences they have had. And it was not without its share of excitement: As the end of the day drew near, the team was almost $7,000 short of its goal so they decided to keep the phone banks open and asked people to continue calling in. The phones lit up, and even after the initial goal was met, generous citizens continued to open their wallets to support the effort.
One of the most poignant moments of the day was when children and cancer survivors went on-air to tell their personal stories and share how the Child Cancer Fund has impacted their lives. These individuals inspired both the listening audience and on-site volunteers with their bravery and resilience.
According to  Paul Davis volunteer and Brand Sherpa Emily Schafer, "Having this opportunity to support children and their families in the NE Florida area who are suffering from cancer is an honor. What I love about Child Cancer Fund is that it started because parents saw what an impact one woman was having on their children during their treatment. She was making sure that they weren't just receiving medication and going through tests, she was making them smile, laugh, and still feel like kids."
For information on how you can donate to the Child Cancer Fund, please visit their website.
Paul Davis: 2018 Shadey's Rugged Run Sponsor
Paul Davis Restoration: Campaign to raise money for The Leukemia & Lymphoma Society of Central PA