CertaPro: Celebrating Painters by Bringing the Painter Appreciation Cookout Home
CertaPro of St. Charles County in St. Louis, Missouri came up with an innovative way to celebrate their painters and families. In the past, the team gathered together for an annual Painter Appreciation Cookout. Due to Covid-19 guidelines there was no safe way to host 50+ painters and their families this year. Instead, the team delivered "gift buckets" filled with goodies and a bonus so they can enjoy a family cookout on CertaPro! Certa's painters have worked extremely hard throughout this pandemic delivering quality work while maintaining a safe environment for themselves and for clients.
What a wonderful way to show appreciation for this dedicated and hard working team! And a thank you @sherwinwilliams for contributing to the goodies!
California Closets: Supporting Men of Valor and Helping Shape Better Futures
Following up on its 2018 involvement with Nashville-based Men of Valor's Phase 1 housing build, California Closets of Tennessee recently completed the installation of 33 more closets in the Phase 2 building, Valor Ridge. This brings its total contribution to 93 new closets — with all materials and labor given free of charge.
The new residential spaces at Valor Ridge will provide housing for participants in Men of Valor's year-long prison aftercare and re-entry program. The recidivism rate (prisoners rearrested after release) in Tennessee is 51 percent. The recidivism rate for graduates of the Men of Valor program is less than 10 percent.
"We are excited to continue to support the life-changing work of Men of Valor," says CCTN Owner Kurt Schusterman. "California Closets of Tennessee is committed to looking for ways to give back to others who are making an impact in our community. Clearly, the Men of Valor team is doing just that. This was a team effort and is a great example of living out our company values."
Additionally, Kurt and his team were thrilled to get the support of CC vendors to help make this possible, including DixiePly for wood product, Valendrawers for the drawers, Salice for the runners, and TAG hardware for poles and other hardware.
"As a faith-based nonprofit we are always grateful for donations," said David Miller, Men of Valor's Development Director. "We appreciate California Closets of Tennessee once again stepping forward to support our mission by donating closets for the second phase of housing at our Valor Ridge community."
CertaPro: Supporting Alzheimer's Awareness is a Family Affair
When Jason Phillips, Director of Strategic Accounts for CertaPro Painters, learned one of the company's clients, JEA Senior Living, had formed a fundraising team for the virtual Walk to End Alzheimer's he was quick to sign on to help.
He recruited family to join him, launched a fundraising page and promoted his plans through LinkedIn. Within a little over a week he exceeded his fundraising goal of $500.
The day of the walk, Jason was joined by his wife, his sister and her husband and they spent the morning hiking the beautiful Salmon Creek trail in his hometown of Vancouver, WA.
"Alzheimer's is a disease that devastates many families, and it's one that afflicts many residents of our client's senior living facilities," said Jason. "It was my pleasure to help raise awareness of Alzheimer's and support the work JEA Senior Living does to honor the experience of aging for the residents they serve."
JEA Senior Living operates more than 50 specialized care centers around the country to meet the special needs of Alzheimer's patients.
For more information, or to make a donation, click here.
CertaPro: Company Painter Provides Food and Necessities to Those in Need in El Salvador
We love sharing stories of how our team members find their own Social Purpose. Efrain Montoya, a painter with CertaPro in Thousand Oaks, CA, wanted to help those in need in El Salvador. Efrain, whose brother lives there, has been collecting monetary donations here in the United States and and sending the money to his brother in El Salvador. His brother uses the money to buy groceries and other essentials for those in need. Many of the people they help are extremely impoverished, living in shacks in rural areas with no easy access or means to obtain food or other supplies.
Kudos to Efrain and his brother for identifying a way they can help people and putting together a plan to make a difference in their lives.
Many of the supply deliveries have been recorded, and can be viewed below.
California Closets: Giving Back to a Local School & Helping the Environment
Back in the spring, West Palm Beach GM Anette Jordan was invited to a fundraiser for a new school in their county of Port Saint Lucie that would be dedicated to children with Autism and related disabilities. Now, the Exceptional Academy for Differently-Abled Learners Inc is a private, non-profit learning center offering a full-time academic educational program for grades 1-6, as well as part-time homeschool enrichment classes for grades K-6.
The school is different than others because of its focus on children's abilities, instead disabilities. With input from each student's family, the school's team of experts tailor a curriculum based on what a child is interested in and the things that he/she is currently successful at. With confidence, grows skills; the teachers work with the children, and their families, to help build their current skills and attain new ones.
This summer, the West Palm Beach team closed one of their older showrooms and opened a brand new one with all new displays. Knowing the school's needs, Anette rallied her team. They reconfigured several of the displays from their old showroom and installed them at the school – a wonderful and equally "green" effort that also spared the team from discarding all the displays in landfills!
Declutter Your Home and Help Those in Need
Take a good look around your home. Chances are, you'll find things you're not using that are just taking up space. We all accumulate extra stuff over the years that we don't need. And often these very items could be put to good use by someone who does need them.
Now is a great time to reduce clutter in your home, simplify your life, save money and give back to those in need.
What's the best way to start your decluttering project?
Start small, beginning with one area or room at a time. It can be as simple as your junk drawer or your guest bathroom vanity.
We suggest for each room or area you plan to declutter, you begin with five boxes (or bags). Label them as follows: Keep, Donate, Trash, Recycle, Re-locate.
An important part of your decluttering process will be collecting and relocating items you are keeping so they are kept together and in a logical place, i.e. setting up a central location for all batteries or lightbulbs. This is where your life will be simplified, and time and money will be saved. Knowing what you have on hand — and where to find it! — will eliminate unnecessary purchases in the future.
As you go through items in your home, ask yourself the following questions:
Is this a duplicate item? If the answer is yes, then ask if you really need duplicates of it or if you can make do with one (or two)

Is this something I use on a frequent basis? If yes, consider whether its current storage location is convenient when you need it

Is this something I've never used or worn? If yes, you probably won't miss it so this would be a good candidate to donate

Have I worn this in the last year? If no, let it go!

Do I like this item or am I keeping it for sentimental reasons? If you are holding onto old wedding gifts you will never use because you feel bad letting them go, remember the person who gave them to you will never know you re-homed them
Decluttering provides many benefits, among them giving you more time in your day because when you've effectively decluttered your home, finding the items you are looking for becomes easier. Also, who wants to take the time to clean around knickknacks and other dust collectors? Knowing what you have on hand makes you less inclined to buy more of what you already own, helping you save money. You may also consider selling your more valuable items such as artwork or furniture pieces through a second hand site.
What to do with items you wish to donate (or sell)
There are many non-profit organizations accepting donations for those in need. Some are even doing pickups from donors' homes. A simple Google search should help you locate non-profits in your area.
Another option is to post them online on sites like Freecycle, Craigslist, OfferUp, Nextdoor and Facebook Marketplace. This can be a good idea for furniture and larger items that non-profit groups may not be able to easily transport. If you have valuable furnishings or antiques, you may consider bringing them to a local consignment store to be sold.
There are so many benefits to decluttering your home, and it feels wonderful to know that your discards are going to someone who will value them.
Tidying expert Marie Kondo said it best, " The best way to find out what we really need is to get rid of what we don't."
Planned Companies: Donating protective masks to community facilities
Planned Companies continues to demonstrate its commitment to protecting its own team members during the COVID-19 coronavirus pandemic, but it's also giving back to support communities in need. Many who are in greatest need of PPE are challenged to obtain it. This potentially life-saving equipment is in short supply in many parts of the country.
On Friday, April 24, Planned Companies President and CEO Rob Francis presented donations of valuable protective masks to Atrium Post-Acute Care of Park Ridge and the New Jersey Veterans Home at Paramus.
Each facility received 2,000 masks.
Planned Companies has also launched an educational series designed to provide up-to-date and relevant information to help everyone through the current crisis. Click here for links to valuable resources or recorded webinars.
FirstService Brands: Sharing Some Swag with a Special Logo Collector
Mary McMonagle, General Counsel for FirstService Brands, recently opened a nice letter from Dennis, a young man on the autism spectrum that he sent to CertaPro Painters® and FirstService Brands. One of Dennis's favorite hobbies is to study and collect logos. He especially liked CertaPro's logo because it included stars, which reminded him of the American flag.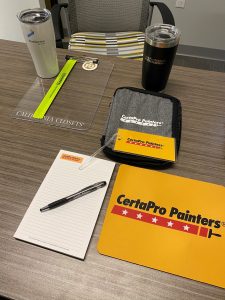 The team was so touched by Dennis's thoughtful note that they decided to do something special to thank him. They collected a variety of "swag" items from various sister companies and put together a package to send to Dennis.
"Dennis's kind note really brightened our day, and we felt it only fitting to do something special for him in return," said CertaPro Painters' President & CEO, Mike Stone, who included a personal thank you note to Dennis in the package. "These are challenging times for all of us, and we hope our package puts a smile on Dennis' face."
Dennis's letter affected everyone in the office, but perhaps no one more than Mary, whose own nephew is also on the autism spectrum. "Those with autism are truly special individuals, and helping cultivate their interests brings joy to their lives. I'm glad we could do our part for Dennis," said Mary.
This is just another example of how our teams truly care about those in our communities, and why we are so committed to #FirstServeOthers.
CertaPro: El robo de una camioneta pone en peligro la capacidad de subsistencia de un empleado
César P. es un pintor y un miembro valioso de CertaPro Painters en el equipo de Duluth & Norcross. A César le robaron la camioneta que dejó estacionada enfrente de su casa junto con todo el equipo y herramientas que utiliza para pintar. En un instante perdió la capacidad de mantener a su familia.
Bill Siegel, el dueño de la franquicia, proporcionó generosamente un préstamo para ayudar a que César reemplazara su camioneta, pero sus pérdidas eran mucho mayores que un vehículo. Para poder trabajar, César necesitaba reemplazar el equipo y herramientas que le robaron, y esto presentaba un reto económico importante. Cada día de trabajo perdido afectaba la capacidad de César de mantener a su familia y mantenerse al corriente con sus gastos y cuentas.
Por casualidad, durante una conferencia de CertaPro Painters que tuvo lugar en enero, el jefe ejecutivo de FirstService Brands, Charlie Chase, habló sobre el FirstService Relief Fund y de cómo el programa de ayuda había sido establecido para ayudar a nuestro personal cuando sufre dificultades económicas. Los colegas de César solicitaron la ayuda por él, y estuvieron encantados cuando se enteraron de que su solicitud había sido aceptada y que recibiría apoyo financiero para ayudarlo durante aquellos momentos difíciles. El apoyo recibido ayudó a César a reemplazar los artículos robados y así poder volver a trabajar. Hoy César está feliz de haber podido regresar a trabajar, y está extremadamente agradecido por el apoyo de sus compañeros de CertaPro, y de todos aquellos de la familia FirstService que contribuyeron al Fondo de Apoyo e hicieron todo esto posible para él.
"Recibir la ayuda que necesitas durante momentos difíciles es algo muy especial", explica César. "Me siento muy afortunado de trabajar para una compañía que se preocupa de verdad por su gente. Esto marcó la diferencia para mí y para mi familia, y estoy eternamente agradecido".
Recomendamos que todos los empleados se familiaricen con el Fondo de Ayuda. Es útil entender qué tipo de situaciones califican para un apoyo, así como entender las pautas del Fondo respecto al plazo de tiempo que cada quién tiene para realizar la solicitud después de un "evento calificado".
Si conoce a alguien que pueda necesitar asistencia, haga el favor de referirlos a www.firstservicerelief.com. Si usted ya está contribuyendo al Fondo a través de deducciones de nómina automáticas, le estamos muy agradecidos. Si aún no lo ha hecho, le sugerimos hacerlo. Cada dólar marca la diferencia. Su apoyo nos permite ayudar a César y otros compañeros cuyas vidas se han visto afectadas debido a crisis personales inesperadas.
El FirstService Relief Fund proporciona apoyo a alguien que sufre migrañas crónicas severas
Quien recibió este apoyo decidió permanecer en el anonimato, por lo que usaremos el seudónimo "Jane" para efectos de esta historia.
Jane es contadora en Paul Davis Restoration y lleva 12 años sufriendo de migrañas crónicas. El dolor asociado con una migraña es devastador, y hace que las tareas cotidianas sean imposibles. En el caso de Jane, sus migrañas eran tan malas, que le era imposible mantenerse de pie durante más de un minuto. Hacer la comida o incluso preparar una taza de café eran tareas imposibles. Su condición también le ocasionaba episodios de vértigo severos, zumbido en los oídos y deterioraba su visión.
Jane apenas podía funcionar, y mucho menos trabajar. Como resultado, se quedó sin trabajo durante dos meses y usó todas sus vacaciones pagadas. Dado que el cobro por su incapacidad se retrasó, ella se enfrentó a un periodo en el que no tenía ingresos, por lo que se atrasó en los pagos de su hipoteca y se quedó sin dinero para los gastos diarios.
"Nunca imaginé que me iba a enfrentar a dificultades económicas. Mi ansiedad sobre cómo hacer para poner comida en la mesa y mantener mi hogar empeoró algo que de por sí ya era estresante", explica Jane.
Como su condición estaba mejorando, pudo regresar a trabajar a jornada parcial. En su segundo día recibió una comunicación de la empresa sobre el FirstService Relief Fund y decidió aplicar. Dado que su condición es un evento calificado dentro del programa, se le concedió el apoyo.
"El Fondo de Ayuda fue una bendición para mí. De no ser por esa ayuda, no hubiera podido pagar mi hipoteca y habría perdido mi hogar", explica. Estoy profundamente agradecida a mis compañeros que donaron al Fondo e hicieron posible que recibiera la ayuda necesaria".
El FirstService Relief Fund fue diseñado para ayudar a la gente que lo necesita y todo el dinero es canalizado hacia ellos. Le sugerimos considerar hacer una donación.  Para muchos es más fácil hacer pequeñas donaciones periódicas a través de deducciones de nómina, o con tarjeta de débito o crédito, que hacer una donación de una sola vez. Incluso un dólar por ciclo de pago puede tener un gran impacto si se tiene en cuenta que somos una organización con 33.000 personas que continúa creciendo.
Si esta pasando por un momento de dificultad financiera, le invitamos a visitar www.firstservicerelief.com para saber más.