Century Fire's Social Media Campaign Promotes Social Purpose and Fosters a Culture of Giving Back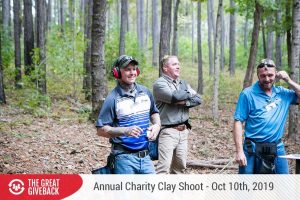 Century Fire Protection strives to not only have a positive impact on its employees and clients, but also within its community. The team has long believed that along with the company's success comes a duty to help others thrive – a philosophy the company has demonstrated since its inception in 2001.
As part of its commitment to Social Purpose, the company launched what it calls "The Great Giveback," a social media campaign designed to raise awareness about the causes it supports and instill pride in its team members. The campaign launched on September 7th when team members participated in the 2019 Georgia 9/11 Memorial Stairclimb in Atlanta. That same day, the company held a customer appreciation dove shoot event near Athens, GA.
A Diverse Array of Events Helps Team Members Find Their Own Social Purpose
Other events included a National CleanUp Day event in partnership with Gwinnett Clean & Beautiful, where employees were encouraged to commit to 30 minute shifts cleaning up trash in their community, and sponsorship at the Great 515 Duck Derby, which benefits the Boys & Girls Clubs of North Georgia. The series wraps up with the company's annual Clay Shoot on October 10 which is expected to raise more than $100,000 to support the numerous ministries of Graystone Church to assist orphans locally and abroad.
"Our CEO and Founder, Scott Tutterow, feels strongly about helping others in the community. He is also exteremly passionate about helping children. His attitude of giving back makes Century Fire a better place to work because we can support programs that employees care about and make a difference in our community and in other people's lives," says Tiffany Konenkamp, director of marketing.
As part of the campaign, the company is posting social media updates to promote upcoming events and share images and results from previous events using the #FirstServeOthers and #CFPGreatGiveBack hashtags.