Paul Davis: Supporting Autism Awareness is a Family Affair
For Kali Freeland, supporting Autism awareness is personal. Kali's cousin, Mandy Conner, founded Northeast Florida Advocates for Autism and Related Disabilities. Mandy started her organization to raise awareness and funds for families in NE Florida with Autism and Related Disabilities. Mandy's daughter Katelyn loves riding in golf carts, which inspired Mandy's idea to organize a Golf Cart Poker Run for Autism.
Saturday, September 26th was the 7th Annual Katelyn's Golf Cart Poker Run for Autism. Participating golf carts visit 5 stops around the Pirates Woods area of Fernandina. Police blocked the streets for 173 participating golf carts this year! At each stop, participants would draw one poker card and compete for the best hand. All cards / scoresheets were safely collected, and the winner was announced at the end of the day.
The event raised $35,000 this great cause!
"I am always proud to volunteer at this event with my family," said Kali. "This year, I was proud to include Paul Davis slap bracelets in the event bags and represent our brand at this wonderful event!"
California Closets: Giving Back to a Local School & Helping the Environment
Back in the spring, West Palm Beach GM Anette Jordan was invited to a fundraiser for a new school in their county of Port Saint Lucie that would be dedicated to children with Autism and related disabilities. Now, the Exceptional Academy for Differently-Abled Learners Inc is a private, non-profit learning center offering a full-time academic educational program for grades 1-6, as well as part-time homeschool enrichment classes for grades K-6.
The school is different than others because of its focus on children's abilities, instead disabilities. With input from each student's family, the school's team of experts tailor a curriculum based on what a child is interested in and the things that he/she is currently successful at. With confidence, grows skills; the teachers work with the children, and their families, to help build their current skills and attain new ones.
This summer, the West Palm Beach team closed one of their older showrooms and opened a brand new one with all new displays. Knowing the school's needs, Anette rallied her team. They reconfigured several of the displays from their old showroom and installed them at the school – a wonderful and equally "green" effort that also spared the team from discarding all the displays in landfills!
CertaPro: Kids Comfort For Cancer Event Honors the Legacy of a Friend to Many
Traci DiStefano was a force of nature. A friend to many, her smile would light up a room. Wherever Traci went, fun and laughter followed. Traci was known for her contagiously positive spirit, love of life and was described by many as a true "wonder woman." She had an expansive group of friends, many of whom she had known most of her life, who ranged from peers her own age to the children of her friends.
When Traci was diagnosed with ovarian cancer, her network of friends and family — "Traci's Tribe" as she called them – rallied around her to help. She approached her treatments with optimism and her characteristic ability to see the beauty in life, even during the toughest times.
When Traci tragically lost her battle in 2019, she left a huge void in the lives of those who knew and loved her. Traci's Tribe wanted honor her memory in a way that would be meaningful to her. Because of the excellent care Traci received at the Fox Chase Cancer Center in Philadelphia, the Tribe decided to host a fundraiser to benefit the cancer center. The Kids Comfort for Cancer event would be a way to thank them for caring for Traci, and also to help others facing treatment.
A special fundraising committee
A committee of eight was formed to begin making plans for their inaugural event. What made this committee unique is that it was comprised of four adults and four young teens, who shared equally in the responsibility for making sure all details were covered. The event co-chair was 14 year-old Casey Stone, daughter of CertaPro CEO Mike Stone.
Traci was one of Casey's mother Kim's dearest friends, and Traci was like an aunt to Casey. Although Casey has always demonstrated a caring for others, having held fundraisers for various causes for more than half her life, this event was even more special. Casey wanted to honor her friend's legacy in the best possible way, creating an event that brought families together to celebrate Traci's life and inspiring other kids to get involved in meaningful causes.
A family friendly event with activities for all ages
The event was held on the anniversary of Traci's passing, at CertaPro's new corporate headquarters in Audubon, PA. To keep with the family-friendly theme, event organizers planned a wide range of interactive activities such as corn hole, balloon art, a kids' arts and crafts area, photo booth, ping pong, face painting and much more.
Leading up to the event, committee members hand made bracelets and colorful cancer awareness ribbons and assembled baskets to sell at the event. Attendees got to choose which cancer they wanted to represent at the event, making it even more meaningful to those whose lives have been touched by cancer. The committee also worked with local retailers, restaurants and service providers to donate items to be used for the raffle and silent auction. Cav's Philly Tailgates generously donated all food and service staff for the event.
Special event speakers included an oncologist from Fox Chase and two cancer survivors whose shared their personal experiences. The committee set a fundraising goal of $15K, and when all was said and done, the event raised more than $50K. In addition to promoting the event on the Social Purpose event calendar, Casey was invited by local media to appear on news shows to raise awareness of the event, which she did with poise and grace.
When we spoke to Casey, she shared details of the important life skills she acquired through this process – time management, prioritization, agenda creation, goal setting, communication, public speaking and teamwork. She even deployed a post-survey to event attendees to determine what they liked best about the event and if there were any suggestions for the future.
When asked about her favorite memory of Traci, Casey shared a special moment. The Christmas Eve before Traci's passing, Casey and her friends organized a group of 25 carolers for a surprise visit to Traci's house where they sang some of her favorite carols. She was shocked and happy to see them, and overwhelmed by their kindness. It was another cherished memory of Traci that will live in their hearts forever.
Finding your Social Purpose can happen at any age, and getting kids involved is a great way to set them on a path of charitable service to others.
Century Fire: Providing Funding for a New School in Brazil
FirstService Residential: Brightens the Holidays for Foster Kids in Miami
All Florida Pools: Toy Drive Makes a Big Splash
Kudos to the team at All Florida Pools for organizing a very successful toy drive in support of the U.S. Marine Corps Reserve Toys for Tots Program. The team collected more than 100 toys to brighten the holidays for deserving children in the local community. In addition to collecting toys, the team set up a fundraising page and will match all toy and cash donations received at the end of December.
During the months of October, November and December, All Florida Pools set up a collection box in its retail location for customers and staff members to use for their donations. This was a wonderful way to bring the team together and #FirstServeOthers.
Super Restoration: Working Together to Feed 307 Starving Children for an Entire Year
It was all hands on deck on Saturday, November 23, 2019 when more than 528 volunteers came together to pack 112,104 meals to feed 307 starving children throughout the world for an entire year!
In addition to the food packed, the team raised more than $30,000 to help fund the noble work of Feed My Starving Children.
"Dear Super Restoration team – THANK YOU! You are all such champions for putting on this event for your community," said Bethany Durst, Feed My Starving Children eemployee. "It was wonderful serving with you all. This was one of the most efficient packs I've done because of your hard prep work. I hope our paths cross again soon!"
This event is meaningful to so many at Super Restoration who demonstrate a commitment to #FirstServeOthers through many activities throughout the year.
"This was my second year coordinating the Feed My Starving Children Event to be hosted at Super Restoration. I began working on this year's event in July 2019. This year, I was able to create and organize more efficiently because I had experience under my belt. It was so amazing to see a lot of hard work and effort come together on the event day," said Jamie O'Camb, executive assistant to Rene Vargas. 'When I saw all of the volunteers in our warehouse, it made me so proud to be part of a company that sees the value in giving back to our community. It was such a blessing to meet all of the genuine people and families who took time out of their weekend to help people around the world. Once again, this event made such an impact on me and will be something I continue to support and work on for the years to come!"
Congrats to the Super Restoration team on an incredibly successful and meaningful event!
Paul Davis: A Successful Bake Sale and Silent Auction to Benefit a Special Infant
Through Social Purpose, Paul Davis not only supports the community and environment, but the company also supports its people.
Many of the 2019 initiatives have been passion projects presented by individual team members. This one was no different. A team member shared that her infant cousin had undergone multiple heart surgeries in his first year of life and asked if we could do something to help their family. So the team held a bake sale and silent auction. In one day, the team raised $700!
This inspired an outside donor to contribute another $300, reaching a total of $1,000. The team member shared that she had no idea if we could even help, but she saw no harm in asking. She was blown away at how everyone leaned in and contributed. Needless to say, Robbie's family is incredibly grateful for this group of strangers helping their little boy. This was another wonderful example of Paul Davis coming together in the spirit of giving to #FirstServeOthers!
Paul Davis: Helps Raise $230,000+ for Child Cancer Fund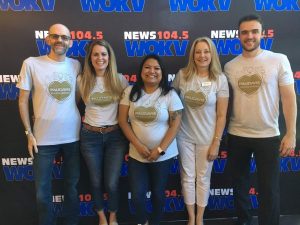 For the past several years, Paul Davis has supported the Child Cancer Fund, a local non-profit by recruiting volunteers to work the phone lines at the WOKV Care-A-Thon.
This year, 17 volunteers from Paul Davis manned the phones to take donations from the community. More than $230,000 was raised for this worthy cause.
Thomas Sirk, Paul Davis Compliance Specialist said, "At Paul Davis, we believe in serving people in their time of need. This extends beyond the restoration space and into the communities we love. I am proud to work for a company that engages in serving others like we did at the Child Cancer Care-A-Thon. It was a true blessing and joy to attend this event and support a cause that offers encouragement to people going through hard times. As we encourage and support others, and we are also encouraged. I look forward to the event next year!"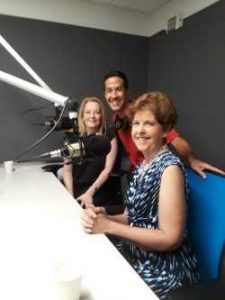 The Child Cancer Fund is a cause that's near and dear to the hearts of many at Paul Davis, especially Child Cancer Fund Founding Member and Paul Davis Legal Counsel, Laura Ferrante.
"It is amazing to be able to share this experience with my Paul Davis family." said Laura. " The Child Cancer Fund is very personal to me and an honor to support the professionals who lovingly provide support to children and their families who go through this difficult time. I am honored that Paul Davis has chosen this great cause in our community!"
FirstService Corporation: Donating Life Saving Blood in Honor of a Special Child
Employees from FirstService Corporation's Toronto headquarters joined together in a month-long drive to donate blood in honor of a special little girl.  Ella was born with a serious heart defect called "Transposition of the Great Arteries." In her first six years of life, Ella has endured more than many do in an entire lifetime, including nine heart surgeries, being placed on an artificial heart and lung machine for four days, and receiving well over 50 units of blood. Thanks to donors who have generously donated their own blood, Ella has celebrated birthdays, Christmases and will be starting Grade 1 in the fall.
Honoring Ella
FirstService donated blood under "Team Ella" which was started by Ella's parents as a way to give back to the organizations that have helped Ella. While their original goal was to collect 50 units of blood in Ella's name to "put back into the system" what Ella had used, they have far surpassed this goal and continue to encourage blood donation.
As Ella's mom says, no one ever expects that they, or someone the love, will need blood someday. But if you do, you absolutely better have it when you need it, where you need it, and the right type.
Thanks to the contributions of the FirstService team, Team Ella's monthly blood donations increased by 50% for the month of July.
How You Can Help
The need for blood is great throughout North America, and we encourage you to consider donating through Canadian Blood Services or American Red Cross Blood Services.
If you wish to support Team Ella, please follow these steps:
In the "Partner ID" box, type "TEAM368169"

Put in the rest of your personal information as requested

Click Submit

To locate a donation center near you, please visit: https://myaccount.blood.ca/