FirstService Corporation: Help Us Support Artistic Expression Among LGBTQ2SI+ Youth through Art Supply Drive
Throughout the month of November, we are conducting a donation drive in support of the Christie Ossington Neighbourhood Centre. The Centre is a Toronto-based charitable agency that provides programs, services and support for individuals living in poverty.
Earlier this year, the Centre began running a twice weekly drop-in art program specifically for LGBTQ2SI+ youth aged 12 to 18. LGBTQ2SI+ youth experience disproportionately high rates of homelessness, isolation, substance use issues, mental health challenges and suicidality. The goal of the program is to provide them with a safe space in which to express themselves artistically and connect with their peers.
So, this November, we're collecting art supplies in support of this program. Suggested art supplies include:
Painting supplies: canvas, paint, brushes
Craft supplies: yarn, buttons, glitter, tape, glue, stickers, stencils, craft paper, scissors
Drawing supplies: sketch books, pencils, markers, pencil crayons
We are accepting supplies in our office on Bay Street. If you wish to send any, please send them to the attention of Deanna Ouzounis.
Your thoughtful donations will make a world of difference by fostering community and expression among a group of young people who have been pushed to the margins of society.
TLS: A Culinary Celebration of Diverse Cultures
At TLS, diversity is honored and celebrated every day, and in a variety of ways. Recently, the team came together to celebrate cultures through the time honored tradition of breaking bread together. During a company potluck lunch event, team members were invited to bring in dishes reflective of their native cultures. If you're a foodie at TLS, this was certainly a day to remember!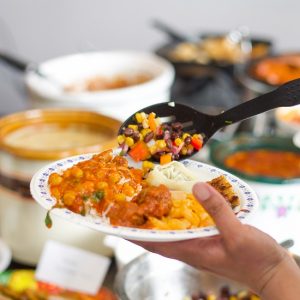 The event was held mid-week, providing a nice boost to break up the week and giving those who had the day off an excuse to drop by the office. Fifty dishes were shared among team members, and for many, it was a great introduction to foods from cultures they haven't yet experienced.
For Raemie O'Brien, director of program development, the day helped illustrate the wide variety of different cultures that are reflective of the TLS work force. A fun take away for her was a newfound love of fruit with a spicy kick.
Having an appreciation of our differences and similarities helps build and strengthen relationships. This potluck event was a great (and delicious!) way to introduce colleagues to different cultures and build camaraderie.
Team Lead Paula Davis said, " I was able to connect with some of the Moment Makers that I don't typically get a chance to interact with. I learned a lot about different cultures and why and how different foods are prepared."