FirstService Residential: Pride Month Walk Supporting The Trevor Project
Please join the MidAtlantic team for a great day out! Fitness and fun, what more could you ask for. The team is walking for to raise awareness and the visibility of The Trevor Project.
Founded in 1998 by the creators of the Academy Award®-winning short film TREVOR, The Trevor Project is the leading national organization providing crisis intervention and suicide prevention services to lesbian, gay, bisexual, transgender, queer & questioning (LGBTQ) young people under 25.
Please feel free to support our efforts by making a donation at: https://give.thetrevorproject.org/team/360253. For more information about The Trevor Project go to: https://www.thetrevorproject.org/
Paul Davis: Metro Atlanta Firefighter Classic
This golf tournament will raise funds for the National Fallen Firefighter's Foundation.
Century Fire: Help Support Diapers to Diplomas at our 2020 Clay Shoot
Join us for Century Fire Protection's Annual Charity Clay Shoot benefiting Diapers to Diplomas.
Century Fire's Charity Clay Shoot is an opportunity to get outdoors, have a good time, and network with industry peers while supporting a GREAT cause. We are partnering with Graystone Church to fund ministries that support orphans and foster families in Georgia and around the world.
All proceeds from this event are donated to Diapers to Diplomas. Over the last two years, we've raised over $250,000 for the cause. Our donors and sponsors make it possible for us to host a premium event that directly impacts the lives of orphans and foster children. If you would like to become a sponsor, supporter, or just find out more about the cause click on the links below. Your support is greatly appreciated. We look forward to seeing you there!
At Century Fire Protection we strive to have a positive impact not only on our employees and clients, but also within our community. Doing the right thing goes far beyond our daily work.
Safety is our top concern! Social distancing and COVID-19 safety protocols will be followed.
Paul Davis: Virtual Walks in the US and Canada for Heart Disease
Help us raise awareness and funds for the American Heart Association and Heart & Stroke Foundation of Canada. We encourage you to see what events are happening in your area and get involved, or if you would like to join the Paul Davis team, please contact Kali Freeland or Emily Shafer.
Paul Davis: Child Cancer Telethon
Once again, Paul Davis is partnering with WOKV for the Care-A-Thon held at Nemours Children's Specialty Care in Jacksonville. All proceeds go to benefit the Child Cancer Fund.
This year, due to the pandemic, the Child Cancer Fund Careathon 2020 will be reformatted. It's going to be a week-long campaign across Cox Media Group's 8 radio stations.
A small remote phone bank will be operating to kick off the event, Monday 7/13 only, for half a day. This will be operated primarily by the CCF Board of Directors and staff. Paul Davis will have 3 volunteers accepting phone calls from 7am to noon Eastern.
The BIGGEST Need is virtual help! We hope you will tune in and share posts with your networks throughout the week on email and social media.
In addition to the phone bank Monday morning (5am to noon), there will be an online auction running from July 13th to 18th (ending at noon) at www.careathon20.givesmart.com. A preview of the online auction items will start July 10 at 5:00pm.
The Child Cancer Fund has not been able to hold a fundraising event yet in 2020 — let's work together to make this one a huge success.
LIV North: Join Us at the Joy Ride 2020 for Make-A-Wish Northern Alberta
Proud supporters since 1993, Apple Fitness is proud to sponsor Joy Ride 2020. As part of its commitment to support Make-A-Wish and the Stollery Children's Hospital Foundation, the company is providing 30 spin bikes to be used at the event. Following the event, these extremely popular, commercial-grade Keiser M3i Indoor Cycles will be offered for purchase for a special price of $1,899 plus tax — nearly $1,000 off retail. And it gets even better: Apple will donate $100 for every bike sold back to Joy Ride 2020!
So,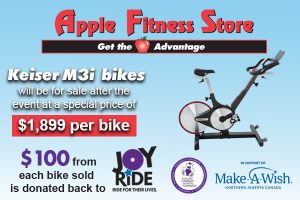 gather your coworkers, friends or family and join the Joy Ride! Teams will embark on a 12-hour stationary ride at this energetic and fun filled event.
The more people on your team, the more ways you can divide your 12 hours. One person from your team must be riding at all times. Ride for 3 hours or ride for 15 minutes but whatever you do, don't stop riding.
At Make-A-Wish Northern Alberta and the Stollery Children's Hospital Foundation, kids are our first priority. We share a community of children—many Stollery kids are wish kids too—and offer support at different points of their medical journeys. We have a common goal: to give sick kids a fighting chance and change their lives.
By forming a team and joining the Joy Ride, you will make a difference in the lives of our kids. It's an event that requires just a little of your time but makes such a big impact in return.
For more information and to register, see yegjoyride.com.
CertaPro: Join Us to Raise Funds for Kids Comfort for Cancer
Please join us for a fun, family night of great food, spirits, raffles, games, silent auctions, and DJ. 100% of the proceeds will be donated to the patients of Fox Chase Cancer Center.
Tickets are $45 for adults or $80 per couple and $20 for children.
100% of the proceeds of sponsorship contributions and other donations will go directly to the brave patients at Fox Chase Cancer Center in loving memory of Traci DiStefano. For more information, please visit tracistribe.org.
American Pool: We're Selling Warm Love Your Melon Hats to Raise Money for Pediatric Cancer
We are glad to announce a new partnership with an amazing organization, Love Your Melon, whose mission is to improve the lives of children battling cancer.
Love Your Melon gives 50% of the profits from all sales to their nonprofit partners in the fight against pediatric cancer. These partners work in the fields of pediatric oncology, fund cancer research initiatives and provide immediate support for the families of children battling cancer.
To date, Love Your Melon has given over 3.8 million dollars to their partners and over 123,000 hats to children battling cancer. If that's not a large enough showing of support and unity, Love Your Melon prides itself that all the beanies are made here in the USA.
With all the good that surrounds this company, American Pool is proud to be a part of their cause. American Pool has recently co-branded with Love Your Melon in an effort to bring more attention to this great cause. In addition to the proceeds that will be given, American Pool has made a commitment to provide a beanie to a local child in need for every co-branded hat we sell.
You can visit Love Your Melon's website at www.loveyourmelon.com to find out more about their mission and other products.
If you are interested in helping us by purchasing one of our fashionable hats for this great cause please send an email to LYM@americanpool.com. Hats are $30 and for every hat purchased, we are matching with another hat that we are donating to a child in need.
Planned Companies: Taylor Mills School Healthy Education Walk-A-Thon 2019
Dino Koleci, Operations Manager at Planned Companies, was proud to donate for a special cause at his son's school this past Friday, October 4th. The Walk A Thon 2019 was a fundraiser this past supporting a healthy education at Taylor Mills School in Manalapan, NJ.
Taylor Mills School understands the need to promote a healthy and educational fundraiser to our students while respecting parents repeated requests for an easy no-nonsense approach to helping them reach their budget goals.
FirstService Residential: Join Us at the Boston Marathon – Jimmy Fund Walk
As a team, we raised over $7,000 last year! I've had the privilege of meeting some incredible new friends and associates over the last few years with FirstService Residential.
I'm calling on ALL of my work family members this year! Let's see what we can do together this year. Let's take steps together towards a cure! LET'S MAKE AN IMPACT!!
This year, the event will take place on Sunday, September 22 at 1:45PM. The 5K route begins on Jimmy Fund Way next to Dana-Farber Cancer Institute in Brookline and will conclude at Copley Square.
Join our team by visiting http://danafarber.jimmyfund.org/goto/FirstServiceResidential