FirstService Brands: 1st Annual Get in the Mood & Donate Some Food Drive
FirstService Brands invites all of its team members to join together to help those in need during these unprecedented times.
From November 2 – December 11 offices and individuals are encouraged to collect food and other necessities and donate to the local food pantry of their choice. Together, we can help those struggling in our communities.
Suggested donations include:
Canned Goods
Packaged Goods
Beverages
Cardboards
Toiletries
Footwear
Medical Supplies
We encourage you to take pictures of your donations and share them with the organizer and/or on your social media channels using the hashtag #FirstServeOthers.
If you have questions, please feel free to contact Wendy Bauman, the event organizer, below.
CertaPro: Virtual 5K to Support Paint It Pink & the Breast Cancer Research Foundation
CertaPro Painters® is excited host a virtual 5k walk/run to support Paint It Pink and the Breast Cancer Research Foundation! The funds raised for this virtual 5k will go toward our overall goal of raising $50k in October and November to bring awareness and help fund breast cancer research.
When: October 23rd, 24th or 25th
Where: This is a virtual 5k, so you can complete your race wherever you choose! In your neighborhood, at a local park, at the school track or whatever works best for you.
Cost: Minimum donation of $20 per participant, but participants are encouraged to raise more money to help support Paint It Pink and the Breast Cancer Research Foundation.
Register: Register here and be sure to share with your friends and on your social media channels! We'd love to see your photos — please wear your brand with pride and use the hashtag #FirstServeOthers in your social posts.
CertaPro: Paint It Pink for Breast Cancer Research October 1 – November 30
CertaPro is Painting it Pink to raise funds and awareness for the Breast Cancer Research Foundation (BCRF).
During the months of October and November, participating franchise locations will donate $10 from every residential interior painting project for this important research.
Breast cancer is the most common cancer in women worldwide and the second most common cancer overall. BCRF is a non-profit organization committed to achieving prevention and a cure for breast cancer. BCRF funds nearly 300 researchers across 14 countries and six continents through grants to accelerate progress.
To donate, please visit give.bcrf.org/CertaProPainters.
Paul Davis: Virtual Walks in the US and Canada for Heart Disease
Help us raise awareness and funds for the American Heart Association and Heart & Stroke Foundation of Canada. We encourage you to see what events are happening in your area and get involved, or if you would like to join the Paul Davis team, please contact Kali Freeland or Emily Shafer.
FirstOnSite: #GoTheDistanceCanada Challenge! Can you "walk" all the way across Canada?
We are excited to announce our #GoTheDistanceCanada Challenge! Now, more than ever, it's so important to stay healthy and active which is why we are launching this challenge – to encourage our teams to stay fit and have some fun. Physical activity can be a great stress reliever and even going for a short walk can help clear your mind so you can refocus.
Using a specified point system, we are our challenging all FirstOnSite employees to "walk" all the way across Canada – 7,821 km to be exact! It doesn't matter how you earn your kilometers, all that matters is you get active!
Here's what you need to know:
The challenge officially kicks off on May 14 with the first weekly activity submission deadline being Thursday, May 21. We anticipate the event going as long as six weeks though it could end sooner.
Track your weekly physical activity and use the provided chart to determine your points for the week. The week runs from Friday – Thursday.
You can keep track of your activity by using a pedometer, activity tracker, or cell phone app.
Submit your points by 11:59 pm Eastern each Thursday. (Submit points here)
Share images on social and use the hashtags #GoTheDistanceCanada and #FirstOnSite.
You are competing as a region as well as individually and we will provide weekly leaderboard updates on Fridays.
Prizes:
Regional winner – The first region to make it across Canada wins bragging rights!
Individual winners – The person with the most activity points in each region will win a paid day off! (One winner per region, five winners total)
CAN YOU GO THE DISTANCE?
FirstOnSite: Lancement du défi #TraverserLeCanada
Nous sommes très heureux d'annoncer notre défi #TraverserLeCanada! Aujourd'hui, plus que jamais, il est important de se maintenir en bonne santé et de rester actif. Voilà pourquoi nous lançons ce défi afin d'encourager nos équipes à garder la forme et à s'amuser. L'activité physique peut s'avérer un excellent moyen pour réduire le stress, le simple fait de marcher un tant soit peu suffit pour se libérer l'esprit et se recentrer.
Au moyen d'un système de points prédéterminés, nous mettons au défi tout le personnel de PremièreAction de « traverser » le Canada, soit la distance exacte de 7 821 km! Peu importe comment vous accumulez vos kilomètres, tout ce qui compte, c'est que vous bougiez!
Voici ce que vous devez savoir :
Le coup d'envoi officiel du défi aura lieu le 14 mai et la date limite pour soumettre une première activité hebdomadaire est le jeudi 21 mai.
Prenez note de votre activité physique hebdomadaire et déterminez vos points pour la semaine à l'aide du tableau qui vous est fourni. La semaine se déroule du vendredi au jeudi.
Vous pouvez suivre vos activités en utilisant un podomètre, un dispositif de suivi des activités ou une application sur votre téléphone cellulaire.
Chaque jeudi, soumettez vos points avant 23 h 59 (heure de l'Est). (Soumettez vos points ici)
Partagez vos photos sur les médias sociaux en utilisant les mots-clics #TraverserLeCanada et #PremièreAction.
Vous compétitionnez aussi bien au niveau régional qu'à titre individuel. Nous vous communiquerons les mises à jour hebdomadaires du tableau de classement le vendredi.
Prix :
Prix régional : la première région à traverser le Canada gagne le droit de se vanter!
Prix individuels : une personne dans chaque région ayant cumulé le plus de points d'activité gagnera une journée de congé payé! (Un prix par région, cinq prix au total.)
ÊTES-VOUS PRÊT À VOUS DÉPASSER? 
Heartline Fitness: Partnering with Three Sages to Provide FREE Wellness Programming
Our "new normal" has brought on challenges many of us have never contemplated before. Working from home, dealing with restless kids, managing meal time in an era of closed restaurants and for those of us who enjoy working out, closed gyms. Now more than ever, we need wellness in our life and quick escape experiences to help us emotionally and physically reset as we navigate life's latest challenges.
Heartline Fitness has partnered with Three Sages to bring you complimentary access to this new mobile app, offering nature-inspired sips of wellness.
Short, engaging audio and video content will help you move, nourish and restore.
Search for "Three Sages" on the Apple app store and use access code "heartline" (case sensitive).
ENJOY! BE WELL!
#3sages #HeartlineFitness #TheAmenityCollective #ElevateTheClientExperience
LIV North: Join Us at the Joy Ride 2020 for Make-A-Wish Northern Alberta
Proud supporters since 1993, Apple Fitness is proud to sponsor Joy Ride 2020. As part of its commitment to support Make-A-Wish and the Stollery Children's Hospital Foundation, the company is providing 30 spin bikes to be used at the event. Following the event, these extremely popular, commercial-grade Keiser M3i Indoor Cycles will be offered for purchase for a special price of $1,899 plus tax — nearly $1,000 off retail. And it gets even better: Apple will donate $100 for every bike sold back to Joy Ride 2020!
So,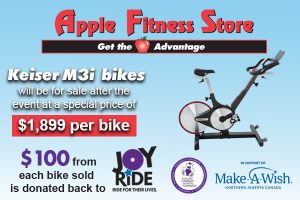 gather your coworkers, friends or family and join the Joy Ride! Teams will embark on a 12-hour stationary ride at this energetic and fun filled event.
The more people on your team, the more ways you can divide your 12 hours. One person from your team must be riding at all times. Ride for 3 hours or ride for 15 minutes but whatever you do, don't stop riding.
At Make-A-Wish Northern Alberta and the Stollery Children's Hospital Foundation, kids are our first priority. We share a community of children—many Stollery kids are wish kids too—and offer support at different points of their medical journeys. We have a common goal: to give sick kids a fighting chance and change their lives.
By forming a team and joining the Joy Ride, you will make a difference in the lives of our kids. It's an event that requires just a little of your time but makes such a big impact in return.
For more information and to register, see yegjoyride.com.
Planned Companies: Go Red for National Heart Month
On Friday, February 14, 2020, employees of Planned Companies will wear red in support of National Heart Month. There will be a Hot Chocolate Bar & Goodies in our ORACLE training center from noon on. We will also be sponsoring a 50/50 Raffle. 50% of proceeds to go to the American Heart Association. Our Mid Atlantic & Brooklyn will also be participating.
Paul Davis: Fox Valley Toy Drive Benefiting Children's Hospital of Wisconsin
Paul Davis of Fox Valley Wisconsin celebrates the Grand Opening of our new headquarters by hosting a Toy Drive benefiting Children's Hospital of Wisconsin.