LIVunLtd: Providing Homeless Hygiene Kits for NYC's Homeless
LIVunLtd is proud to support New York City Relief by collecting travel-sized toiletry items for Homeless Hygiene Kits, through January 15. Homelessness is at an all-time high in New York City, with more than 60,000 people homeless shelters, and many more living on the streets. Homelessness in NYC is at the highest levels since the Great Depression. Each week, New York City Relief gives away approximately 650 hygiene kits to those in need. Get involved! Participate by donating one (or more) of the items listed below.
Toothpaste

Toothbrush

Dental floss

Disposable razor

Shaving cream

Shampoo

Conditioner

Liquid body wash

Deodorant

Feminine products
All donation items must be new, travel-sized, quality, name-branded products. Please send donations to LIVunLtd Headquarters location in NYC, to the attention of Brianna Hoffman. Please call our office for more information (212) 784-2390.
FirstService Residential: Supporting Vulnerable Young Adults through the More Than Words Job Training and Youth Development Program
More Than Words is a job training and youth development program that empowers nearly 350 youth each year to take charge of their lives by taking charge of our $4M bookselling business. They work with the most vulnerable young adults in Greater Boston: those who are in the foster care system, court-involved, homeless, or out of school.
At More Than Words, they earn a paying job, working approximately 20 hours per week in our businesses learning critical customer service, technology, inventory management, and leadership skills. They also work a second paying "YOU" job, attending workshops and site visits and receiving focused support to ensure they persist in school and map plans for their future work, education, and life.
We are donating paperback and hardcover books, CDs and DVDs in their original cases, records, and video games to support this cause. If you have any items you'd like to donate to help in our efforts, please drop them off at the address below between now and December 13.
FirstService Residential: Supporting Rosie's Place, America's First Women's Shelter
Rosie's Place was founded in 1974 as the first women's shelter in the United States. Their mission is to provide a safe and nurturing environment that helps poor and homeless women maintain their dignity, seek opportunity and find security in their lives.
Today, Rosie's Place not only provides meals and shelter but also creates answers for 12,000 women a year through wide-ranging support, housing and education services.
Rosie's Place relies solely on the generous support of individuals, foundations, and corporations and does not accept any city, state or federal funding. Thanks to these donations, 83 cents of every dollar raised goes directly to services for poor and homeless women.
FirstService Residential: Join Our Donation Drive to Benefit Welcome One Emergency
The Bulle Rock Welcome One Volunteers Club and your FirstService Residential Team will be working together to collect and deliver items to the Welcome One Emergency Shelter, the only year-round homeless shelter in Harford County. Donations are being accepted at the address below through August 22.
They have a need for the following specific items:
Sugar
Iced Tea Mix
Lemonade Mix
Coffee
Powdered Creamer
Canned Fruit
Napkins
Paper Towels
Windex
Liquid Laundry Detergent
New Pillows
Liquid Hand Soap
Tylex Mildew Remover
Lysol Disinfectant Spray
Multi-purpose cleaner
Large Brown Lunch Bags
Ziploc Sandwich Bags
Cereal
LIVunLtd: Providing Daily Necessities for Our Community's Homeless
TLS: Join us and donate socks to help homeless through February 15
TLS has taken the 519 Pairs of Socks Pledge and we are on our journey to collect them.
519 Pursuit
is a non-profit organization designed to bridge the gap between a working society and those working through homelessness. Through collection of sock donations, we will be able to keep a support system throughout the winter months. Although it is not often thought about, socks are one of the most commonly asked-for items in shelters and other working services. Due to the harsh environment that a London winter can bring and the inability to store personal items; some of our friends can be found wearing the same damp pair of socks for days with no dry space to air out their feet or let their socks dry. When our friends wear black or other socks with dye, the damp material leaves black stains on their feet. We ask you consider white socks, however we are welcome to all donated. The goal of 519 Pursuit is to inspire a mass affect within the city of London to come together as a community, and create a better working support system. Through friendship and conversation, our outreach team takes to the streets year round to provide necessary means of warmth and comfort to get through the night. Our outreach team is volunteer based and designed as a friend-helping-friend system. Our volunteers are encouraged to take part in conversation and build rapport. Through trust and consistency, volunteers aspire to share information of already working local services and work to see an increase of use. Please help us to achieve this goal by bringing or sending white socks to TLS by February 15, 2019.
700 Richmond St #416
London, ON N6A 5C7
American Pool: Helping Improve Food Security for Families in Need in Long Island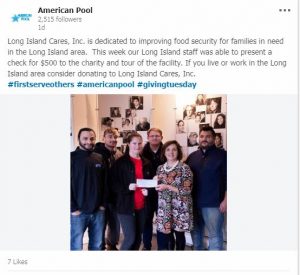 FirstService Residential: California Office Outreach Activity Promotes Mindfulness and Teamwork
As part of the 2018 FirstService California Annual Meeting, associates gathered in Irvine, California to celebrate the growth and accomplishments achieved in 2017 by the region's approximate 1,000 Associates. Attendees participated in a fun outreach activity which involved building 50 care packages for families who have been displaced by fires, homelessness or emergency situations.
According to one Associate who was attending their first Annual Meeting, "it was heartwarming to see our people work together with such care and thoughtfulness to create a basket that will offer hope to people going through a difficult time."
The activity was fitting in that it reflected the theme of the day: Our Future Starts with Us. We work in teams, made up of individuals, who are making a difference in the lives of each other, our company, our clients, and the communities and residents that we serve. Each regional team was responsible for bringing one of ten items that were included in the Welcome Home Baskets (candles, board games, decorative item, broom/dust pan, first aid kit, etc).
The event was a tremendous success!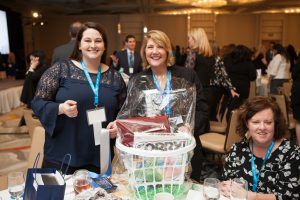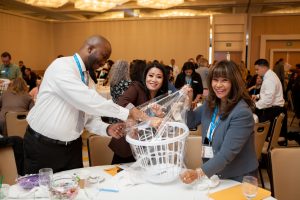 FirstService Corporation: Distributes food, supplies and companionship with Ve'ahavta in Toronto
This past week, 3 members of FirstService Corporation teamed up with Ve'ahavta to distribute food, drinks, supplies and most importantly companionship for 6 hours on a brisk February evening. This night is 1 of 3 planned over the next several months for FirstService to get involved. Some Statistics:
Over 235,000 Canadians experience homelessness in a year, including over 5,000 in Toronto alone (Toronto has the 2nd highest homeless population of any Canadian city).
Approximately 1,350 chronically homeless people die each year in Canada, with an average life expectancy of 39.
Ve'ahavta's Theory of Change
by providing health supports, referrals to shelters, and essential supplies, we can meet the basic physical needs of homeless or under-housed individuals, and we can ensure their safety.
by providing consistent, frequent, and compassionate service, we can decrease social isolation, and build trusting relationships that provide the emotional support needed to create change.
by engaging and educating volunteers, we can raise consciousness about homelessness, reduce the stigmatization of the homeless, and inspire people to seek solutions to end homelessness.
Waj H. (Analyst, Risk and Compliance) describes his experience as "eye-opening". "It made me recognize how fortunate I am to have everything I need, and perhaps I shouldn't complain about the small inconveniences in my life. I could go on and on, but overall I'm thankful I had the opportunity to give back, connect and appreciate how fortunate I really am. Thank you to Ryan B. (Director, Finance) for organizing."
If anybody in the Toronto area ever wants to get involved with this great program, feel free to learn more
here. 
CertaPro: Main Line Coat Drive
CertaPro Painters of the Main Line delivered 275 coats to Impact Services in Kensington.
https://www.facebook.com/CPPML/