LIVunLtd: NAMIWalksYour Way 2021 to Help Those Affected by Mental Illness
Let's team up for NAMIWalks Your Way 2021! Join our team or support us with a donation. Together, we can do something powerful about achieving Mental Health for All.
NAMI is the nation's largest grassroots mental health organization dedicated to improving the lives of individuals and families affected by mental illness. NAMIWalks promotes awareness of mental health, raises funds for NAMI's free, top-rated programs, and builds community by letting people know they are not alone.
Please help us build awareness and funds, by JOINING OUR TEAM OR MAKING A DONATION! Donating to NAMI through our team page is easy, fast and secure.
CertaPro: Supporting Children and Adolescent Mental Health Services Center through Painting
CertaPro is proud to support the fundraising efforts of Youth Services, the place to turn to for mental health services for children and adolescents in Chicago's northern suburbs.
The team at Certa doing what they do best — painting! Certa is joining other local businesses to bring joy in May by painting windows on downtown businesses. Local children will be paired with businesses to help on May 13, 14 and 15th.
During the week of May 17 through May 23, the community will be invited to walk the painted window path for a fun scavenger hunt and visit stores for special promotions.
Did you know 53% of children ages 3-17 have one or more emotional, behavioral or development condition? Youth Services provides individual and group counseling, development and mentoring programs, crisis intervention, study buddies, a pride youth group and educational outreach programs to help children and adolescents. The organization works with insurance companies and offers a sliding fee scale, to help provide care to families of all means.
TLS: Pen Pal Initiative for Seniors and Assisted Living Center Residents
TLS is launching a company-wide campaign to encourage company "Moment Makers" to send cards, letters, drawings and crafts to residents of local senior and assisted living facilities. This is a fun way to introduce children to our Social Purpose and let them show off their drawing and craft skills. Moment Makers who wish to engage in ongoing communications with residents are encouraged to include their mailing address for return letters.
During this time of social isolation, this is a wonderful way for our team members to #FirstServeOthers while brightening the days of seniors in the community.
FirstService Residential: Supporting Community Access in NYC
Community Access expands opportunities for people living with mental concerns to recover from trauma and discrimination through affordable housing, training, advocacy and healing-focused services.
Currently, 1,600 people call the Community Access facility home. They are in need of supplies, and we hope you can help.
Masks: They are in need of 5,000 cloth face coverings. You can send them from an online retailer or make your own in accordance with CDC guidelines.
Hygiene kits: Residents are in need of basic toiletries such as toothbrushes, toothpaste, soap, shampoo and more. You can put together small kits for each person in need.
Little things for entertainment: Most of the residents are alone during this time so any games, cards or crafts could truly brighten their day.
If none of these options work for you, we are also accepting monetary donations.
If you would like to participate contact Mandy Shafer (mandy.shafer@fsresidential) in Human Resources for more details. The goal is to start distributing supplies ASAP and continue throughout the month of May.
The Amenity Collective: Easy Ways to Practice Self Care – Go Ahead, You Deserve It
For many, it feels like the world has been turned upside down. In what feels like the blink of an eye, all of our lives have changed dramatically. We're all doing our part to adapt to our new normal. These are incredibly stressful times, and we know the impact stress can have on one's health and well-being. If ever there was a good time to focus on self-care, this is it.
We wanted to share some ideas of ways you can maintain your emotional and physical wellbeing, reduce stress, stay fit and make the most of the time while you are sheltering in place.
Through its subsidiaries including Heartline Fitness and LIVunLtd, The Amenity Collective delivers health and wellness programs to some of the most iconic properties and spas in the U.S. To help promote wellness to a broader audience, the company is now offering a variety of free resources for you and your family.
Three Sages Wellness App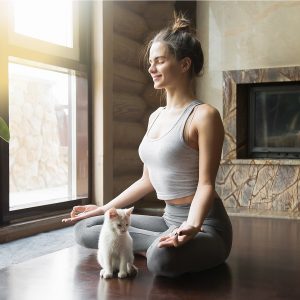 Heartline Fitness has partnered with Three Sages to provide complimentary access to this new mobile app which offers natured inspired sips of wellness, in the form of short, engaging audio and video content. Its intent is to help you move, nourish and restore. Through a series of questions, the app customizes programming based on your preferences and offers everything from "quick fixes" – yoga sequences and meditations you can do anywhere – to longer, more intensive sessions. Explore a wide range of recipes for healthy snacks, smoothies and spritzers, and, when your day is done, the app's Evening Sleep music helps you relax, unwind and drift off to a restorative sleep.
Get Started: Simply search for Three Sages in the Apple Store and use access code "heartline" (case sensitive) to get the app for free for 60 days!
Instructor-Led Fitness Programs
LIVunLtd is the premier concierge, fitness, wellness, event programming and lifestyle management collective. Residents of properties utilizing LIV's services have had access to the latest fitness and wellness programming, delivered by top trainers. Today, anyone can participate in a wide range of classes from the comfort of your home. All that's needed is a smartphone and an Instagram account!
Classes are taught live every day at 10 am and on Tuesday through Friday also at 1 pm ET – so it's worth setting a calendar reminder and hopping onto Instagram for a healthy break. The company offers Zumba, meditation, HIIT, Barre, and exclusive LIV Definition, LIV Power Flow, LIV Vinyasa Flow and, for the fitness-ambitious, LIV Extreme Definition.
The impetus behind LIV's offering driven by a desire to keep as many team members employed as possible. In addition, "We wanted to stay engaged and try to help our residents feel a sense of connection, wellbeing and community with the familiar faces of LIVunLtd they have come to know in their buildings," said Michael Fazio, Chief Creative Officer. He added, "We decided to open up our classes to the public to give them access to our quality wellness programming."
Get Started: Follow LIVunLtd on Instagram and look for their new stories every day at 10 am and 1 pm ET.
Soon, LIV classes will be available on IGTV so you can participate when it's convenient for you. Stay tuned for more details.
Paul Davis Restoration: Don't Miss this Year's Acoustic Mega Jam to Raise Awareness for Mental Health and Suicide Prevention
Paul Davis is Proud to Support #MegaJam 3.0
We're BACK..for our 3rd YEAR!!
We will be following the same basic format; 1 price entry that will include a free drink, an all-day buffet, and 8 hours of live music. This is all being done in support of raising awareness for mental health treatment and suicide prevention. This couldn't be done without the help and support of our two corporate sponsors, 916 Riverside and Onondaga Beverage.
Proceeds will again go towards the 2020 Dollar For Scholars Scholarship program at CNS and Two Brothers' Light to help support the incredible work they are doing.
The 2020 artist line up includes some of CNY's best performers! Just Joe Altier, Joe Battles, Brett Falso, Bill Ali, Jeff Rosen, Tj Sacco, Sean Fried, Kaleb Dorr, Chris Todd, Rob Earle, and Joe McSweeney.
By following the link, you are purchasing a Lock 1 Distilling VIP ticket. This includes early entrance (starting at 11AM), a Lock 1 Ryze Vodka Bloody Mary, 1 Drink Coupon, buffet wristband, access to both VIP lounge performers (Chris Todd & Kaleb Dorr), as well as additional promotional merchandise (while supplies last). These tickets are available for $20 (plus $1.99 processing fee) until 11AM February 6th.
The day of the event tickets will be available for $25 at the door.
Join us for a day of education, fun, and support!
LIVunLtd: Walking to Raise Awareness of Mental Illness
Employees of LIVunLtd joined together to increase awareness of mental illness and to raise much- needed funds for NAMI, the National Alliance on Mental Illness. The team of 13 walkers raised $890 through their fundraising efforts.
NAMI is the United States' largest grassroots mental health organization and its mission is to build better lives for the millions of Americans who are affected by mental illness. 43.8 million Americans are thought to experience mental illness in a given year.
Helping to End the Stigma of Mental Illness
NAMI is comprised of more than 500 local affiliates who work in communities across the country to raise awareness and provide support and education. NAMI offers a wealth of resources to help not only those experiencing mental illness but also to help their families and friends, providing answers and information they need when they need it.
Beth Caplan, CFO at LIVunLtd, learned about NAMI when her family was experiencing a mental health crisis. The tools and support they received helped them through an extremely difficult time. Read why Beth supports NAMI.
"It's an honor to be able to share the NAMI message and help to end the stigma. No one should suffer alone. It's okay to not be okay," said Kerin Daly, lifestyle manager.
If you or someone you know is struggling, please call the NAMI helpline at 800-950-NAMI, M-F, 10 am to 6 pm or to find help in a crisis, text "NAMI" to 741741. For more information, visit www.nami.org.
LIVunLtd: Join Us at the NAMIWalk 5K to Raise Money for Mental Illness
Become a NAMIWalks Hero. Join our team for the 2019 NAMIWalks event! We are walking to raise awareness of mental illness and raise funds for the important work of NAMI, the National Alliance on Mental Illness.
Please JOIN OUR TEAM and walk with us, or support our team by making a donation to a team member listed on our ROSTER. Donations on this page are fast, secure and easy. Those who are unable to walk with us are welcome to register and participate as a volunteer or "virtual walker."
All funds raised directly support the mission of NAMI to provide support, education, and advocacy to individuals and families right here in our community.
Your support means a lot to our team and the 43.8 million Americans who experience mental illness in a given year.
FirstService Residential: Promoting Wellness for our Associates on Stress Awareness Day
National Stress Awareness Day is often observed on April 16, the day after Tax Day. It's a special day set aside to observe just how stressed we may have become. Experts say in the midst of dealing with a high stress job or juggling multiple tasks, the best thing we can do for our overall health is taking a breath.
On Stress Awareness Day, FirstService Residential Dallas Office will provide a "Namaste Room," starting right after lunch. A conference room will be transformed into a serene, tranquil sanctuary complete with spa-inspired scents, looped video of stress-reducing/office friendly yoga poses, and soothing music.
Associates can use the "Namaste Room" to take a break from their day, whether it's by stretching, yoga posing, or meditating. Associates will also receive stress relief squeeze balls to help them release tension and relax at their desks.
FirstService Corporation: Distributes food, supplies and companionship with Ve'ahavta in Toronto
This past week, 3 members of FirstService Corporation teamed up with Ve'ahavta to distribute food, drinks, supplies and most importantly companionship for 6 hours on a brisk February evening. This night is 1 of 3 planned over the next several months for FirstService to get involved. Some Statistics:
Over 235,000 Canadians experience homelessness in a year, including over 5,000 in Toronto alone (Toronto has the 2nd highest homeless population of any Canadian city).
Approximately 1,350 chronically homeless people die each year in Canada, with an average life expectancy of 39.
Ve'ahavta's Theory of Change
by providing health supports, referrals to shelters, and essential supplies, we can meet the basic physical needs of homeless or under-housed individuals, and we can ensure their safety.
by providing consistent, frequent, and compassionate service, we can decrease social isolation, and build trusting relationships that provide the emotional support needed to create change.
by engaging and educating volunteers, we can raise consciousness about homelessness, reduce the stigmatization of the homeless, and inspire people to seek solutions to end homelessness.
Waj H. (Analyst, Risk and Compliance) describes his experience as "eye-opening". "It made me recognize how fortunate I am to have everything I need, and perhaps I shouldn't complain about the small inconveniences in my life. I could go on and on, but overall I'm thankful I had the opportunity to give back, connect and appreciate how fortunate I really am. Thank you to Ryan B. (Director, Finance) for organizing."
If anybody in the Toronto area ever wants to get involved with this great program, feel free to learn more
here.