FirstService: Walk with Us on May 24 for the 2020 Mandarin MS Virtual Walk
FirstService is a proud sponsor of the Mandarin MS Walk in Toronto. Our sponsorship supports research of the Multiple Sclerosis Society of Canada to find a cure for MS and provide services to those living with MS in Toronto. Due to the current COVID-19 crisis, the Walk, which was originally scheduled for May 3, has been changed to a virtual event to be held on Sunday, May 24. This means everyone, wherever you are, is invited and encouraged to walk to honor those living with MS and the researchers who are working tirelessly to find a cure.
How to Participate
Mark your calendar for Sunday, May 24

Record your steps using the device or app of your choosing — feel free to walk 5K (6,500 steps) or 10K (13,000 steps), or more!

After the event, submit your name and steps taken here

Take pictures and videos, and post them to your favorite social media sites using the hashtags #FirstServeOthers and #WeChallengeMS

Wear your brand with pride and HAVE FUN!
After the Walk, we will share an event recap on our Social Purpose site and would love to include photos, so if your social media accounts are set to private, you will need to adjust the setting of your posts to public so we are able to locate them when we search the hashtag.
If you would like to fundraise for MS research, you are welcome to join our team or start your own.
Thank you!
California Closets: Join Us for a Walk with a Cause in Phoenix to Support MS Research
On Saturday, November 2, California Closets Phoenix's Jennifer Towner will be walking for Multiple Sclerosis – and you're invited to join her! The charity walk will start at the Phoenix Zoo and end at Papago Park (approximately half a mile).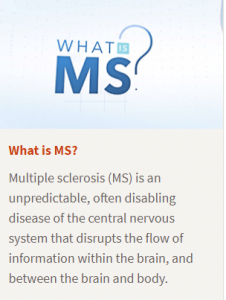 MS is a disease that hits close to home for Jennifer: her sister passed from complications with MS, and now her daughter (Jennifer's niece) has the debilitating disease.
Jennifer has registered a California Closets team so if you're in the Phoenix area, show your support and join the team!
CLICK HERE for more info! Click Create an Account and then use the drop down to find California Closets.
**Not in the area? NO PROBLEM! You can also donate towards her fundraising goal. Just follow the link above.**
FirstService: Walking Together to Raise Crucial Funding for MS Research
On a bright and beautiful Sunday morning, colleagues from FirstService's corporate office in Toronto joined together to participate in the Multiple Sclerosis Society of Canada's Mandarin MS Walk in support of friends, family members and co-workers who are affected by the disease. Through its fundraising efforts, the team raised $3,380 for MS research.
"We were happy to join 1,000 other community members to support the MS Walk. When we were researching causes to support, the fact that Canadians have one of the highest rates of MS in the world means many of us have friends and loved ones afflicted with the disease," said Ryan Bedrich, director, finance for FirstService Corporation. "It is estimated that 1 in every 385 Canadians is affected with the disease."
MS Can Strike Any One at Any Time
While it is most often diagnosed in young adults aged 20 to 49, younger children and older adults are also diagnosed with the disease.
MS is  classified as an autoimmune disease of the central nervous system which attacks the protective covering of the nerves called myelin. This causes inflammation which often damages the myelin which is necessary for the transmission of nerve impulses through nerve fibres. If damage to myelin is slight, nerve impulses travel with minor interruptions. In cases with substantial damage, and if scar tissue replaces the myelin, then nerve impulses may be completely disrupted, and the nerve fibres themselves can be damaged.
An unpredictable condition, MS can cause symptoms such as extreme fatigue, lack of coordination, weakness, tingling, impaired sensation, vision problems, bladder problems, cognitive impairment and mood changes. It affects different people in different ways and these effects can be physical, emotional and financial.  While there is currently no cure, every day researchers are learning more about what causes it in the hopes of one day knowing how to prevent it.
This is why it's so important to raise awareness of MS and funding for its research. Learn how you can help support the Multiple Sclerosis Society of Canada.