Earth Day 2021: Sustainability Tips from California Closets Team Members
We'd like to thank Sara Scoville and Michael Swalberg from California Closets for sharing some of their tips for living more environmentally friendly lifestyles. Hope you enjoy this short video!
LIV North: Donates Outdated Service Vehicles to Homeless Cars
When 14 of LIV North's service vehicles commercial lives came to an end the leadership team knew they had a useful purpose for someone.
So the leadership team at LIV North coordinated a donation to Homeless Cars, a Canadian charitable foundation that accepts used vehicles and donates the proceeds of their sale to food banks and local food shelters.
Read more
American Pool: Takes the Polar Bear Plunge to Support Special Olympics
Two dozen members of American Pool recently braved the icy waters of Chesapeake Bay with a shared goal in mind, to raise money to support Special Olympics Maryland. Collectively, the team raised more than $12,000 for this worthy cause. Dressed in everything from monkey suits to patriotic swim trunks, they brought fun and enthusiasm to the plunge. In addition to increasing awareness and funding for Special Olympics, the event was also a wonderful way to build camaraderie and promote the American Pool brand because, after all, they are the experts in all things water-related!
Read More
California Closets: Commitments to Excellence and Sustainability Go Hand-in-Hand
When people think of California Closets, impeccable craftsmanship, exceptional design and high-quality materials often come to mind. Maintaining its reputation for excellence is a priority shared by everyone throughout the organization. One of the ways the company does that is by ensuring the materials used in its installations are free of flaws and defects.
When Kelly Gray, an Arizona-based purchasing manager for California Closets, received a material shipment this past December, she immediately identified an issue. Although the structure and base of the material core was good, a large area on the surface had displeasing spotting which made it unusable for California Closets.
The supplier refunded the cost of the material but Kelly's team was faced with the dilemma of what to do with it. Disposing of it would not only be costly, it would also be in conflict with the company's commitment to support sustainability. After some brainstorming, Kelly's team identified two charitable organizations that would be able to use the material: Habitat for Humanity and Stardust.
"We have been collaborating as a team to find ways to support sustainability and the community, and this accomplished both targets. The product we contributed will essentially help to 'design better lives' and aligns our brand with other organizations who share our values," said Kelly.
Habitat for Humanity brings people together to build homes, communities, and hope. They envision a world where everyone has a decent place to live, and are dedicated to building, renovating, and repairing simple, decent, and affordable homes for families of modest means. Gifts from individuals, companies, and faith groups provide the necessary funding needed to support the mission of Habitat for Humanity.
Stardust is a non-profit organization in Arizona that believes that deconstruction and reuse policies and practices can drive economic prosperity, while avoiding unnecessary waste. Stardust operates two reuse centers for home improvement, which sell gently-used, salvaged, and surplus building materials at affordable prices. Additionally, Stardust provides deconstruction services that salvage building materials, diverts waste from landfills, and supports sustainability in the community.
Kelly's team donated more than 300 boards to both organizations, an inventory valued at $10,000-$12,000!
FS Energy: Expertise Highlighted in Recent New York Times Article
In a recent New York Times article highlighting the impact of Local Law 33, which gives midsize and large buildings letter grades based on energy efficiency, Kelly Dougherty, director of energy management for FS Energy, the energy management and advisory subsidiary of FirstService Residential, shared her expertise on this important legislation. Kelly and her team have been preparing clients for this development for several years, providing energy audits and benchmarking reports to client properties to help them understand what improvements should be considered to maximize energy efficiency.
Earlier this summer, Kelly provided a thoughtful piece on the importance of benchmarking in our Spotlight newsletter.
READ MORE
Planned Companies: Helping Beautify Local Parks and Beaches as Part of #CleanUpWeek
Planned Companies demonstrated its commitment to Our Environment during a recent series of events in support of #CleanUpWeek. Company volunteers cleaned up parks and beaches to support this important initiative, and experienced a fun team building event at the same time.
Read More
Paul Davis: Helping to Keep Local Beaches Beautiful
One of the perks of working in Jacksonville, FL is access to its beautiful beaches. This is something many on the team at the local Paul Davis Restoration office enjoy with family and friends, and with each other, participating in Social Purpose activities such as beach training runs and 5K events.
Giving Back to the Community & Enhancing Corporate Culture
Recently, the Quality Assurance department began planning a beach clean up as a team building event. When Kali Freeland, talent and change leader, heard about the event she asked Director of QA & Cat Services Leanne Etheridge if they could expand the group to include the whole team as an activity in support of two pillars of our Social Purpose, Our People and Our Environment. Leanne's response: "The more the merrier! We can even expand it to the local office and sister brands in Jacksonville." So that's just what they did.
A team of 21 turned out on a beautiful Saturday morning and got to work picking up trash and other debris.  In total, they removed over 20 gallons of trash from a space that serves as an estuary, endangered turtle breeding ground, and a place of peace and enjoyment for beachgoers. Their hard work did not go unnoticed. In addition to getting lots of thank yous from beach goers, a local newspaper even published a story about their contributions.
While the event was a big success, the team realized if they hold their next clean up event on a Sunday they could have an even bigger impact, cleaning up after Saturday's beach goers have left.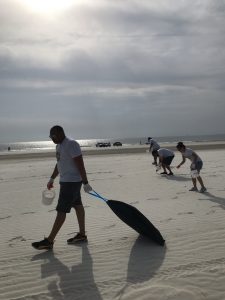 "I am so proud to be part of an organization that supports and encourages the concept of serving others," said Leanne. "I realize that change can provide the most impact when it happens close to home, so deciding to facilitate and participate in an event that directly impacted the local community was an easy choice. Those of us who are Jacksonville natives are a little spoiled – the beach is a short drive for most. Because of that, I felt it was important to preserve and protect such an amazing and important resource. And more than that, seeing patrons ask us who Paul Davis is and what are our team was doing, really inspired me to engage more in serving our local community."
The team at Paul Davis embraces Social Purpose as a way to not only give back to the local community but also to enhance its corporate culture.
"I'm proud to work for a company that supports the causes and organizations that our employees care about," said Kali. " We're seeing more engagement in social purpose than ever and I believe the grass-roots approach and variety not only allows team members to share their own "passion projects" but it also allows us to see the results of our work right here in our own communities."
FirstService Residential: Underwater Clean Up Sets World Record
FirstService: Committed to Our Environment on Earth Day and Every Day
An important pillar of our Social Purpose is Our Environment. Our companies routinely participate in activities designed to raise awareness about sustainability and environmental causes.
Making a Difference in Our Communities & Our Offices
Our teams lead and participated in a variety of clean up activities including roadside cleanups in Texas and Northern Virginia, beautifying office parks outside our offices in Ontario, helping restore a healthy ecosystem in South Florida and rallying those around us to join together to maximize our impact during London Clean & Green.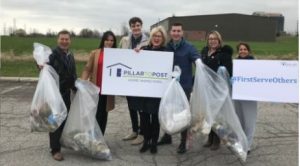 Within our FirstService Residential offices in Dania Beach, Florida and Dallas we stepped up our efforts to conserve energy and encourage recycling. In Dallas office we provided additional blue bins for associates to have convenient access to recycling at their desks, established recycling stations and provided education on which items are recyclable. We also brought in experts to educate our teams about water quality improvement, pollinator conservation, and co-existing with wildlife in an urban environment, valuable information we will share with our client communities.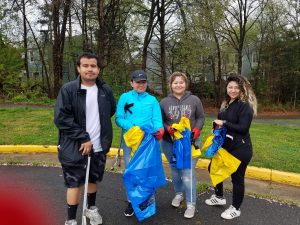 This June we will once again participate in #Daylight Hour, a global social media campaign to raise awareness about energy conservation in the workplace. Last year 115 of our locations participated and we were recognized with for the fourth consecutive year with the Jetsetter Award for the most participating offices.
Pillar To Post: Working Together to Clean Up Trash