Paul Davis: Never Quit 5K & 10K
NEVER QUIT provides runners & walkers with the largest, most patriotic beach run at low tide on the hard packed sand.
NEVER QUIT is a family friendly event with a large U.S. Military presence that has an All-American patriotic, inspirational health and fitness message where only the very best provided.
Your entry directly supports a free run for deployed U.S. Armed Service members in war zone areas in the Middle East so they too can have a NEVER QUIT run. You will now have those defending your liberties abroad, running with you in spirit over there, while you run here in the free U.S.A.
Thank you for coming to the world's largest beach run and America's most patriotic run.
FirstService Residential: Food and Clothing Drive
We are doing a dual Social Purpose event alongside our Social Committee Bake Sale. We are doing a food drive to go to the Veteran's Food Bank and a clothing drive to go to the Calgary Drop-In Centre.
California Closets: Gulf Coast Veterans Appreciation Week
The entire California Closets Gulf Coast team is supportive of our men and woman who have served this great country. To honor and show their gratitude to our Veterans, California Closets Gulf Coast will be donating $25 to Fisher House for every consultation booked from November 11-16, 2019. To promote and support this effort, the team will also be wearing camouflaged logo shirts all week.
All Veterans and First Responders are welcome into their showroom in Metairie (3211 N. Causeway Blvd) and Baton Rouge (7415 Corporate Blvd at Town Place) every day for a free cup of coffee on Veterans Day, and all week (November 11-16th), they will receive a special gift as well. In addition, to honor our Veterans every day, CC Gulf Coast gives an additional 5% discount off the best offer, even on promotions, to Active Duty, Reserve, Retired or Honorably Discharged Veterans with every job they do with us. This is their way of saying Thank You for serving this great Country and giving us the opportunities we have.
Fisher House has been chosen by the Gulf Coast team as one of their two organizations in which they will donate 250 or more volunteer hours in 2020. A Fisher House is a "home away from home" where military and Veterans' families can stay at no cost while a loved one is receiving treatment. These homes are located at major military and VA medical centers nationwide, close to the medical center or hospital they serve. Fisher Houses typically have 16 suites, with private bedrooms and baths. Families share a common kitchen, laundry facilities, a warm dining room, and an inviting living room. In addition to financial contributions, the Gulf Coast team will also be donating custom closets and storage spaces for the new Fisher House being built in Louisiana.
New owner Joe Lindenmayer said, "Being a Marine and Veteran of Desert Storm, along with 1 of 5 brothers who served in our family, and having our GM, Jed who is an Army Veteran, we believe in giving back and honoring those who have served. Supporting the Fisher House with financial contributions, along with in-kind support as they build their first facility in Louisiana, is the community involvement of which we want to be a part. Our families and our California Closets Team are equally supportive with spouses, friends and family who have served as well. We want to say thank you!"
California Closets Gulf Coast's goal is to raise between $500 and $1,000 from this event alone, along with $10,000 of in-kind donations and 250 volunteer hours for the Fisher House. If you would like to donate to Fisher House, please click here.
California Closets: An Evening with Advocate, Author and Award-winning Actor Gary Sinise
Scott and Leslie Seigel, former owners of California Closets Southern California, are lead sponsors in An Evening to Honor Gary Sinise coming up on Sunday, August 25th. To garner support and attendance, we are happy to share this news with the following message from Scott:
After 36 years Leslie and I sold our interest in California Closets, and I spend my time supporting philanthropic projects. I'm thrilled to share that on the evening of Sunday, August 25 in Newport Beach, award-winning film and television star, theater icon, and advocate for our nation's defenders, Gary Sinise, will be sharing engaging, thought-provoking, and entertaining anecdotes and stories from his life's journey. All attendees receive a copy of his new book Grateful American: A Journey from Self to Service. The Gary Sinise Foundation does heroic work to provide smart-homes for disabled veterans/first responders.
Seating for this event is complimentary for first-responders, and active/retired military.
This event has sold out of all of its tickets.  We are sure it will be an incredible event!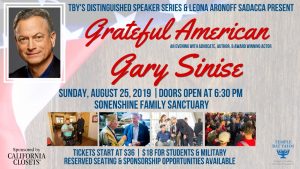 CertaPro: Join us as we host the 8th Annual Greater Philadelphia Run 5K!
CertaPro Painters of the Main Line is proud to host the 8th Annual Greater Philadelphia 5K.  The community event is held on Armed Forces Weekend and raises money to benefit Local Veterans and Ardmore Rotary Foundation Projects.
Location: 5K and 1 Mile Course inside Suburban Square, Ardmore.
Awards: Top 1-3 overall Men and Women + Age Groups
Amenities: A fun, fast and family friendly event through the streets of Suburban Square. The Race Around the Square consists of a one mile looped course. 5K runners will complete three laps of the course while one mile walkers will complete one lap. The start and finish line will be located at the center of Suburban Square on St. James Pl. This unique looped course provides for a great viewing opportunity for families and spectators. Refreshments, water stations, prizes, t-shirts will be provide to all pre-registered runners.
Race Results: Race will be professionally timed by the Bryn Mawr Racing Co.; Results will be found at brynmawrracing.com as well as ArdmoreRotary.org.
Paul Davis: Running to Honor Those Who Never Quit
For the Northeast Florida team at Paul Davis Restoration, Social Purpose is about giving back to the community by supporting causes and events that are near and dear to them and also about pursuing health and wellness activities together.
Earlier this year, the team participated in the Moo-ve It 5K to benefit the Justice Coalition of Northeast Florida. Leading up to the event, Eric Taylor, director of franchise launch, and a fitness enthusiast, offered to help train the team so they'd be race-ready on the big day.
This became the genesis of the Paul Davis Running Club, which meets regularly to encourage colleagues to engage in healthy activities and to train for charitable running events.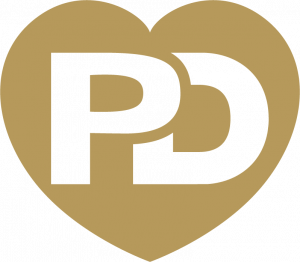 Most recently, team members participated in the Never Quit 1M/5K/10K on beautiful Jacksonville Beach. Never Quit promotes awareness and support for military and armed forces personnel and serves to encourage all to "Never Quit." On race day runners write for whom they will "Never Quit" on their bibs and run in their honor. Often this includes friends and loved ones who have fought serious illnesses or faced personal hardships.
For Eric, this race was especially poignant having lost his mother following a long battle with Lyme disease last year. Eric was joined by Marketing Coordinator Ginella Diaz who committed to "Never Quit" for her mother who is undergoing treatment for cancer.
"It was very moving when the presenter asked the public if they had someone in their lives who has had a stroke or cancer. Lots of people raised their hands. Then he encouraged us to think of them and go run for them! I still get moved by these words when I think about it," said Ginella.
A highlight for many was when they got to hear from a 99 1/2 year old veteran who addressed the crowd and shared some of his life experiences. He gave an inspirational speech on how and why he never quits.
One team member took a photo with a powerful Theodore Roosevelt quote displayed at the event: "Never throughout history has a man who lived a life of ease left a name worth remembering."
Paul Davis: Join Us for the Honorable Order of the Blue Goose Mardi Gras Event
Paul Davis River Cities teams up with the Blue Goose for a Mardi Gras Night at Mardi Gras Casino in Cross Lanes, WV to support the
Veteran's Home
of Barboursville WV. For more info please visit
Order of the Blue Goose
.
Paul Davis: Join Us for the TwoTop 100K Vertical Challenge
Join Paul Davis Restoration of Suburban MD/DC on Monday, February 11, 2019, when dozens of skiers and snowboarders will descend 100,000 vertical feet in a single day—completing 107 runs at Whitetail Resort in Mercersburg, PA. This event aims to raise funds for and awareness of
Two Top Mountain Adaptive Sports Foundation
. Two Top provides adaptive cycling, ski, snowboard and water ski lessons to disabled individuals, including wounded veterans from Walter Reed National Military Medical Center, Fort Belvoir and surrounding VA Medical Centers. All lessons for our disabled veterans and their families are FREE. Last year, Two Top provided over 650 lessons to disabled athletes during the winter and summer. Over 470 of these lessons were disabled veterans and their family members.
FirstService Residential: Join Us for Crosswater Yacht Club's Rods and Ribs Fundraising Event Benefiting Folds of Honor
For our 3rd year in a row, FirstService Residential Austin is proud to participate in Crosswater Yacht Club's annual Rods and Ribs car show and rib cook off benefiting
Folds of Honor.
Folds of Honor's mission is to provide educational scholarships to the children and spouses of America's fallen and disabled soldiers. Their motto: Honor their sacrifice. Educate their Legacy. We encourage you to visit their site to learn more,
www.foldsofhonor.org
. This is a fun day to bring the family out and give back to those that gave the most. https://youtu.be/XxMbz2Za6ss All BBQ is being handed out for donations, and cooking teams compete to see who raises the most money for Folds of Honor. Our grilling team is led by Eric McFerrin, FirstService Residential director of maintenance, with help from his "boys," our maintenance team. They will be grilling up their amazing pulled pork with home made citrus-infused slaw. Last year our team placed second — this year we are in it to win it! We are in need of volunteers to help with pre-event set up and post-event clean up, serve food, interact with customers at the booth and keep the area clean and fresh. We need six volunteers to each work a two hour shift during the 12-6 pm event. Pre-event volunteers should plan to arrive by 8 am, and post-event volunteers will be needed until 8 pm. If you are interested in volunteering, please contact Jo Hall (jo.hall@fsresidential.com) to confirm your schedule. All volunteers will receive a special team shirt to wear at the event. We are also in need of small camper Eric and his team can borrow the night before the event — if you have one you can loan us please contact Jo.
California Closets: Supporting Veterans Through Operation Coming Home
Operation Coming Home
partners with area homebuilders and other vendors to provide homes for veterans who have been severely wounded in combat. Our California Closets Raleigh team members put their skills to work to create functional and beautiful closets for this very deserving family.