Planned Companies: Promoting Wellness with Virtual Yoga
Planned Companies is committed to encouraging its team members to adopt health and wellness practices through a series of team activities. March's activity is virtual yoga. Every Thursday in March, Benefits Specialist Lisseth Montecinos, will guide participants through a virtual yoga class. All levels are invited to participate and cameras are optional.
California Closets: Transforms a multi-use space at transitional home in Phoenix
For individuals or families facing a domestic crisis, a next step can be terrifying. So often, people feel paralyzed, not knowing where to turn for help. That's where Mesa, AZ-based A New Leaf's Autumn House program comes in.
Before the COVID-19 pandemic took hold of the country – and world – California Closets of Phoenix assisted in transforming a multi-use space at Autumn House so that it could better serve its transitional residents.
Phoenix GM Janet Hutchinson and team were converted a social room into a warm, welcoming, and peaceful place for residents to go to for social and life skills activities. This area is used for residents to receive coaching on everything from high school GEDs and college diplomas to employment, healthy lifestyles, and adult self-sufficiency.
In addition, California Closets built out a beautiful new media center where a large screen TV, books, and reference materials could be stored. Hanging barn door sliders were added to conceal the television when not in use.
Autumn House has been providing safe shelter to the community for almost 40 years and was the East Valley's first domestic violence shelter. It operates 24/7 in a confidential location, accepting survivors all times of the year.
"We are so proud to have been a part of this amazing project," said Janet, "and to support men and women in our community who have been affected by domestic violence."
Janet and her team display what it truly means to design better lives, and bring California Closet's CREDO to life.
Planned Companies: Get Moving with PlannedFit
As part of a continuous focus on health and well-being, Planned launched PlannedFit, which offers a fun and competitive challenge to get team members moving — and win prizes too! Each week the team is challenged to see who can take the most steps. Using any step tracking app on their smart phone, team members will take a screen shot of their weekly step count and send it to the benefits team along with their name and employee ID. The employee with the most steps each week will win a $25 gift card!
Planned Companies: Be a Wellness Warrior
Planned Companies developed its Wellness Warrior program with mental health in mind. Taking care of our mental and physical wellbeing is so important. This program encourages all everyone to take steps toward healthier living.
Planned is suggesting team members try one activities and send a picture of themselves in action to the benefits team. All submissions will receive a $5 gift card and entered into a drawing to win a $100 gift card at the end of the month!
Yoga – helps lower blood pressure, blood cholesterol and blood glucose levels, as well as heart rate
Hiking – In addition to being a fun way to get outdoors and enjoy fresh air, 30 minutes is a powerful cardio exercise that can help lower risk of heart disease and stroke and improve blood pressure and blood sugar levels, and has an added benefit of boosting your mood
Paul Davis: Virtual Walks in the US and Canada for Heart Disease
Help us raise awareness and funds for the American Heart Association and Heart & Stroke Foundation of Canada. We encourage you to see what events are happening in your area and get involved, or if you would like to join the Paul Davis team, please contact Kali Freeland or Emily Shafer.
FirstService Residential: Running Across America Virtual 5K
Across the country on June 6, we'll take to the streets, trails, and paths via the Virtual Race app. It's like a traditional 5k—friendly competition, t‑shirts, finish line selfies—only you pick the route.
To join the race, you must first register on this site. After registration, you'll get a text with a unique code and instructions to download the Virtual Race app we use for the event. From there you can create a team and challenge friends to join you virtually.
When it's time for the event, you lace up your shoes and activate the race tracker in the app. It'll let you know as you make progress toward 5 kilometers on whatever route you choose in your neighborhood. After you're done running, we'll show you how you performed versus others on the leaderboard. Challenge a friend and see who's faster. Or just stretch your legs and get some fresh air. Plus, just like a regular race, you can get a t-shirt and medal to commemorate the time.
We're thanking Essential Workers with free registration and also supporting Feeding America.
FirstOnSite: #GoTheDistanceCanada Challenge! Can you "walk" all the way across Canada?
We are excited to announce our #GoTheDistanceCanada Challenge! Now, more than ever, it's so important to stay healthy and active which is why we are launching this challenge – to encourage our teams to stay fit and have some fun. Physical activity can be a great stress reliever and even going for a short walk can help clear your mind so you can refocus.
Using a specified point system, we are our challenging all FirstOnSite employees to "walk" all the way across Canada – 7,821 km to be exact! It doesn't matter how you earn your kilometers, all that matters is you get active!
Here's what you need to know:
The challenge officially kicks off on May 14 with the first weekly activity submission deadline being Thursday, May 21. We anticipate the event going as long as six weeks though it could end sooner.
Track your weekly physical activity and use the provided chart to determine your points for the week. The week runs from Friday – Thursday.
You can keep track of your activity by using a pedometer, activity tracker, or cell phone app.
Submit your points by 11:59 pm Eastern each Thursday. (Submit points here)
Share images on social and use the hashtags #GoTheDistanceCanada and #FirstOnSite.
You are competing as a region as well as individually and we will provide weekly leaderboard updates on Fridays.
Prizes:
Regional winner – The first region to make it across Canada wins bragging rights!
Individual winners – The person with the most activity points in each region will win a paid day off! (One winner per region, five winners total)
CAN YOU GO THE DISTANCE?
LIVunLtd: Sweat For Change – Virtual Group Fitness Classes to Support Justice Initiatives
Join the fitness pros from LIVunLtd for FREE daily wellness and fitness classes. Now through June 15, participants may join Sweat For Change classes, where donations in any amount are encouraged
to support these worthy causes:
Donations can be made through linked embedded in LIVunLtd stories.
Classes are offered daily at 10 am, and on Monday through Friday, also at 1 pm. To join, follow LIVunLtd on Instagram. All times below ET. To keep things fresh, the mix of classes and instructors changes every week.
Depending on the week, participants can choose from a variety of classes including:
HIIT
Cardio Dance
Meditation
Core Strength and Stretch
LIV Slow Flow
Pilates Mat
Core Conditioning
LIV Vinyasa Flow
This is a great opportunity to take classes with some of the nation's top wellness and fitness experts!
LIVunLtd: Live Group Fitness Classes
Join the fitness pros from LIVunLtd for FREE daily wellness and fitness classes. Classes are offered daily at 10 am, and on Monday through Friday, also at 1 pm. To join, follow LIVunLtd on Instagram. All times below ET.
Monday, 4/20
LIV Power Flow with Marie Hickey, 10 am
HIIT with Stu Lopoten, 1 pm
Tuesday, 4/21
LIV Definition with Todd Allen, 10 am
LIV Vinyasa Flow with Karfee Lye, 1 pm
Wednesday, 4/22
Meditation with Michael Clement, 10 am
LIV Power Flow with Ashley Balfour, 1 pm
Thursday, 4/23
Zumba with Hatsumi Oya-Woodson, 10 am
Barre with Todd Allen, 1 pm
Friday, 4/24
Pilates Barre Fusion with Portia Boston, 10 am
LIV Vinyasa Flow with Ashley Balfour, 1 pm
Saturday, 4/25
HIIT with Stu Lipoton at 10 am
Sunday, 4/26
LIV Alignment Flow with Marie Hickey
The Amenity Collective: Easy Ways to Practice Self Care – Go Ahead, You Deserve It
For many, it feels like the world has been turned upside down. In what feels like the blink of an eye, all of our lives have changed dramatically. We're all doing our part to adapt to our new normal. These are incredibly stressful times, and we know the impact stress can have on one's health and well-being. If ever there was a good time to focus on self-care, this is it.
We wanted to share some ideas of ways you can maintain your emotional and physical wellbeing, reduce stress, stay fit and make the most of the time while you are sheltering in place.
Through its subsidiaries including Heartline Fitness and LIVunLtd, The Amenity Collective delivers health and wellness programs to some of the most iconic properties and spas in the U.S. To help promote wellness to a broader audience, the company is now offering a variety of free resources for you and your family.
Three Sages Wellness App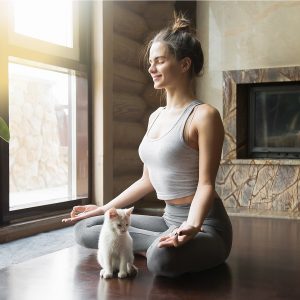 Heartline Fitness has partnered with Three Sages to provide complimentary access to this new mobile app which offers natured inspired sips of wellness, in the form of short, engaging audio and video content. Its intent is to help you move, nourish and restore. Through a series of questions, the app customizes programming based on your preferences and offers everything from "quick fixes" – yoga sequences and meditations you can do anywhere – to longer, more intensive sessions. Explore a wide range of recipes for healthy snacks, smoothies and spritzers, and, when your day is done, the app's Evening Sleep music helps you relax, unwind and drift off to a restorative sleep.
Get Started: Simply search for Three Sages in the Apple Store and use access code "heartline" (case sensitive) to get the app for free for 60 days!
Instructor-Led Fitness Programs
LIVunLtd is the premier concierge, fitness, wellness, event programming and lifestyle management collective. Residents of properties utilizing LIV's services have had access to the latest fitness and wellness programming, delivered by top trainers. Today, anyone can participate in a wide range of classes from the comfort of your home. All that's needed is a smartphone and an Instagram account!
Classes are taught live every day at 10 am and on Tuesday through Friday also at 1 pm ET – so it's worth setting a calendar reminder and hopping onto Instagram for a healthy break. The company offers Zumba, meditation, HIIT, Barre, and exclusive LIV Definition, LIV Power Flow, LIV Vinyasa Flow and, for the fitness-ambitious, LIV Extreme Definition.
The impetus behind LIV's offering driven by a desire to keep as many team members employed as possible. In addition, "We wanted to stay engaged and try to help our residents feel a sense of connection, wellbeing and community with the familiar faces of LIVunLtd they have come to know in their buildings," said Michael Fazio, Chief Creative Officer. He added, "We decided to open up our classes to the public to give them access to our quality wellness programming."
Get Started: Follow LIVunLtd on Instagram and look for their new stories every day at 10 am and 1 pm ET.
Soon, LIV classes will be available on IGTV so you can participate when it's convenient for you. Stay tuned for more details.