FirstService Residential: Supporting Deserving Families Through Annual LifeNet4Families Food Drive Donation
We donate to
LifeNet4Families
every year around Thanksgiving to help those who need it the most. We collect non-perishables or
any
dollar amount. We will be collecting non-perishables or money donations from  November 1st until the 15th. Please contact Diana Sanchez if you have any questions.
FirstService Residential: Dania Annual Backpack Drive to Prepare Students for School
Every year we partner with the Broward Education Foundation to help local students get ready for the New School Year.
We time it to be around the the Tax-Free weekend so we can get as many supplies as possible. We also receive monetary donations.
These are the usual supplies needed:
Composition books

Erasers

Index cards

Rulers

Dry Erase Markers

Crayons

Notebook/Filler paper

Pens

Glue (4 oz.) bottles

Back Packs

Copy Paper
FirstService Residential: Support Las Vegas and Reno Schools During our School Supply Drive
Each year we select school(s) in NV to assist by collecting basic school supplies to be provided to the teachers and students who are in need. In 2018 we raised $31K in school supplies which was enough to aid 4 schools. Our 2019 goal is to assist 6 schools, approx. $36K in school supplies.
Las Vegas office: 8290 Arville Street, Las Vegas, Nevada 89139
Reno office: 639 Isbell Road Suite #280 Reno, Nevada 89509
FirstService Residential: Give the Gift of Life at the Nevada Blood Drive
The culture Club will sponsor 1-2 blood drives per yer, 2 in Northern Nevada and 2 in Southern Nevada, to assist the ongoing need to supply blood banks. The date and time will be announced at a later time.
LIVunLtd: Join Us at the NAMIWalk 5K to Raise Money for Mental Illness
Become a NAMIWalks Hero. Join our team for the 2019 NAMIWalks event! We are walking to raise awareness of mental illness and raise funds for the important work of NAMI, the National Alliance on Mental Illness.
Please JOIN OUR TEAM and walk with us, or support our team by making a donation to a team member listed on our ROSTER. Donations on this page are fast, secure and easy. Those who are unable to walk with us are welcome to register and participate as a volunteer or "virtual walker."
All funds raised directly support the mission of NAMI to provide support, education, and advocacy to individuals and families right here in our community.
Your support means a lot to our team and the 43.8 million Americans who experience mental illness in a given year.
FirstService Residential: Las Vegas and Reno- Food Drive
Established in 2000, Helping Hands of Vegas Valley is a 501(c)(3) non-profit organization with the mission to provide free, assistive services to senior citizens in Southern Nevada, allowing them to maintain their dignity and independence while improving health and daily living.
Las Vegas and Reno office are getting together to do this Food Drive for the Helping Hands of Vegas Valley.
The Reno Office address is 639 Isbell Road Suite #280 Reno, Nevada 89509
FirstService Residential – Help Us Prepare Meals for Those in Need During MANNA Volunteer Day
Volunteers needed to join us at our upcoming volunteer day at MANNA. MANNA is a wonderful organization that provides meals for those with cancer, HIV/AIDS and other serious illnesses.
Location:  420 N 20th St, Philadelphia, PA 19130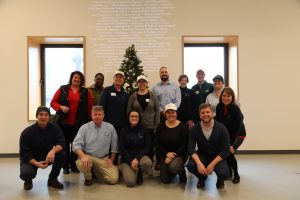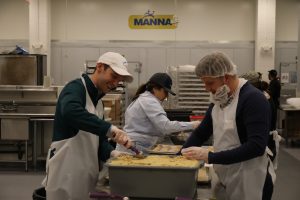 1. Applications: Please ensure each person completes the online application using this personalized link for your group: http://fsr.manna.volunteerhub.com/ prior to your arrival for your shift. Shift sign up will become available 2 months prior to your scheduled shift.
2. Minor Consent Form (under 18 ONLY): All volunteers must be at least 14 old. If anyone is a minor (under 18 years of age) a parental consent form must be filled out prior to being allowed to volunteer in the MANNA kitchen. The consent form is attached and can be printed out, signed and brought to MANNA on day of scheduled volunteer event. All minor volunteers MUST have a signed consent form or they will not be allowed to volunteer.
3. Dress Code: Volunteer safety is a priority at MANNA and The Department of Health requires a dress code for MANNA's kitchen. Please review the MANNA Kitchen Safety & Dress Code with all members of your group. Volunteers are required to adhere to the following guidelines: · No sleeveless shirts or tank tops (t-shirts are OK) · Must wear long pants (no shorts or skirts) · Must wear closed shoes (no open-toed shoes or sandals) · No Jewelry is allowed in the kitchen (rings, bracelets, watches, dangling earrings) · Hats and/or head covering is required (although hairnets are provided) – you may bring your own baseball cap or hat to wear · Disposable aprons and gloves will also be provided onsite (you may bring your own apron)
4. Cancellation Policy: MANNA relies on volunteers like you to ensure that our clients have the meals they need every week. Our kitchen counts on you when you sign up to work a volunteer shift, and group cancellations have a serious impact on the kitchen production. We suggest giving 8 days' notice when you cannot keep your shift.
5. Sick Policy: If you are sick, please stay at home and get well. Do not come to MANNA to volunteer. We will look forward to seeing you when you are better! These regulations are for your safety and that of our clients—at MANNA, safety comes first!
6. Parking: There are several options for parking, but please note MANNA does not have any special parking rates or validations. a. Rodin Place Garage: This garage is attached to our building and charges $16 after 2 hours. b. Metered Street Parking: There is metered street parking available all around our building. Rates may vary. c. PPA surface lot: Located on Callowhill St. between 19th and 20th. Visit http://www.philapark.org/19th-callowhill/ for more info. d. Free street parking: There is LIMITED free 2hr street parking available on the surrounding streets. e. Bike racks: There is a bike rack located in the Rodin Place garage.
FirstService Residential: 4th Annual PAL (Police Athletic League) Free Clothing Giveaway
FirstService Residential Missouri/Kansas will be accepting clothing, shoes, coats, and toy donations between now and April 25th.
You can send them to The Police Athletic League of Kansas City Blue Valley Recreation Center 1801 White Avenue Kansas City, MO 64126
Or to FirstService Residential Kansas City office at: 11125 Ambassador Drive, Suite 200 | Kansas City, MO 64153
We will also be sorting the donations at the PAL Center Blue Valley Recreation Center 1801 White Avenue Kansas City, MO 64126 on Friday, April 26th if any FirstService associates are available to help.
FirstService Residential: Donate to our Dallas90 Pet Supply Drive
Dallas Animal Services (DAS) works with local, regional, and national welfare organizations to ensure the most vulnerable animals are placed in the best possible homes. DAS network includes a range of partners, from dog/cat rescues, small animal and livestock sanctuaries, and wildlife rehab centers.
"Dallas90" is the most recent community outreach campaign launched by DAS to help care for the 35,000 animals they serve each year. "Dallas90" is designed to generate support in DAS' effort to find positive outcomes for all healthy/behaviorally sound pets, which DAS believes exceeds 90% of the shelter population. FirstService Residential Dallas Office will host a Pet Supply Drive for DAS, collecting items like towels/blankets, treats, toys, kennels, leashes, and more.
The Drive will kick off on April 11, National Pet Day, and will run until April 30, National Adopt a Shelter Pet Day, when the supplies will be delivered in person to DAS. It's a fantastic way to help our furry friends!
You can donate directly to the Dallas Animal Services (DAS)
DAS Office: 1818 N. Westmoreland Road Dallas, Texas 75212
FirstService Residential: Help Spread Holiday Cheer with Las Vegas and Reno Project Angel Tree
This great American tradition has been providing children in need with Christmas smiles for many years.  Spread the real spirit of the holidays throughout your organization!
We will make sure you're all set up with Angel Tags that include a child's gender, age range and toy suggestion to place in your lobby or office Christmas tree. Employees and customers take a tag, buy a gift and return to collection box that we provide.
Date to be provided