Paul Davis Restoration: Join Us at the Texas Firewalkers 9/11 Memorial Stair Climb
2019 will mark the 18th anniversary of the September 11th terror attacks.
The extraordinary attacks on September 11, 2001 in New York City and Washington DC, and the downing of a hijacked plane in Pennsylvania, shook the nation and had global consequences. But for the people living in the towns and cities where the attacks actually occurred, the day has a particularly powerful resonance.
What Happened: Four jet planes were hijacked on September 11 2001 by nineteen Al Queda suicide bombers who were terrorist operatives. The targets were iconic. Two planes were intentionally crashed into New York City's World Trade Center North and South Towers, causing their collapse. A third plane crashed into the Pentagon in Washington. A fourth plane crashed in Bucks County in Western Pennsylvania, when passengers fought the highjackers for control of the cockpit.
Over three thousand civilians lost their lives on September 11. Millions more, including thousands of firsts responders, were impacted by the events of that day, in ways both measurable and immeasurable. Many suffered shock and trauma, the loss of loved ones, businesses destroyed. First responders and rescue team members also suffered ongoing health consequences from working at the site of the World Trade Center.
The entire nation mourns the victims of September 11th, 2001. But because history happens at a very specific time and place, the sites of the attacks hold a special significance.
Texas Firewalkers will honor those 343 FDNY Firefighters that passed away on 9-11-2001 by having participants carrying all 343 accountability tags for the FDNY firefighters. We will also honor the 2018 Texas First Responder Line of Duty Deaths. We are trying to fill all 343 spots this year and we need your support to accomplish this by registering to climb 110 flight of stairs. The event is open to First Responders, Fitness Clubs, Organizations and the general public.
Please visit http://tfwstairclimb.org/index.html for more information and to register.
God Bless America!
Paul Davis Restoration: 9/11 Fallen Heroes Tribute Run/Walk
Paul Davis of Idaho, through their non-profit PD Cares, Inc is organizing the 6th annual 5K, 10K, and 1 mile Walk. Come join us Saturday September 7th for a family friendly event and help us to honor our first responders. All proceeds will go to the Idaho Fallen Firefighter Foundation, Eastern Idaho F.O.O.L.S, and the Fraternal Order of Police & Domestic Violence & Sexual Assault Center and the FDNY Burn Center. We have two fundraisers planned: A Banquet and Auction will be held on Friday, September 6th, followed by a Run/Walk on Saturday, September 7th. Please follow our Facebook page for more information at
www.facebook.com/fallenheroesrun
.
Paul Davis Restoration: 2019 Live Burn -Training Class for Fire Service Personnel
In an effort to support local fire servicemen, Paul Davis will be hosting a training class in conjunction with a live burn to provide education to graduating cadets and existing fire service personnel. Any Paul Davis or FirstService sister company employee who wishes to attend or participate can do so by emailing Brad Grimes at brad.grimes@pauldavis.com.
Please note this event is not open to the general public, but is limited to emergency service personnel per Cobb County requirements and employees who have pre-registered with Brad.
FirstService Residential & Paul Davis: Join Us at the 1st Annual NFFF Golf Tournament
Paul Davis Restoration and FirstService Residential invite you to join us in raising awareness and funds for the National Fallen Firefighters Foundation. We are eager to partner with you as a participants and/or a Founding Sponsor of the 1st Annual National Fallen Firefighters Foundation Memorial Golf Tournament on Thursday, July 25th, 2019. Golfers/teams do not have to be firefighters to play. All are welcome and we are looking to maximize participation in this fun event.
This event will be held at South Riding Golf Club, in South Riding, Virginia. The NFFF is a registered 501 (c) 3 nonprofit organization.
The annual tournament is both a tribute to all firefighters who have paid the ultimate price in the line of duty and a fundraising outreach to provide resources to their surviving family members. All proceeds from the event will be presented to the National Fallen Firefighters Foundation, which provides immediate and long-term assistance, scholarships, and vocational training to the families of the fallen firefighters.
Founding Sponsors will be celebrated and recognized throughout this day-long event. Please see the accompanying page for more detailed sponsorship information. Online registration for donors, sponsors, and all registrants can be found at:  https://www.firehero.org/event/gofl19-paul-davis/.
If you have additional questions, or would like to speak with the tournament coordinator, please email Scott Brooks at sbrooks@pdrnova.com or call 703-431-6049.
We are grateful to our Founding Sponsor partners and participants.
Paul Davis Restoraiton: Join Us at the Texas Firewalkers CrawFish Cook Off
Come join us for a great fundraising day as 12 teams cook over 700lbs of crawfish while competing for the Best Crawfish title. Teams will also battle for Cook's Choice and Best Showmanship. All categories are judged by popular vote…this means you. $20 all you can eat gets you a wristband and 20 tickets to make your vote count! This is also Pratt's birthday weekend so you know this entire weekend will be a must see….
Come help Texas Firewalkers raise money during this great event!
Want to know more about TFW??? Check out this video…
A Firefighter Christmas

It's a hero's Christmas morning as Mike and the team head to Texas to honor a local volunteer fighter, Blake "PeeWee" Henson and his band of brothers; the Texas Firewalkers.

Posted by Returning The Favor on Thursday, December 13, 2018
Pillar To Post: Police Unity Tour Challenge Ride
This May, Pillar To Post Colorado Franchisee Rod Goshorn will be cycling in his fourth Police Unity Tour, which goes from Somerset NJ to Washington D.C. nearly 300 miles, over three days. The primary purpose of the Police Unity tour is to raise awareness of the Law Enforcement Officers who have died in the Line of Duty. The secondary purpose is to raise funds for the National Law Enforcement Officers' Memorial in Washington D.C. "It means the world to me to be able to honor the memories of those Officers who have paid the ultimate sacrifice for their communities. Although we ride in memory of all the Officers who have died, each year we dedicate our ride to an individual Officer, this year I am dedicating my ride to fallen hero, Adams County Sheriff's Deputy Heath Gumm, who was killed in the line of duty on Jan. 24, 2018, responding to a report of an assault," said Goshorn. You can read more about Rod's ride and the Police Unity Tour as well as
making a donation by going to this page
Paul Davis: Running to Honor Those Who Never Quit
For the Northeast Florida team at Paul Davis Restoration, Social Purpose is about giving back to the community by supporting causes and events that are near and dear to them and also about pursuing health and wellness activities together.
Earlier this year, the team participated in the Moo-ve It 5K to benefit the Justice Coalition of Northeast Florida. Leading up to the event, Eric Taylor, director of franchise launch, and a fitness enthusiast, offered to help train the team so they'd be race-ready on the big day.
This became the genesis of the Paul Davis Running Club, which meets regularly to encourage colleagues to engage in healthy activities and to train for charitable running events.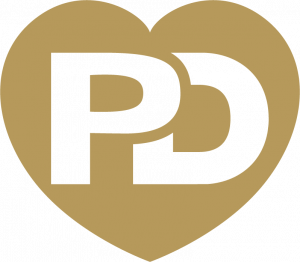 Most recently, team members participated in the Never Quit 1M/5K/10K on beautiful Jacksonville Beach. Never Quit promotes awareness and support for military and armed forces personnel and serves to encourage all to "Never Quit." On race day runners write for whom they will "Never Quit" on their bibs and run in their honor. Often this includes friends and loved ones who have fought serious illnesses or faced personal hardships.
For Eric, this race was especially poignant having lost his mother following a long battle with Lyme disease last year. Eric was joined by Marketing Coordinator Ginella Diaz who committed to "Never Quit" for her mother who is undergoing treatment for cancer.
"It was very moving when the presenter asked the public if they had someone in their lives who has had a stroke or cancer. Lots of people raised their hands. Then he encouraged us to think of them and go run for them! I still get moved by these words when I think about it," said Ginella.
A highlight for many was when they got to hear from a 99 1/2 year old veteran who addressed the crowd and shared some of his life experiences. He gave an inspirational speech on how and why he never quits.
One team member took a photo with a powerful Theodore Roosevelt quote displayed at the event: "Never throughout history has a man who lived a life of ease left a name worth remembering."
Planned Companies: Building Bears for First Responders to Comfort Children
Planned Companies is having a special teambuilding event for company employees during our Town Hall. Attendees will work in teams to build
Rescue Bears
, which are special teddy bears  for children who have been through a traumatic event. Firefighters and police officers often use teddy bears as a way to comfort children who have been in accidents or fires. In some cases, these kids have lost everything. Planned is honored to help our local rescuers be a warm hand to these kids.
Paul Davis: Lending a Hand at the Cicero Fire Department's Fundraising Breakfast
Paul Davis of North Country NY will be cooking, cleaning and serving breakfast with the Cicero, NY FD during their annual fundraising breakfast. This year the event is geared towards raising money to upgrade the banquet hall that is currently located inside of the old fire hall, which is adjacent to the newly built fire hall. We are expecting 300 people from 7 am until 12 pm. We will be making friends that will help us as a franchise to exercise brand awareness and create brand loyalty with everything we do! The cost for this event is as follows: – Adults ($9.50) – Seniors 65+ ($8.50) – Children 6 – 12 ($7.00) – Children 5 – Under (Free) For those who attend with large parties who wish to reserve a table or wish to order take out, you can call ahead (315-575-0731) or email Treasurer Karen Nicholas at
Treasurer@cicerofd.org
prior to the event.