FirstService Residential: Supporting Deserving Families Through Annual LifeNet4Families Food Drive Donation
We donate to
LifeNet4Families
every year around Thanksgiving to help those who need it the most. We collect non-perishables or
any
dollar amount. We will be collecting non-perishables or money donations from  November 1st until the 15th. Please contact Diana Sanchez if you have any questions.
FirstService Residential: Help Us Pack 100,000 Meals for the Needy through Regency Cares
Volunteers will assist River Hills Community Church packing 100,000 meals for the needy/homeless.
For more information or to sign up to volunteer, please contact the event organizer below.
Paul Davis: Joining Together to Support Local Food Pantries through a CANstruction Charity Drive
A friendly contest to build a Can Structure to benefit local food pantries. Once complete, the local offices will submit photos and compete for likes on Facebook page. The photo with the most "likes" and the structure with most cans used each win an office party reimbursed up to $500! This is a great Paul Davis can ban together and support our local communities!
FirstService Residential: Help Southern Nevada Seniors During Our Las Vegas and Reno Food Drive
Established in 2000, Helping Hands of Vegas Valley is a 501(c)(3) non-profit organization with the mission to provide free, assistive services to senior citizens in Southern Nevada, allowing them to maintain their dignity and independence while improving health and daily living.
Las Vegas and Reno office are getting together to do this Food Drive for the Helping Hands of Vegas Valley.
The Reno Office address is 639 Isbell Road Suite #280 Reno, Nevada 89509
The Las Vegas address is 8290 Arville St, Las Vegas, NV 89139
FirstService Residential – Help Us Prepare Meals for Those in Need During MANNA Volunteer Day
Volunteers needed to join us at our upcoming volunteer day at MANNA. MANNA is a wonderful organization that provides meals for those with cancer, HIV/AIDS and other serious illnesses.
Location:  420 N 20th St, Philadelphia, PA 19130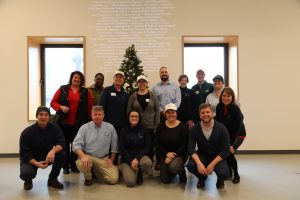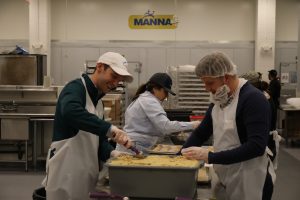 1. Applications: Please ensure each person completes the online application using this personalized link for your group: http://fsr.manna.volunteerhub.com/ prior to your arrival for your shift. Shift sign up will become available 2 months prior to your scheduled shift.
2. Minor Consent Form (under 18 ONLY): All volunteers must be at least 14 old. If anyone is a minor (under 18 years of age) a parental consent form must be filled out prior to being allowed to volunteer in the MANNA kitchen. The consent form is attached and can be printed out, signed and brought to MANNA on day of scheduled volunteer event. All minor volunteers MUST have a signed consent form or they will not be allowed to volunteer.
3. Dress Code: Volunteer safety is a priority at MANNA and The Department of Health requires a dress code for MANNA's kitchen. Please review the MANNA Kitchen Safety & Dress Code with all members of your group. Volunteers are required to adhere to the following guidelines: · No sleeveless shirts or tank tops (t-shirts are OK) · Must wear long pants (no shorts or skirts) · Must wear closed shoes (no open-toed shoes or sandals) · No Jewelry is allowed in the kitchen (rings, bracelets, watches, dangling earrings) · Hats and/or head covering is required (although hairnets are provided) – you may bring your own baseball cap or hat to wear · Disposable aprons and gloves will also be provided onsite (you may bring your own apron)
4. Cancellation Policy: MANNA relies on volunteers like you to ensure that our clients have the meals they need every week. Our kitchen counts on you when you sign up to work a volunteer shift, and group cancellations have a serious impact on the kitchen production. We suggest giving 8 days' notice when you cannot keep your shift.
5. Sick Policy: If you are sick, please stay at home and get well. Do not come to MANNA to volunteer. We will look forward to seeing you when you are better! These regulations are for your safety and that of our clients—at MANNA, safety comes first!
6. Parking: There are several options for parking, but please note MANNA does not have any special parking rates or validations. a. Rodin Place Garage: This garage is attached to our building and charges $16 after 2 hours. b. Metered Street Parking: There is metered street parking available all around our building. Rates may vary. c. PPA surface lot: Located on Callowhill St. between 19th and 20th. Visit http://www.philapark.org/19th-callowhill/ for more info. d. Free street parking: There is LIMITED free 2hr street parking available on the surrounding streets. e. Bike racks: There is a bike rack located in the Rodin Place garage.
FirstService Residential: Join Us and Volunteer for the Calgary Food Bank
Volunteers are taking morning shifts 8:15 -11:30 or afternoon shifts 12:15 – 3:00 and are sorting perishable and non-perishable foods and assembling specialty hampers.
In total we need 51 volunteers over different dates volunteering.
Click here to sign up for a volunteer shift.
CollegePro: Support our North American Food Drive
This month, College Pro is hosting a food drive across North America from the Full-Time to the Franchisees! Throughout our franchise divisions,we are working to see who can compile the largest non-perishable food donation in their area. We challenge anyone in the FirstService Community to do the same! If you'd like to get involved with us, compile and donate all non-perishable food items to your local food bank, or send them to our London office!
FirstService Residential: Donating food and toys for needy families
Associates at FirstService Residential in Vancouver made a difference for needy families by collecting food, toys and cash for deserving families.
Read More
FirstService Residential: Join Us in the Outrun Hunger Palm Beach County 5K
Join Feeding South Florida for a 5K as we Outrun Hunger!
Outrun Hunger is a fundraising event supporting Feeding South Florida's mission to end hunger in South Florida. Feeding South Florida is the largest and most efficient food bank in each county it serves. For every $1 donated, Feeding South Florida provides 6 meals or $12 worth of grocery products. Feeding Palm Beach County serves 189,940 individuals struggling to put food on the table in Palm Beach County – 53,630 of whom are children and nearly 40,000 of whom are older adults.
Learn more:
https://www.eventbrite.com/e/3rd-annual-outrun-hunger-palm-beach-county-5k-registration-32447910574
If you have questions regarding the registration or to set up carpooling, contact me directly: diana.sanchez@fsresidential.com
---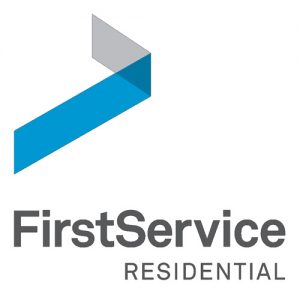 FirstService Corporation: Harvesting Produce to #FirstServeOthers
August 23, 2018, was back-to-school day for 20 FirstService Corporation employees who visited the Bendale Business Technical Institute (Bendale BTI) campus. But instead of carrying backpacks and laptops, volunteers donned gardening gloves and garden tools. This back-to-school day was different than most. On this day, the team volunteered to tend to the vegetable gardens at Bendale BTI as part of a community service initiative to support FoodShare Toronto, a non-profit organization established in 1985 whose mission is to partner with communities and schools to deliver healthy food and education.
FoodShare's School Grown is an innovative schoolyard farming project, where fruits and vegetables are grown on school lawns and rooftops to create student employment. Students learn it all – from seeding to weeding, to harvesting produce and running their own farmers markets twice a week in two locations in the City of Toronto, Borden Farmers Market and East Lynn Farmers Market.
School Grown produce is shared with students, sold to the public at local farmers markets and donated to food share programs to support the culinary classes and lunches at Bendale BTI and Eastdale CI.
Bendale BTI launched its garden on a ¼ acre of school lawn in 2010. In addition to learning horticulture, students get to harvest and cook garden-grown produce, helping them to establish healthy eating habits and lifelong skills. The results of the program have been impressive.
30 School Grown youth employed in 2017
37,913 lbs of food harvested from School Grown gardens
$203,641 paid out in youth wages to date
During the summer months student employees are off for summer break so volunteers are needed to help tend the gardens. The FirstService team was looking for a teambuilding event which included a community service component as part of its #FirstServeOthers initiative, and that could accommodate 20 volunteers — which can be a challenge to find. FoodShare Toronto was a perfect fit.
Orlando Martin Lopez Gomez, Bendale BTI's Urban Agriculture Manager, educated participants about the program and the varieties of produce grown on-site. He divided the group into teams who were each tasked with different duties including weeding and tending to the tomato plants. Before long they got to dig in and begin the rewarding task of harvesting fresh produce. Turnips, radishes, tomatoes, and beans were all harvested, cleaned and packed – ready to be taken to the farmers market for sale. Along the way, volunteers got to sample a wide range of organic produce including colorful and sweet tomatoes, kale, peppery arugula, spicy radishes, several varieties of lettuce and even raw okra.
"When planning our event, we looked at a number of different volunteer opportunities and were intrigued when we learned about FoodShare Toronto," said Michael Smith, who works as a strategy and corporate development analyst and was part of the event planning team. "Most of us spend our days behind desks working on computers so to have the opportunity to get outdoors, roll up our sleeves and dig in was a great change of pace. Because students were off for the summer, the gardens needed some TLC and we were able to make an immediate impact, which was extremely rewarding."
This was an eye-opening experience for many who had no idea such urban farms existed in the city, and certainly not on school grounds. For more information about the wide array of programs offered by FoodShare Toronto please visit www.foodshare.net.