FirstService Residential: Supporting Deserving Families Through Annual LifeNet4Families Food Drive Donation
We donate to
LifeNet4Families
every year around Thanksgiving to help those who need it the most. We collect non-perishables or
any
dollar amount. We will be collecting non-perishables or money donations from  November 1st until the 15th. Please contact Diana Sanchez if you have any questions.
FirstService Residential: Fulfill Food Drive – L.E.A.D.S. 2019
This year FirstService Residential is giving back through Fulfill, NJ. Fulfill's mission is to alleviate hunger and build food security in Monmouth & Ocean Counties and to make sure that all people at all times have access to enough nutritious food to maintain an active and healthy life.
Join us by bringing one of the following items to registration this year:
Canned tuna, chicken & salmon
Canned veggies (low sodium, where possible)
Cooking oil
Shelf-stable milk
Pancake mix and syrup
Peanut butter & jelly
Canned fruits (in juice or light syrup)
Fruit juice (100% juice)
Soups (low sodium, where possible)
Hot cereals
Cold cereals
FirstService Residential: Help Us Pack 100,000 Meals for the Needy through Regency Cares
Volunteers will assist River Hills Community Church packing 100,000 meals for the needy/homeless.
For more information or to sign up to volunteer, please contact the event organizer below.
Paul Davis: Supporting Local Food Pantries through a Creative CAN Challenge Food Drive
Donation drives are a popular and effective way to collect much-needed food for area food banks, but if you really want to engage your team members and make your food drive something everyone will be talking about, give them an added challenge to see what can be built with the donated items. That's exactly what the creative Social Purpose Champions at Paul Davis did, and the results were incredible!
Building for Prizes & Bragging Rights
As you'll see from the pictures in this post, team members took the challenge seriously and unleashed their creativity building fabulous structures out of donated canned goods. Photos of the structures were shared with the Paul Davis network and prizes were awarded for the locations with the Most Votes and the Most Cans.
All food collected was donated to local and human food pantries, many of which are in great need during summer months. Lots of companies organize food drives during the holiday season, which is  helpful, but by the time summer rolls around, many food banks are faced with empty shelves.
A Fun Challenge with a Big Impact
In addition to highly coveted bragging rights, the LLCO Animal House structure won in the Most Cans category with 1,188 cans, and Hunger Bites won Most Votes. Some offices took the challenge even further by incorporating other fun team building events including company BBQs and bowling outings. Collectively the challenge netted more than 3,100 cans of food!
"Words cannot express my gratitude, respect, and appreciation to everyone involved in this event," said Quality Assurance Analyst Waleska Gonzalez. "Helping others when they need it the most is a cause I keep close to my heart and I am always looking for an opportunity to create awareness. I was happy to see the passion and commitment from my PD family."
Paul Davis Talent and Change Leader and JASMYN Volunteer Kali Freeland added, "At PDRI in Jacksonville, we donated the cans from our structure to a local LGBT Youth Crisis Center, JASMYN. JASMYN normally receives donations during the winter months, so they were especially grateful for Summer donations. I'm personally very proud to support this organization and I'm grateful that Paul Davis is embracing Social Purpose as well as Inclusion and Diversity!"
Add Some Creativity to Your Next Food Drive
So if you are looking to give your next food drive an added element of team building and fun, consider issuing a "CAN challenge" to your team members.
Paul Davis: Joining Together to Support Local Food Pantries through a CANstruction Charity Drive
A friendly contest to build a Can Structure to benefit local food pantries. Once complete, the local offices will submit photos and compete for likes on Facebook page. The photo with the most "likes" and the structure with most cans used each win an office party reimbursed up to $500! This is a great Paul Davis can ban together and support our local communities!
FirstService Residential: Help Southern Nevada Seniors During Our Las Vegas and Reno Food Drive
Established in 2000, Helping Hands of Vegas Valley is a 501(c)(3) non-profit organization with the mission to provide free, assistive services to senior citizens in Southern Nevada, allowing them to maintain their dignity and independence while improving health and daily living.
Las Vegas and Reno office are getting together to do this Food Drive for the Helping Hands of Vegas Valley.
The Reno Office address is 639 Isbell Road Suite #280 Reno, Nevada 89509
The Las Vegas address is 8290 Arville St, Las Vegas, NV 89139
FirstService Residential – Help Us Prepare Meals for Those in Need During MANNA Volunteer Day
Volunteers needed to join us at our upcoming volunteer day at MANNA. MANNA is a wonderful organization that provides meals for those with cancer, HIV/AIDS and other serious illnesses.
Location:  420 N 20th St, Philadelphia, PA 19130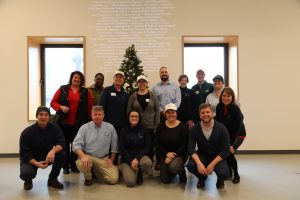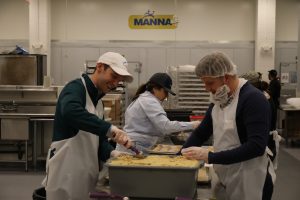 1. Applications: Please ensure each person completes the online application using this personalized link for your group: http://fsr.manna.volunteerhub.com/ prior to your arrival for your shift. Shift sign up will become available 2 months prior to your scheduled shift.
2. Minor Consent Form (under 18 ONLY): All volunteers must be at least 14 old. If anyone is a minor (under 18 years of age) a parental consent form must be filled out prior to being allowed to volunteer in the MANNA kitchen. The consent form is attached and can be printed out, signed and brought to MANNA on day of scheduled volunteer event. All minor volunteers MUST have a signed consent form or they will not be allowed to volunteer.
3. Dress Code: Volunteer safety is a priority at MANNA and The Department of Health requires a dress code for MANNA's kitchen. Please review the MANNA Kitchen Safety & Dress Code with all members of your group. Volunteers are required to adhere to the following guidelines: · No sleeveless shirts or tank tops (t-shirts are OK) · Must wear long pants (no shorts or skirts) · Must wear closed shoes (no open-toed shoes or sandals) · No Jewelry is allowed in the kitchen (rings, bracelets, watches, dangling earrings) · Hats and/or head covering is required (although hairnets are provided) – you may bring your own baseball cap or hat to wear · Disposable aprons and gloves will also be provided onsite (you may bring your own apron)
4. Cancellation Policy: MANNA relies on volunteers like you to ensure that our clients have the meals they need every week. Our kitchen counts on you when you sign up to work a volunteer shift, and group cancellations have a serious impact on the kitchen production. We suggest giving 8 days' notice when you cannot keep your shift.
5. Sick Policy: If you are sick, please stay at home and get well. Do not come to MANNA to volunteer. We will look forward to seeing you when you are better! These regulations are for your safety and that of our clients—at MANNA, safety comes first!
6. Parking: There are several options for parking, but please note MANNA does not have any special parking rates or validations. a. Rodin Place Garage: This garage is attached to our building and charges $16 after 2 hours. b. Metered Street Parking: There is metered street parking available all around our building. Rates may vary. c. PPA surface lot: Located on Callowhill St. between 19th and 20th. Visit http://www.philapark.org/19th-callowhill/ for more info. d. Free street parking: There is LIMITED free 2hr street parking available on the surrounding streets. e. Bike racks: There is a bike rack located in the Rodin Place garage.
FirstService Residential: Join Us and Volunteer for the Calgary Food Bank
Volunteers are taking morning shifts 8:15 -11:30 or afternoon shifts 12:15 – 3:00 and are sorting perishable and non-perishable foods and assembling specialty hampers.
In total we need 51 volunteers over different dates volunteering.
Click here to sign up for a volunteer shift.
CollegePro: Support our North American Food Drive
This month, College Pro is hosting a food drive across North America from the Full-Time to the Franchisees! Throughout our franchise divisions,we are working to see who can compile the largest non-perishable food donation in their area. We challenge anyone in the FirstService Community to do the same! If you'd like to get involved with us, compile and donate all non-perishable food items to your local food bank, or send them to our London office!
FirstService Residential: Donating food and toys for needy families
Associates at FirstService Residential in Vancouver made a difference for needy families by collecting food, toys and cash for deserving families.
Read More