FirstService Residential: Join Our Donation Drive to Benefit Welcome One Emergency
The Bulle Rock Welcome One Volunteers Club and your FirstService Residential Team will be working together to collect and deliver items to the Welcome One Emergency Shelter, the only year-round homeless shelter in Harford County. Donations are being accepted at the address below through August 22.
They have a need for the following specific items:
Sugar
Iced Tea Mix
Lemonade Mix
Coffee
Powdered Creamer
Canned Fruit
Napkins
Paper Towels
Windex
Liquid Laundry Detergent
New Pillows
Liquid Hand Soap
Tylex Mildew Remover
Lysol Disinfectant Spray
Multi-purpose cleaner
Large Brown Lunch Bags
Ziploc Sandwich Bags
Cereal
FirstService Residential: Running in Support of the Salvation Army
FirstService Residential: Bake Sale for Safe Haven Foundation
We're having a bake Sale where all proceeds will be donated to Safe Haven Foundation. "It is Safe Haven Foundation's vision that the cycle of poverty, abuse and homelessness is broken for young women, allowing them to blossom into healthy, contributing citizens capable of realizing their greatest dreams."
Volunteers are going to do some baking and package their goodies in sellable bundles. We are inviting vendors and other teams within the office building to attend and make purchases.
Stop by and help support this great cause!
TLS: Helping the Homeless Community Through a Sock Drive
LIVunLtd: Providing Daily Necessities for our Community's Homeless
FirstService Residential: Help Us Collect Socks & Suds for Emergency Shelter Residents through February 18
The FirstService Residential New Jersey High-Rise team will be collecting new socks, soap and other personal care items for
St. Lucy's Emergency Shelter
in Jersey City, NJ from January 28 through February 18. St. Lucy's Emergency Shelter is a supervised 24-hour, 7-day-a-week, year-round emergency shelter facility for single women and men offering emergency housing and food for those in need. Collection boxes will be placed in the front lobby to place new socks, soap, shampoo, etc. Thank you for your support!
LIVunLtd: Donate Homeless Hygiene Kits for NYC Relief
LIVunLtd is proud to support
New York City Relief
by collecting travel-sized toiletry items for Homeless Hygiene Kits, from November 26 through January 6. There are over 60,000 people in New York City homeless shelters, and that does not include those that are living on the streets. Homelessness is at an all-time high; the highest levels in NYC since the Great Depression. Each week, New York City Relief gives away approximately 650 hygiene kits to those in need. Get involved! Participate by donating one (or more) of the items listed below.
Toothpaste
Toothbrush
Dental floss
Disposable razor
Shaving cream
Shampoo
Conditioner
Liquid body wash
Deodorant
Feminine products
All donation items must be new, travel-sized, quality, name-branded products. Please send donations to LIVunLtd Headquarters location in NYC, to the attention of Brianna Hoffman.  Please call our office for more information (212) 784-2390.
---

American Pool and Continental Pools Team Up for a Sock Drive for the Homeless!
This year, all of the teams from American Pool and Continental Pools in Maryland are working together to help provide the #1 needed item for homeless across the country – Socks! We will be donating all of the socks we collect to the
Joy of Sox Organization:
Mission: 
To give joy to the homeless by giving them new socks.
Vision
: To be able to give new socks to all the homeless in the United States a few times a year.
Impact:
Over 245,000+ of new socks distributed to the homeless as of July, 1st,2017; Almost a quarter of a million pairs! All donations must be
new socks
, not used.
Message to Sister Companies
: Feel free to bring donations to any of our management offices!
FirstService Residential: California office Outreach Activity Promotes Mindfulness and Teamwork
As part of the 2018 FirstService California Annual Meeting, associates gathered in Irvine, California to celebrate the growth and accomplishments achieved in 2017 by the region's approximate 1,000 Associates. Attendees participated in a fun outreach activity which involved building 50 care packages for families who have been displaced by fires, homelessness or emergency situations.
According to one Associate who was attending their first Annual Meeting, "it was heartwarming to see our people work together with such care and thoughtfulness to create a basket that will offer hope to people going through a difficult time."
The activity was fitting in that it reflected the theme of the day: Our Future Starts with Us. We work in teams, made up of individuals, who are making a difference in the lives of each other, our company, our clients, and the communities and residents that we serve. Each regional team was responsible for bringing one of ten items that were included in the Welcome Home Baskets (candles, board games, decorative item, broom/dust pan, first aid kit, etc).
The event was a tremendous success!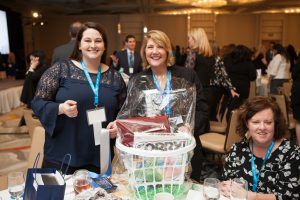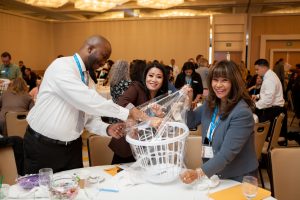 FirstService Corporation: Distributes food, supplies and companionship with Ve'ahavta in Toronto
This past week, 3 members of FirstService Corporation teamed up with Ve'ahavta to distribute food, drinks, supplies and most importantly companionship for 6 hours on a brisk February evening. This night is 1 of 3 planned over the next several months for FirstService to get involved. Some Statistics:
Over 235,000 Canadians experience homelessness in a year, including over 5,000 in Toronto alone (Toronto has the 2nd highest homeless population of any Canadian city).
Approximately 1,350 chronically homeless people die each year in Canada, with an average life expectancy of 39.
Ve'ahavta's Theory of Change
by providing health supports, referrals to shelters, and essential supplies, we can meet the basic physical needs of homeless or under-housed individuals, and we can ensure their safety.
by providing consistent, frequent, and compassionate service, we can decrease social isolation, and build trusting relationships that provide the emotional support needed to create change.
by engaging and educating volunteers, we can raise consciousness about homelessness, reduce the stigmatization of the homeless, and inspire people to seek solutions to end homelessness.
Waj H. (Analyst, Risk and Compliance) describes his experience as "eye-opening". "It made me recognize how fortunate I am to have everything I need, and perhaps I shouldn't complain about the small inconveniences in my life. I could go on and on, but overall I'm thankful I had the opportunity to give back, connect and appreciate how fortunate I really am. Thank you to Ryan B. (Director, Finance) for organizing."
If anybody in the Toronto area ever wants to get involved with this great program, feel free to learn more
here.