FirstService Residential: Volunteers Needed for International Coastal CleanUp Day
FirstService Residential is participating in International Coastal Cleanup Day, a worldwide initiative to beautify our rivers and beaches. On September 21, 2019, millions of people across the globe will rally together with the common goal of collecting and documenting the trash littering their coastline. This is a great way to demonstrate our commitment to social responsibility while making a difference in the communities we serve.
In support of this initiative, the Hollywood office will participate in the cleanup from 9:00 AM to 12:00NOON at the Hollywood Beach North location.
The cleanup location we will be going to is at the North Beach Park located at 3601 N Ocean Dr, Hollywood, FL 33019, at the end of Sheridan St.
People need to go to the park's gate to access the site.
If you would like to participate, contact Marco Malfavon at marco.malfavon@fsresidential.com or 954.378.2307. The deadline to sign up is Friday, August 23.
We recommend that you bring sunscreen, gloves, and water. FirstService Residential will provide hats.
#FirstServeOthers
Century Fire Protection: Partnering with National Clean Up Day to Host a Local Event
Century Fire Protection in Duluth, GA is teaming up with other organizations around the country for National Clean Up Day. We are partnering with Gwinnett Clean & Beautiful to outfit our employees who volunteer with supplies to tidy up Satellite Boulevard on Friday, September 20th from 11am-1pm.
With programs and company initiatives like this, we can make a meaningful impact on our people, our community and our environment. Century Fire Protection encourages everyone to participate in their own Clean Up Day. Every little bit helps make our world a more beautiful place!
We are inviting our employees to join us on September 20th for 30 minute shifts to pick up litter in our community. All of the employees who sign up to volunteer by August 28th will receive a shirt and lunch! We are looking forward to spending a few hours having fun with our team while making a difference in our world.
Learn more about National Clean Up Day or Gwinnett Clean & Beautiful!
FirstService Corporation: Volunteers Needed for 45 minute City Block Scavenger Hunt for #CleanUpWeek
FirstService Corporation is participating in National CleanUp Day, with our very own #CleanUpWeek Scavenger hunt. On September 18, 2019, we will be hosting a "City Block Scavenger Hunt" near the FirstService Corporation office in the heart of downtown Toronto. This effort is part of our Social Purpose to #FirstServeOthers in support of #OurEnvironment.
We will participate in the cleanup from 11:00 AM to 12:30 PM near 1140 Bay Street, Toronto.
The cleanup location will be a 1.4 km square area of the city surrounding the office.
If you would like to participate, contact Roger Thompson at rthompson@firstservice.com. The deadline to sign up is Friday, September 6th.
We recommend that you bring sunscreen, gloves, water and wear a company-branded shirt.
#FirstServeOthers
Here is a quick video from the National CleanUp Day organization.
FirstService Residential: Silo Point – Service Day
2019 is the first year FirstService Residential is holding a region-wide "Service Day" – making an impact on the lives of our local communities. Silo Point has partnered with local companies to support the Francis Scott Key Elementary/Middle School in Baltimore City. Through these efforts, we have reached out to multiple business partners to ask for their assistance in this charitable effort. Some of the partners that have committed their time, effort or monetary support include, but are not limited to; Brightview Landscaping, Certapro Painters, Planned Companies and Heartline Fitness. They will be offering their services to clean up the school's grounds, paint a monument in desperate need of a refresh, clean the school's interior and donate fitness equipment. The nearly 40 vendors that have made commitments to the cause will also be gathering school supplies, making cash contributions or volunteering their time to help with the various projects. We continue to seek additional partners, donations and commitments and encourage you to help in any way possible. School supplies can be donated and dropped off at Silo Point's front desk. Please reach out if you have questions or would like to help support the Francis Scott Key Elementary/Middle School.
FirstService Residential: Help Us Pack 100,000 Meals for the Needy through Regency Cares
Volunteers will assist River Hills Community Church packing 100,000 meals for the needy/homeless.
For more information or to sign up to volunteer, please contact the event organizer below.
FirstService Residential: Habitat for Humanity Volunteer – Service Day
Your group at FirstService Residential will be building a "Habitat Home" at one of our new home build locations in Livingston, NJ. The location for your build is 11 Grand Terrace in Livingston, NJ.
Street parking is restricted to the north side of the street, but parking is typically ample. Tasks will vary depending on the progress of the project scope. Your tasks may include installation of flooring, insulation, sheet rock, windows, trim and other construction-related duties.
The build day will begin at 9:30 a.m. and run until about 3:30 p.m. with a break for lunch at around 12 p.m. We encourage all participants to take as many breaks as needed throughout the day. Water and lunch will be provided.
We are grateful to you and your organization for helping us to sustain our service to the community, and hope that you have a rewarding experience.You can follow our journey by giving us a like on Facebook or Instagram at @HabitatGreaterNewark or by following us on Twitter at @HabitatNewark.
Please contact Matt DesLonde with any questions you may have at (973) 624-3330 ext. 101 or via email at mdeslonde@habitatnewark.org. Thank you for your support, and we look forward to having you onsite!
FirstService Residential East: Service Day at Laurino Farms – Volunteers needed!
This year FirstService Residential Eatontown is volunteering at Laurino Farms to help weed and harvest vegetables. All vegetables that are harvested will be used at the JBJ Soul Kitchen, which uses a 'pay it forward' model asking diners to contribute either volunteer hours or a donation for their meals. If you would like to volunteer at the farm, please contact Lonnie Martinez. We can accept 20 volunteers – first come first serve.
Remember to: • Wear light clothing in a light color as it gets hot on the farm • Wear old clothes, it can be very dirty • Bring sunscreen, water, hat, gardening gloves
During your service event, we encourage teams to band together by wearing FirstService Residential t-shirts that promote our culture of Service!!!
Place your order between NOW and JULY 15; all t-shirts will arrive prior to August 24. Order here: www.bit.ly/serviceday-tshirt
FirstService Residential: Volunteers Needed for our Habitat for Humanity Build
The Dania Beach team is preparing for a Habitat for Humanity build on August 15. Volunteers needed! If you are interested in participating please email Diana.Sanchez@fsresidential.com.
SITE INFORMATION – Rick Case Habitat Community – Pompano Beach. Please note the address below is for the coin laundry which is directly across the street from the site entrance.
Parking:   Please park in the vacant lot just south of the coin laundry
Habitat Broward Site Supervisors: Alex, Stephon and Dave
Paul Davis: Helping to Keep Local Beaches Beautiful
One of the perks of working in Jacksonville, FL is access to its beautiful beaches. This is something many on the team at the local Paul Davis Restoration office enjoy with family and friends, and with each other, participating in Social Purpose activities such as beach training runs and 5K events.
Giving Back to the Community & Enhancing Corporate Culture
Recently, the Quality Assurance department began planning a beach clean up as a team building event. When Kali Freeland, talent and change leader, heard about the event she asked Director of QA & Cat Services Leanne Etheridge if they could expand the group to include the whole team as an activity in support of two pillars of our Social Purpose, Our People and Our Environment. Leanne's response: "The more the merrier! We can even expand it to the local office and sister brands in Jacksonville." So that's just what they did.
A team of 21 turned out on a beautiful Saturday morning and got to work picking up trash and other debris.  In total, they removed over 20 gallons of trash from a space that serves as an estuary, endangered turtle breeding ground, and a place of peace and enjoyment for beachgoers. Their hard work did not go unnoticed. In addition to getting lots of thank yous from beach goers, a local newspaper even published a story about their contributions.
While the event was a big success, the team realized if they hold their next clean up event on a Sunday they could have an even bigger impact, cleaning up after Saturday's beach goers have left.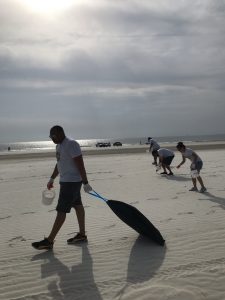 "I am so proud to be part of an organization that supports and encourages the concept of serving others," said Leanne. "I realize that change can provide the most impact when it happens close to home, so deciding to facilitate and participate in an event that directly impacted the local community was an easy choice. Those of us who are Jacksonville natives are a little spoiled – the beach is a short drive for most. Because of that, I felt it was important to preserve and protect such an amazing and important resource. And more than that, seeing patrons ask us who Paul Davis is and what are our team was doing, really inspired me to engage more in serving our local community."
The team at Paul Davis embraces Social Purpose as a way to not only give back to the local community but also to enhance its corporate culture.
"I'm proud to work for a company that supports the causes and organizations that our employees care about," said Kali. " We're seeing more engagement in social purpose than ever and I believe the grass-roots approach and variety not only allows team members to share their own "passion projects" but it also allows us to see the results of our work right here in our own communities."
Paul Davis Restoration: Volunteers Needed for the Huguenot Memorial Park Beach Clean-Up
Huguenot Park is a seaside park in north Jacksonville with camp sites, a playground, picnic areas & fishing. Members of the Paul Davis Corporate Team and Local Office will come together to help keep this park beautiful with a beach clean-up on Saturday, June 22nd from 8am – 10am.